EU Approves Smallpox Vaccine for Monkeypox as U.S. Jynneos Supplies Run Low
The European Union has approved the smallpox vaccine for monkeypox as U.S. Jynneos supplies continue to run low.
The European Medicines Agency said in a statement on July 22 that it "recommended extending the indication of the smallpox vaccine Imvanex to include protecting adults from monkeypox disease."
According to the European Centre for Disease Prevention and Control, as of 21 July, 8,697 confirmed cases of monkeypox had been recorded across 27 EU/EEA countries.
The Imvanex vaccine, more commonly known as Jynneos in the U.S, has been approved for use in the EU since 2013 for protection against smallpox.
The vaccine can also be used to prevent monkeypox due to the similarities between the two diseases. The conditions are caused by the variola virus, meaning the symptoms are similar. Monkeypox is a much milder disease than smallpox, but it can be severe in vulnerable individuals.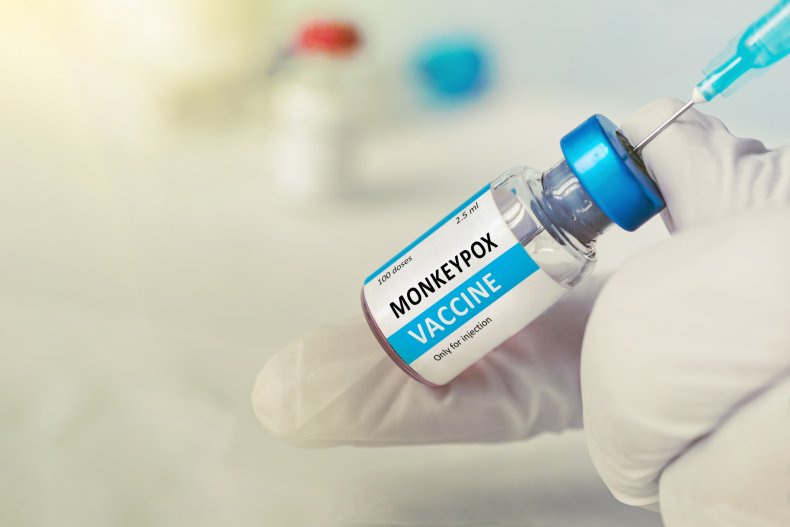 The European Medicines Agency's approval means the vaccine's immunization label will now be broadened, to include monkeypox.
Despite the approval, the Jynneos vaccine remains in extremely limited supply across the world.
The European Medicines Agency said in a statement that EU countries may decide to import the vaccine from the U.S, as cases continue to climb.
Jynneos is already authorized for the prevention of monkeypox in the U.S and vaccine rollouts across the country have begun.
According to the U.S. Department of Health and Human Services, 190,000 doses of the vaccine had been delivered from the Strategic National Stockpile as of July 19.
However, it's still in extremely limited supply, so those most at risk are being prioritized.
New York City has initiated a rollout in which only men who have sex with men and who have had sexual partners in the past 14 days are eligible.
Los Angeles has also begun a vaccine rollout for "gay men, bisexual men, men having sex with men, and transgender persons who were diagnosed with gonorrhea or early syphilis within the past 12 months; or are on HIV pre-exposure prophylaxis (PrEP); or attended or worked at a commercial sex venue or other venue where they had anonymous sex or sex with multiple partners within past 21 days."
Jynneos is not the only monkeypox vaccine approved in the United States. Another vaccine called ACAM2000 is in ample supply.
However, that vaccine can have significant side effects on certain people, including those with certain skin conditions, meaning it can't be as widely used.
Newsweek has contacted the European Medicines Agency for comment.