New Yorkers Frustrated as Demand Crashes Monkeypox Vaccine Website
New Yorkers are frustrated with the monkeypox vaccine rollout in the city, as a surge of high demand crashed its booking website.
The rare vaccine is highly sought after as monkeypox cases in New York City continue to rise. As of July 12, there were 267 people who tested positive for the virus in the city. The city made a bundle of appointments available that same afternoon. However, the website crashed within minutes. Many of those trying to book appointments were met with error messages.
There is a suitable vaccine for monkeypox, which prevents severe symptoms of the virus, but it is in extremely limited supply. For this reason, the vaccines are only available to select groups, including men who have sex with men, and who have had sexual partners in the last 14 days. While anyone can get monkeypox, the current cases are largely affecting this demographic, according to the World Health Organization.
Monkeypox is characterized by flu-like symptoms, like a fever or sore throat, and a painful or itchy rash. It is most often contracted through direct contact with the rash of someone who already has monkeypox, and can also be spread through respiratory droplets, sexual activity, or items used by those with the virus.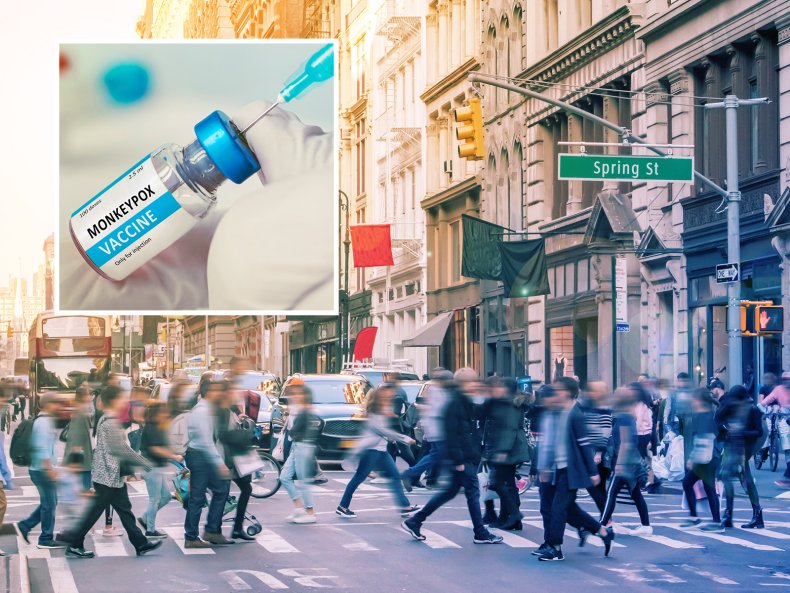 "This is just further proof that demand is very high, and we will continue working to make vaccines available. We will advise New Yorkers when more appointments can be made," the NYC Department of Health and Mental Hygiene said in a statement posted to Twitter.
"We apologize for the frustration caused and are working to build stable appointment infrastructure as we roll out more appointments as vaccine supply increases in the coming weeks. We look forward to receiving more doses in the near future to provide to New Yorkers."
Many took to Twitter to express their frustration with the public health body. New York City Council member Julie Won called for better usability testing before making the booking systems live.
"Sorry to all those who are doing the right thing by trying to get vaccinated," she wrote.
New York State Assemblymember Jessica González-Rojas tweeted: "This is frustrating because government has a history of failing LGBT communities in health care. This has to be fixed immediately,..."
Buzzfeed reporter David Mack tweeted: "who is resigning over this? who is getting fired? absolute incompetence at every level of government from the WH to the FDA to the governor to the mayor to the nyc health department. Shameful."
Last week, the monkeypox vaccine rollout was slammed after a technical error meant that appointments were made too early, making them invalid. The technical glitch sparked frustration among New Yorkers that had been waiting for the vaccine to be made available.
Since June 23, New York City has received nearly 7,000 doses of the vaccine. New York Governor Kathy Hochul said that 14,000 more doses are soon heading to the city, and 5,100 more to the rest of the state.
Newsweek reached out to the NYC Department of Health and Mental Hygiene for comment.