Monkeypox Vaccine Rollout Slammed as People Unable To Get Shot
A monkeypox vaccine rollout in New York City has been slammed, as people were unable to make appointments due to a technical glitch.
Monkeypox cases have risen in New York city in recent weeks, particularly among gay and bisexual men. As of July 6, NYC Health had recorded 119 positive cases of monkeypox.
The viral disease, which began spreading in non-endemic countries for the first time at an unprecedented rate earlier this year, has now been found in at least 52 nations worldwide. The infectious disease's symptoms include fever, swollen lymph nodes, and a body rash.
There is a suitable vaccine for monkeypox, which prevents severe symptoms of the virus, but it is in extremely limited supply.
New York City recently announced that it had received additional doses of the highly sought-after vaccine from the federal government, and that walk-in clinic chain, MedRite, would be administering the rare supply.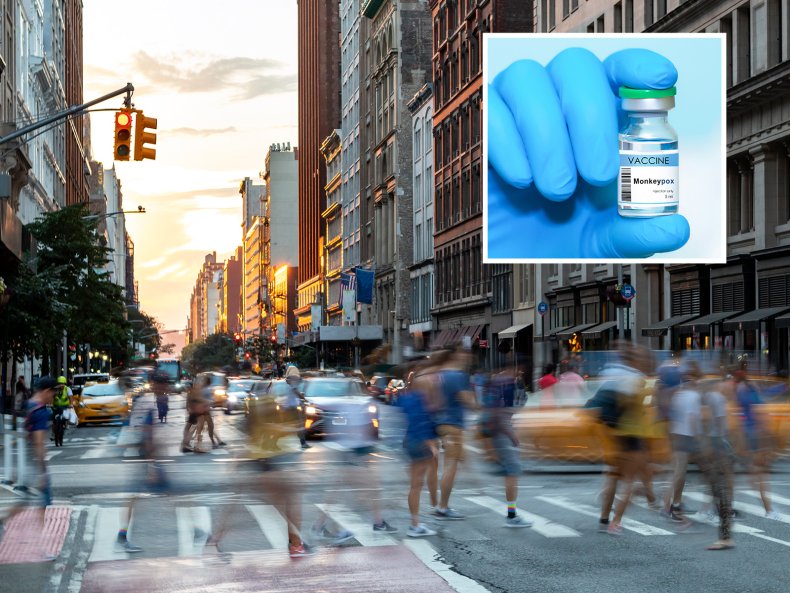 An online booking system for the rollout was supposed to launch on the afternoon of July 6, Politico reported. However, some New Yorkers were able to book an appointment days before. NYC Health tweeted that it had been an "unfortunate glitch," and that more appointments would be made available on the afternoon of July 6.
It is not yet clear, at time of writing, how many people were able to get a shot following the technical error, but NYC Health said on Twitter that it would be honoring all appointments made on the day of July 6.
The technical glitch sparked frustration among New Yorkers that had been waiting for the vaccine to be made available.
Michael Donnelly, a data scientist who has been urging vaccines be made available to the LGBT community, said on Twitter that NYC Health "gets an F" for the monkeypox vaccine appointments.
Donnelly said in a tweet that the department only gave an hour's notice before real appointments were made available.
"Do better," he wrote.
On July 7, MedRite posted a statement to Twitter that read: "MedRite's system for Monkeypox vaccination appointments is now functioning. Apologies to those who attempted to register for the vaccine today. We will continue to administer the vaccine as it is made available and thank the City for their trust."
Newsweek has contacted NYC Health and MedRite.
"Explain 'functioning'. Your user experience for obtaining appointments is abysmal and convoluted," Twitter user Jordan Hruska wrote in response. "It offers you a time slot and then revokes it in milliseconds! Get it together @medrite_ @nycHealthy and @NYCMayor... this response is shameful."
Other Twitter users replied to NYC Health's statement, expressing confusion on what appointments were valid.
Some also said that the booking link has not been made available on the department's website.
In response to the statement, Nicholas Diamond said: "It's not a 'glitch.' It's disorganization at the most resourced DOH [Department of Health] in the world."
"This is unacceptable," Twitter user jeffrey galaise wrote.
Due to the vaccine still being in extremely limited supply, eligibility is currently limited to men who have sex with men, who have had sexual partners in the last 14 days, NBC New York reported.
Before this outbreak, monkeypox was only usually recorded in Central and Western Africa. But that is not the only thing that makes this outbreak different.
It appears to be spreading through sexual contact, particularly among men who have sex with men, although it is not limited to these groups. Scientists are still researching why this is.
NYC Health said on its website that more vaccine appointments were expected to go online in coming days, and later this month.