Europe's top energy firms are rushing to buy more Russian gas, even after President Vladimir Putin declared war on Ukraine on Thursday.
Energy Voice reported on Friday that utility firms are ordering more fuel under long-term contracts with Gazprom PJSC, the largest extractor of natural gas in the world, after European prices rose by 62 percent on Thursday. International benchmark Brent crude oil surged above $100 for the first time since 2014.
The energy website said this was because imports of Russian gas are currently cheaper than spot gas traded in other European countries, leading to imports of Russian gas through Ukraine spiking by almost 38 percent on Thursday.
Stefan Ulrich, a gas analyst with BloombergNEF, said that this increased buying of Russian gas was likely "strategic".
Ulrich told Energy Voice: "There may also be a strategic component as buyers seek to buy now given a potential for disruption in flows or further price increases."
Fuel traders bought 6.5 million cubic meters more a day of pipeline space to draw gas into Europe through the Velke Kapusany entry point on the Ukraine-Slovakia border, suggesting shipments would increase again on Friday. Gas going to Western Europe often goes through that route.
Newsweek has contacted Gazprom for comment on which European companies are buying the company's gas.
Russian President Vladimir Putin's declaration of war on Thursday against Ukraine has drawn scathing criticism from most big powers except China.
At least 137 Ukrainians have died so far, including civilians, and hundreds more have been injured as Russia presses ahead with the invasion. At least 1,000 Russian soldiers have also reportedly been killed, Ukraine's Defense Ministry said.
Troops have clashed in a number of cities across Ukraine, and there were reports on Friday that street battles were already taking place in the capital Kyiv.
Thirteen Ukrainian border guards on Snake Island in the Black Sea who told a Russian warship to "go f*** yourself" were also killed by Russian forces.
The United States, the European Union and the United Kingdom have all announced sanctions on Russia over the invasion. The main energy sanction has been Germany pulling the plug on the Nord Stream II pipeline project, that would have significantly upped its supply of Russian gas. But critics say that many more energy sanctions will be needed if world powers want a chance of stopping the Russian invasion without resorting to military action.
Europe was already facing an energy crisis, and was seeing prices skyrocket even before the war was declared. The graphic below, provided by Statista, illustrates Europe's dependence on Russian Gas.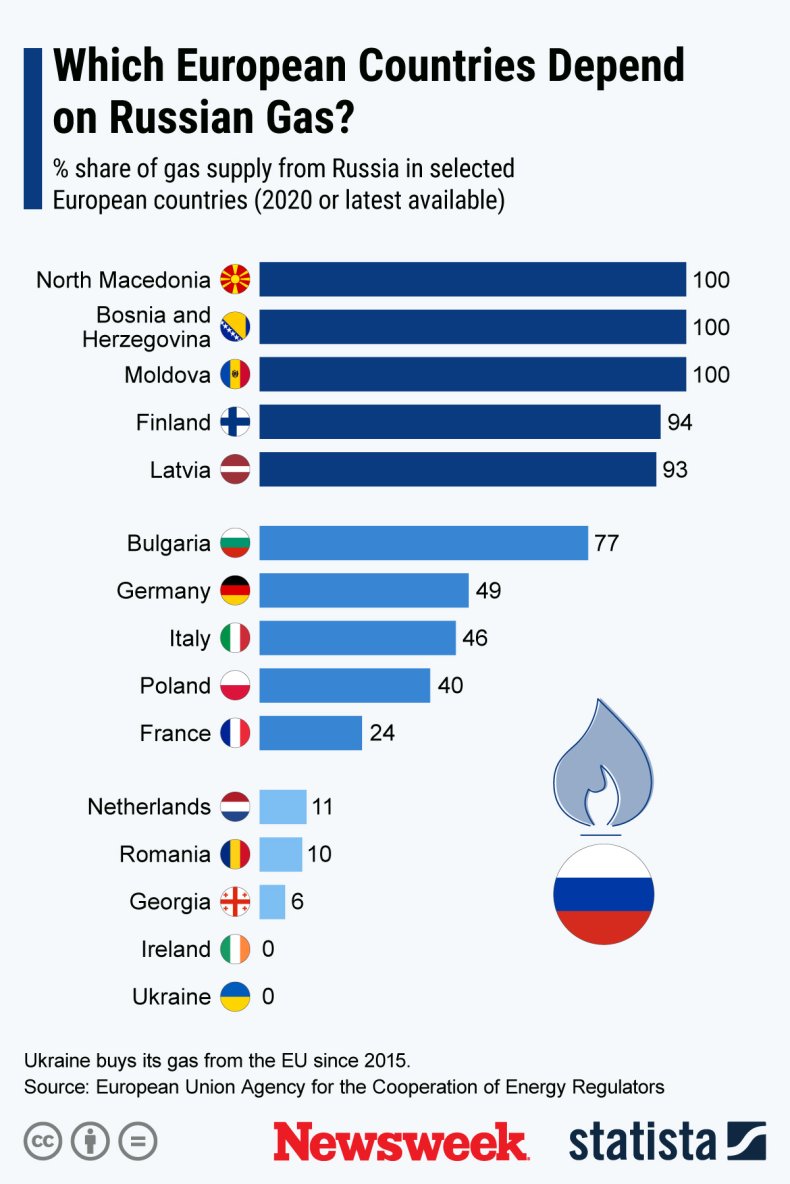 The EU is the largest importer of natural gas in the world and is extremely dependent on Russia for natural gas. Forty-one percent of its imported gas – its largest share – comes from Russia. Back in the 1960s and 1970s, Europe was supplying roughly the same amount of gas as it was using, but then its reserves in the North Sea declined. The bloc has also been trying to reduce its dependence on fossil fuels to reach its climate goal of carbon neutrality by 2050 and cut emissions by at least 55 percent by 2030.
The Financial Times reported on Friday that the EU was preparing to freeze Putin's and Russian Foreign Minister Sergei Lavrov's assets as part of a third round of sanctions. Citing three sources familiar with the discussions, the paper reported that the sanctions would be approved later on Friday, along with several measures against Russian banks and industry.
Follow Newsweek's live blog for more updates on Ukraine-Russia: Ukraine-Russia Updates Live: Putin Ready to Negotiate as Battle for Kyiv Begins.