Hungary's Attack on Migrants and Rule of Law Risks 'Serious Breach' of European Values, EU Warns With Historic Vote
The European Parliament voted Wednesday to begin sanctions proceedings against Hungary for failing to uphold European values. The country has been accused of compromising judicial independence, eroding freedom of expression and attacking minority rights, among other charges.
Judith Sargentini, a Dutch member of the European Parliament, put forth a report that lists attacks on the media, minorities and the rule of law in Hungary, which the MEP said represent "a clear breach of the values of our union."
The vote will not immediately punish Hungary, but it is the first step in a process that could lead to the country losing its voting rights in the European Council, which sets the EU's political agenda. Hungary will now be expected to provide evidence that it is not in breach of European values in order to avoid sanctions.
"Article 7 is a multistep process. First, the European Parliament, the European Commission, or one-third of the member states can propose that there is a 'clear risk of a serious breach' of the core values of the EU. If accepted by four-fifths of the member states, after hearing evidence from the government in question, this constitutes a warning to the member state in question," Frances Burwell, an expert on the European Union at the Washington-based Atlantic Council, told Newsweek.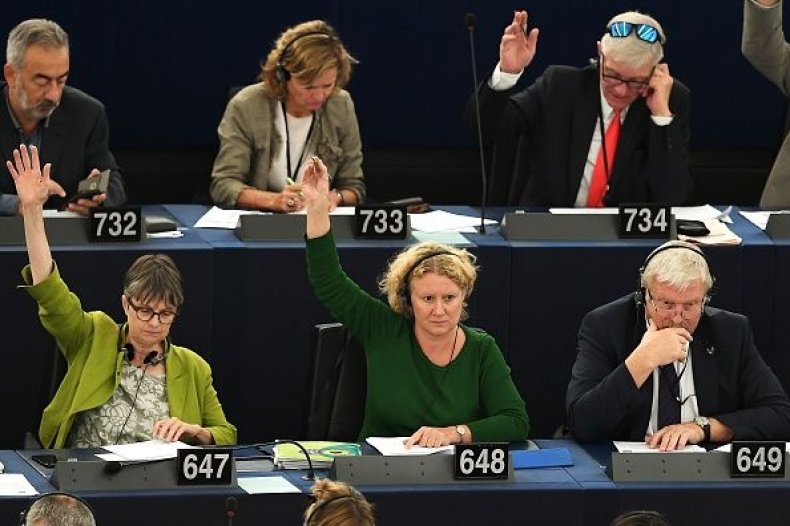 "If there is no correction, the next step is that the European Council—the summit of leaders—agrees unanimously, and with the consent of Parliament, that there is in fact a serious breach of values, not just a risk of a serious breach. Only after that unanimous decision can the Council decide, by qualified majority, on rescinding certain rights, such as voting rights in Council," Burwell continued.
Parliament's vote Wednesday determined that there is a clear risk of a serious breach. The Sargentini report detailed allegations of abuse of migrants stuck in refugee camps on Hungary's border, widespread corruption in Hungary and curbs on the free media. A Human Rights Watch report has recently alleged that Hungary was denying food to asylum claimants stuck on the border between Hungary and Serbia.
The country also passed a controversial law that takes aim at Hungarian-born billionaire philanthropist George Soros, who funds many liberal causes across Europe, and which also criminalizes assisting migrants in the country. Many nongovernmental organizations working with refugees in Hungary have said they feel targeted. Hungary's leadership has also launched an effort to shutter the Soros-founded Central European University, a graduate school in the country's capital, Budapest.
The European Union has floated the possibility of bringing Hungary to the European Court of Justice over the "Stop Soros" law. There has also been some discussion about whether Hungarian President Viktor Orban's ruling Fidesz party should be expelled from the European People's Party, a center-right alliance in the European Parliament, although some say it is unlikely Fidesz will be officially kicked out before the 2019 European Parliamentary elections. Nevertheless, analysts say Wednesday's vote shows European institutions are willing to show a united front to stand up for their values.
"Today's vote is significant because it shows EU members are willing to stand up for fundamental rights and the common values the union is founded upon. It is no longer the solitary fight of the Commission, as it has been so far with Poland, but a pan-European issue ahead of the elections next year," Zselyke Csaky, a Central Europe expert with Freedom House, told Newsweek. "The consequences go beyond Orban and his party and give a boost to those wanting to defend the EU as a union based on rule of law. The EPP will certainly have a hard time in the coming weeks and months if Fidesz is not suspended or doesn't leave."
Orban defended his country against the accusations in a controversial speech on Tuesday. "I reject that the pro-immigration and pro-migrant forces of the European Union should threaten and blackmail and smear Hungary and the Hungarian people based on false allegations," he told the EU parliament. "Hungary will protect its borders, stop illegal migration and Hungary will defend its rights, if needed even against you."
Many experts say the action was taken at a critical time for Europe. Poland, too, is in the process of presenting evidence to the European Union that it did not violate European values by passing controversial judicial reform that puts the country's legislature under the control of the ruling Law and Justice Party. Meanwhile, far-right, anti-immigrant groups are making inroads in politics across the European Union.
"For a time, Hungary's 'illiberal democracy' was the exception—a peculiar Hungarian development that could be contained. But now, it is spreading, not only in Poland, but Austria, Italy, and Sweden, not to mention Brexit. 'Illiberal democracy' is now a cancer at the heart of the Union, and so there is more concern about stopping it," Burwell told Newsweek.
"The Article 7 procedure is a legal process, but it is also a political tactic. It doesn't happen quickly but rather slowly ratchets the pressure on the member state of concern, so there is ample time to negotiate. Article 7 by itself probably will not work, but in conjunction with budgetary and other forms of pressure, there is a chance."