European Parliament Backs Ukraine's EU Application, But Long Road Ahead
The European Parliament, the European Union's legislative branch, gave a boost on Tuesday to war-torn Ukraine's hopes of one day joining the 27-nation grouping, urging the bloc's leaders to set Ukraine on the path to membership.
Ukrainian President Volodymyr Zelensky formally applied to join the EU just the day before, asking for fast-track admittance due to the Russian invasion of Ukraine, which entered its sixth day on Tuesday.
Ukraine has long aspired to be a member of the EU, but its desire to be part of Western institutions, such as the EU and NATO, has put it on a collision course with Russia, which wants to retain Ukraine in its orbit.
The European Parliament voted overwhelmingly for a resolution Tuesday calling for the EU "to work towards granting EU candidate status to Ukraine ... on the basis of merit, and, in the meantime, to continue to work towards its integration into the EU single market."
The non-binding resolution, backed by 637 lawmakers to 13 against, also called "for the scope of sanctions to be broadened and for the sanctions to be aimed at strategically weakening the Russian economy and industrial base, in particular the military-industrial complex."
Decisions on admitting new members to the EU, however, must be taken unanimously by the bloc's 27 national governments. As a first step, governments ask the EU's executive Commission to draw up an opinion on a country's readiness to join the EU.
A country wishing to join must satisfy a series of conditions, including having "a free-market economy, a stable democracy and the rule of law" and accept all EU legislation, including adoption of the euro currency, according to the EU's website.
If all goes well, the EU may eventually declare a country an official candidate to join the bloc, kicking off an arduous process of negotiations to bring a country's laws into line with those of the EU, which usually takes years.
"Due to the huge volume of EU rules and regulations each candidate country must adopt as national law, the negotiations take time to complete," the bloc's website said.
The EU has grown more reluctant to accept new members in recent years. Albania, North Macedonia, Montenegro, Serbia and Turkey are currently candidate countries and they all applied to join years, or even decades, ago.
German Foreign Minister Annalena Baerbock said a nation cannot become an EU member in just a few months. Ursula von der Leyen, president of the European Commission, the EU's executive branch, told European media she wants Ukraine to join the union "over time," Newsweek previously reported.
Von der Leyen told Euronews in an interview Sunday that Ukraine is "one of us and we want them in the European Union", but she gave no indication that Ukraine would be put on a fast track to membership.
Russia has in the past strongly opposed Ukraine's efforts to move closer to the EU. When Ukraine signed a free-trade deal with the EU in 2014, it drew a threat of "grave consequences" from Moscow.
EU membership gives a country access to a vast market of 450 million people and allows a country's citizens to work or study in any member country.
In a speech on Monday advocating Ukraine's EU membership, Zelensky called for Ukraine to be immediately admitted under a "new special procedure."
"Our goal is to be with all Europeans and, most importantly, to be equal," he said. "I am confident that it is fair. I am confident we have deserved it. I am confident that all this is possible."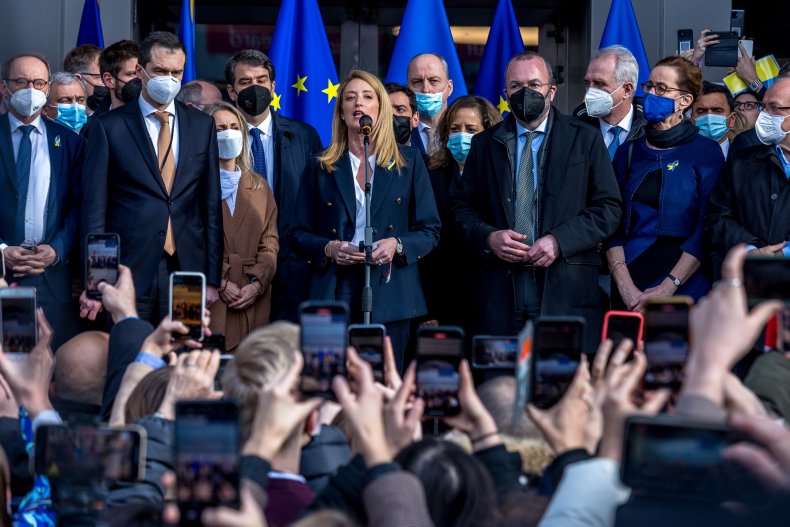 Correction 03/02/22 6:05 a.m. ET: This story and its headline have been corrected to show that the European Parliament is calling for the EU to start membership talks with Ukraine, but has not accepted its application