Zelensky Files Application for Ukraine to Join European Union
Ukrainian President Volodymyr Zelensky has officially filed a request for Ukraine to join the European Union.
He asked for a fast track admittance to the bloc under a special procedure amid the country's ongoing conflict with Russia, Reuters reported.
"Our goal is to be with all Europeans and, most importantly, to be equal. I'm sure that's fair. I am sure we deserve it," he said in a speech that was broadcasted from the Ukrainian capital of Kyiv.
Zelensky's hopes to be added rapidly to the EU may not come to fruition, according to several European leaders. European Commission President Ursula von der Leyen, who runs the EU's executive branch, said in an interview with Euronews Saturday that she wants Ukraine to join the bloc "over time."
German Foreign Minister Annalena Baerbock said hours after Zelensky's speech that joining the bloc is not something that can be achieved in a couple months, adding, that Ukraine is part of and welcome in the "house of Europe" RadioFreeEurope reported.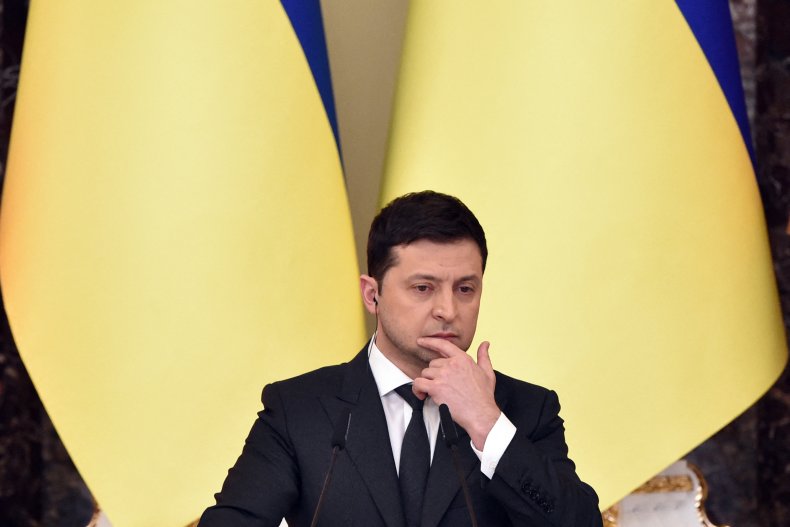 Membership in the EU comes with several key benefits, such as the single market that "enables most goods, services, money and people to move freely throughout most of the continent," according to the bloc's website.
All EU citizens can study, work or retire in any member country, while all EU nations are required to treat foreign citizens the same as their own citizens for "employment, social security and tax purposes."
The EU's single universal currency, the euro, also mitigates the risk of currency fluctuations and prevents extra costs from currency exchanges.
As questions remain on how long the Russian-Ukrainian conflict may last and its impact on Ukraine, the ability for Ukrainian citizens to move freely in European nations may be a particularly strong draw for Zelensky and other leaders.
Hundreds of thousands of Ukrainians have fled the country since Russia invaded, and the number will likely grow further. U.N. agencies have estimated that the invasion could lead to about 5 million refugees overall fleeing from Ukraine, Newsweek previously reported.
The majority of Ukrainian citizens who have already fled have entered neighboring nations like Moldova, Poland and Romania. Both Poland and Romania are part of the EU.
While the timeline of Ukraine's potential EU admittance is murky, support for the move is evident.
"They belong to us, they are one of us, and we want them in," von der Leyen said during her interview with Euronews.
Zelensky has mentioned on social media in recent days that figures like Polish President Andrzej Duda and Romanian President Klaus Iohannis are also backing its admittance.
In a tweet that included a picture of Zelensky signing the EU application, Ukrainian Prime Minister Denys Shmyhal said that EU membership "is the choice of Ukraine and the Ukrainian people," adding, "We more than deserve it."
Update 2/28/22, 1:00 p.m. ET: This story has been updated with additional information.