Europe Braces for New Refugee Crisis as Millions Expected to Flee Ukraine
Thousands of Ukrainians have fled their country since the Russian invasion this week, pushing concerns about the next potential refugee crisis in Europe at the forefront.
The UN Refugee Agency tweeted on Sunday that 368,000 Ukrainians fled the country and the number "continues to rise."
The figure increased from the number that the agency confirmed to Newsweek on Friday, which was at least 100,000 individuals within Ukraine have been displaced and over 50,000 people out of a population of nearly 44 million left the country since the attacks began.
Meanwhile, U.N. agencies estimate that the invasion could result in around 5 million refugees fleeing Ukraine. The majority of those who have fled arrived to neighboring countries including Moldova, Poland, and Romania. However, there are "many more moving towards its borders," the United Nations High Commissioner for Refugees Filippo Grandi said on Twitter.
Afshan Khan, the UNICEF regional director for Europe and Central Asia, said on Friday during a U.N. press briefing in Geneva that 1 to 3 million refugees could arrive to Poland and "a scenario of 1 to 5 million including all surrounding countries."
"This would represent the largest number of displaced people fleeing to Europe since 1946-48, when an entire agency UNRRA (the United Nations Relief and Rehabilitation Administration) spent some €40bn ($46bn) in today's money to deal with the millions of displaced persons," former Estonia president and Nonresident Fellow at the Center for European Policy Analysis, Toomas Hendrik Ilves, wrote in a report in January, who also estimated that 3 to 4 million Ukrainians could be displaced.
However, some experts don't think that the current Ukrainian refugee situation is a crisis yet, but that the countries receiving them could be challenged.
"This is not a crisis, however, and if so, only for the Ukrainians fleeing. It is certainly not for the receiving nations where the incorporation of refugees will be somewhat distributed," John Borneman, an Anthropology professor at Princeton University, told Newsweek on Sunday.
"Defining crisis is key here and there are only perspectives on this, and these perspectives vary and change over time depending on a number of factors, including mood, the collective perception of what is going on. Meaning, what is a crisis at one time is not at another, what is a crisis in one place is not at another. There is no objective crisis when it comes to human perceptions," he added.
Ukrainians don't need a visa to enter countries in the Schengen area, according to EU policy, except for Romania which is not part of the bloc, meaning those who leave Ukraine can arrive at neighboring countries that are also EU members.
"Ukrainians already today enjoy visa-free travel to the EU. This would not be a matter of fleeing across the sea as with Balts in World War II or Syrians in 2015, these refugees need only to drive across the EU border, show their passports and they will be in the EU legally," Ilves said.
The Ukrainian refugee situation has long been pressing even before Russian President Vladimir Putin's military action. On Monday, Linda Thomas-Greenfield, the U.S. representative to the U.N. said to the United Nations Security Council in an emergency meeting that around 3 million Ukrainians were already in need for care including "food, shelter and lifesaving assistance."
"If Russia invades Ukraine even further, we will see a devastating loss of life. Unimaginable suffering. Millions of displaced people will create a refugee crisis across Europe," she warned before the invasion unfolded late Wednesday night.
Serena Parekh, an expert on the ethics surrounding displacement and refugees with Northeastern University, made similar remarks warning that Europe could face a refugee crisis as the situation in Ukraine exacerbates, saying that such a potential crisis could impact politics and policies in the EU.
"A refugee crisis could play into Putin's strategy if his goal is to destabilize Western democracies and cause right-wing backlash and the rise of authoritarian leaders," Parekh told Newsweek on Friday. "We saw this [phenomenon] after the 2015 refugee crisis in Europe."
The 2015 refugee crisis in Europe saw over 1 million individuals arriving into EU countries seeking refuge after they escaped conflicts in their nations including Syria. However, experts warned that the Ukrainian refugee situation could impact European politics "much or more than" the 2015 crisis.
RAND Corporation's adjunct senior fellow Charles Ries and senior policy researcher Shelly Culberston published those warnings before the Russian invasion.
"In the event of much larger movements of Ukrainians this year, the political impacts could be similar and bolster right-wing and nationalist movements. Since Russian critiques of Ukraine's NATO aspirations may be the casus belli, any backlash to the refugees in communities experiencing migrant flows could further divide NATO members (an effect which would be welcomed in Russia, and perhaps enhanced by disinformation efforts)," Culbertson and Ries wrote.
Both experts noted that the EU and NATO members could take steps to ease a potential refugee crisis such as enacting national disaster plans that are in place for natural disasters such as flooding.
Borneman also warned of a challenge that Europe could potentially face as it deals with rising Ukrainian refugee numbers, in which European politicians could use the shifts in moods to create "alarmism."
"As one can see in the Syrian refugee crisis, the crisis aspect has withered—contradicting so many pundits," he said.
A refugee crisis that involves millions of people could also burden internal aid organizations and neighboring European countries who will mainly bear the responsibility of catering to the humanitarian needs of displaced Ukrainians, according to deputy director for the Americas and Europe at Refugees International, Yael Schacher, Time magazine reported.
She also noted that the U.S. will play a role in handling the influx of Ukrainian refugees by offering logistical, personnel, and financial support. "We can ensure that the U.S. does its fair share in handling this refugee flow," she said.
Another aspect that could intensify the current refugee situation would be the arrivals of non-Ukrainian people who lived in Ukraine. Benjamin Ward, deputy director of Europe and Central Asia for Human Rights Watch, warned that non-Ukrainian nationals, including people from Afghanistan and India, have weaker positions at European borders. This is mainly because they might not be received openly like Ukrainians who mostly share similar cultures and religion to that of Europeans.
"There's the politics of it, of course, wanting to stand up to Russia, the aggressor. It makes a strong political statement to...categorize [Ukrainians] as refugees," Daphne Panayotatos of Refugees International told Time. "But it's also because Ukrainians are largely white, Christian Europeans, rather than Middle Eastern and African individuals who are seeking safety. There's an element there that needs to be pointed out."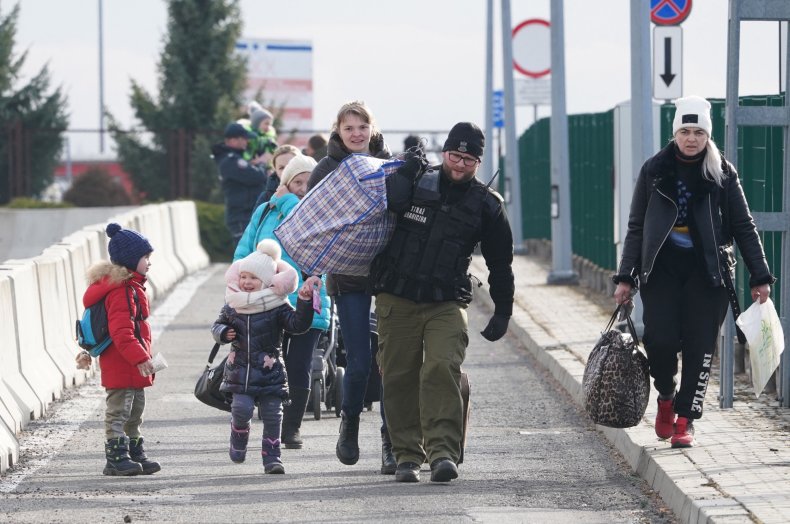 A report by Relief Web, a humanitarian information portal, noted that it is important for EU policymakers to show that they could properly handle the refugee situation. This includes managing and controlling arrivals, setting a plan to temporarily receive displaced Ukrainians, and avoiding "chaotic border scenes."
"For it is these scenes of chaos and poor management that have fueled an ever-growing list of reactive and restrictive stances on humanitarian protection and migration across the bloc in the past months," the report read.
Many Ukrainians drove their cars while others got on buses and trains as Russian troops continued their attack, causing hours-long traffic jams and crowded bus and rail stations.
Traffic stood still as a line of cars stretched dozens of miles on a four-lane main road to Lviv, a western Ukrainian city located near the Poland border.
"I'm going away because a war has started, Putin attacked us," Oxana, a woman stuck in the traffic jam, told Reuters. "We're afraid of bombardments."
Newsweek contacted multiple experts in refugee resettlement, UNHCR, and the International Rescue Committee for comments and will update this story with any additional responses.
The story has been updated to include the UN Refugee Agency's latest number of Ukrainian refugees who fled the country and comments by John Borneman.