Why the European Super League Is Facing Backlash as Clubs Are Threatened with Bans
Plans for a breakaway European Super League that would drastically overhaul European soccer were met by a furious backlash from fans, domestic leagues and politicians who warned clubs they could be banned from playing.
On Sunday afternoon, 12 clubs announced plans to break ranks with UEFA—European soccer's governing body—and form a so-called European Super League (ESL).
The founding members include the English Premier League's so-called "Big Six"—Manchester United, Manchester City, Liverpool, Chelsea, Tottenham Hotspur and Arsenal—along with Barcelona, Real Madrid and Atletico Madrid.
Juventus, A.C. Milan and Inter Milan—the most successful clubs in Italy's Serie A—are also involved.
Under the proposal, a fellow three teams will join as founding members with five more clubs being allowed to take part in the competition each year through a yet-to-be-determined qualifying mechanism.
The plans immediately drew a fierce backlash from UEFA and domestic leagues, which accuse the proposal of undermining soccer's meritocracy.
In its current status, clubs qualify for European competitions—the Champions League and the Europa League—based on their performances in the previous season.
Manchester United, for example, missed out on a Champions League spot in three of the last five years. The ESL proposal, however, would effectively ring-fence the competition for the founding members, irrespective of performance in their domestic leagues.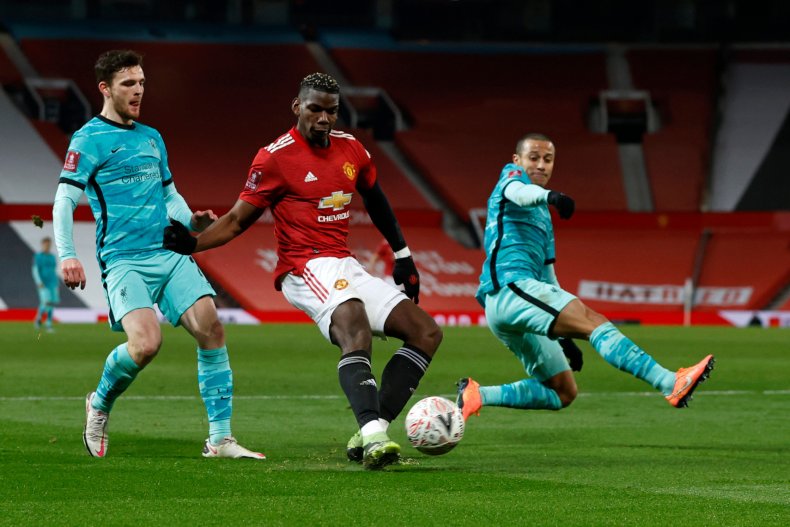 Conversely, Leicester City secured a berth in European soccer's elite competition following their fairytale Premier League triumph in 2016.
"The Premier League condemns any proposal that attacks the principles of open competition and sporting merit which are at the heart of the domestic and European football pyramid," the Premier League said in a statement on Sunday.
"Fans of any club in England and across Europe can currently dream that their team may climb to the top and play against the best. We believe that the concept of a European super league would destroy this dream."
Britain's Prime Minister Boris Johnson called the plans "very damaging" for soccer.
"Plans for a European Super League would strike at the heart of the domestic game, and will concern fans across the country," he said.
"The clubs involved must answer to their fans and the wider footballing community before taking any further steps."
The Football Supporters Association said "cynical greed" was the driver behind the proposals.
"The motivation behind this so-called superleague is not furthering sporting merit or nurturing the world's game—it is motivated by nothing but cynical greed," it said in a statement.
"This competition is being created behind our backs by billionaire club owners who have zero regard for the game's traditions and continue to treat football as their personal fiefdom."
Germany's Bundesliga struck a similar tone, while LaLiga president Javier Tebas was scathing of the proposals, which he described as devised by owners "drunk with selfishness and lack of solidarity."
In a separate statement, the league added: "LaLiga strongly condemns the recently published proposal for a breakaway, elitist European competition that attacks the principles of open competition and sporting merit which are at the heart of the domestic and European football pyramid."
In a strongly-worded editorial, Italy's main sports daily newspaper La Gazzetta dello Sport said the ESL was a project "born out of the interest of a few, betraying meritocratic values ​​and debasing national tournaments that represent the social and cultural roots of football."
The Union of European Football Associations (UEFA), meanwhile, threatened the clubs involved with bans not only from European competitions but from their domestic leagues. Additionally, players representing the clubs involved in the ESL could be banned from playing for their countries.
"The clubs concerned will be banned from playing in any other competition at domestic, European or world level, and their players could be denied the opportunity to represent their national teams," a UEFA statement said.
"We thank those clubs in other countries, especially the French and German clubs, who have refused to sign up to this."
The latter point is a reference to Paris-Saint Germain and Bayern Munich—last season's Champions League finalists—who have hitherto declined to join the ESL.
On Monday morning, PSG president Nasser al-Khelaifi was among the members of UEFA's executive committee who unanimously voted to approve a Champions League expansion to 36 teams from 2024.
The concerns over the impact the proposed ESL would have on European soccer are two-fold. Aside from not rewarding meritocracy, ESL clubs would have potentially disproportionate financial advantage over their domestic rivals.
According to the statement released on Sunday, "founding clubs will receive an amount of €3.5 billion ($4.3 billion)". The sum works out to $400 million per club, which amounts to four time the amount Bayern Munich took home when it won the Champions League last season.
The graphic below, provided by Statista, shows that 11 of the 12 founding members of the proposed European Super League were among the richest clubs in the world last year.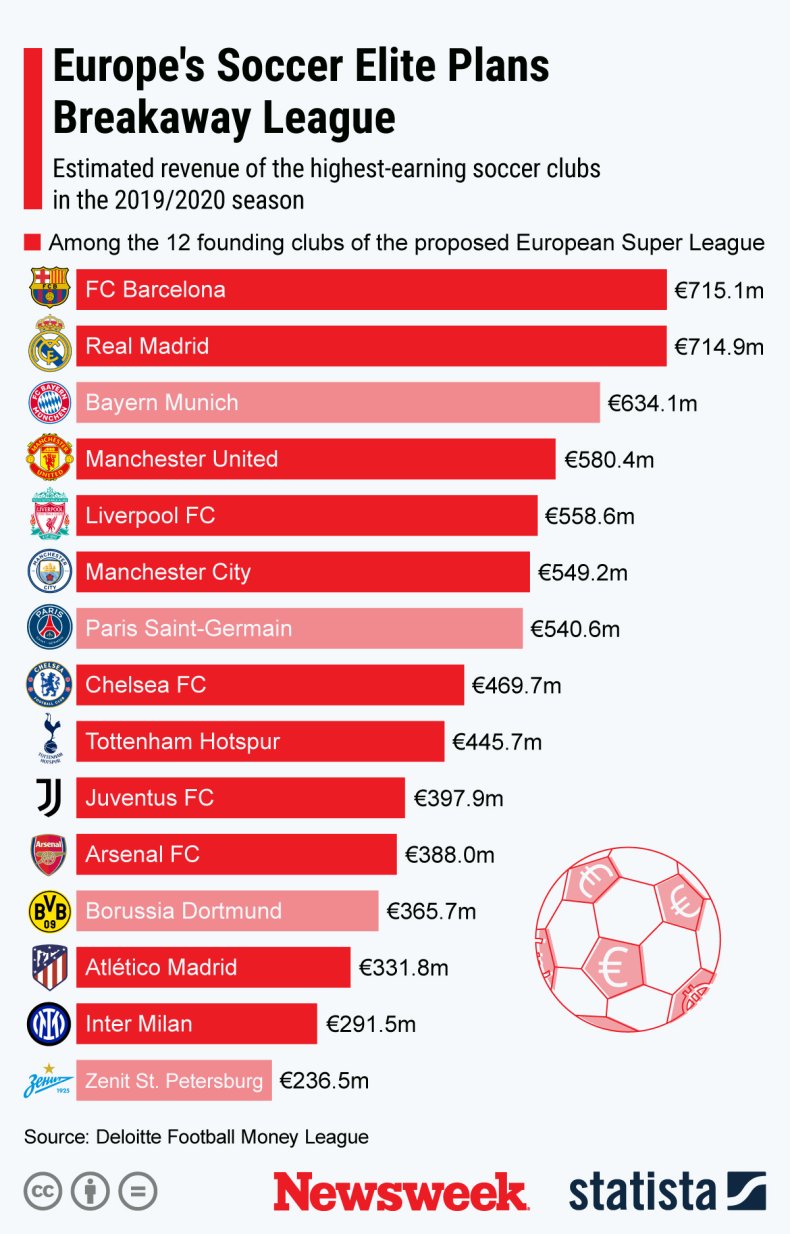 It would also have a significant knock-on effect on the race for European competition spots in domestic leagues. Liverpool, for example, is currently sixth in the EPL and in danger of missing out on a Champions League spot.
Should the ESL go ahead, Liverpool would be guaranteed a significant windfall regardless of its league finish.
Additionally, the identity of the clubs involved has also drawn criticism.
Arsenal, Tottenham and Atletico Madrid have never won the Champions League, while Manchester City has almost no European pedigree to speak of and played in England's second division just two decades ago.
Conversely, the ESL in its current state excludes Bayern Munich, Borussia Dortmund, Ajax, PSV Eindhoven, Feyenoord, Porto and Benfica, which have won a combined 17 Champions Leagues between them.