Eurovision 2018: Where to Watch in the U.S., How Does Voting Work and Why Is Australia There?
It's the competition that's given us a Finnish shock-metal band dressed as half-decomposed monsters, a troupe of singing Russian grandmothers baking bread and six suit-clad men chanting "we are the winners!" non-stop—and the 2018 Eurovision Song Contest looks set to be as bizarre as ever.
This Saturday acts from 26 countries will gather in the Portuguese capital of Lisbon to compete in the grand final of the 63rd Eurovision Song Contest.
Below is everything you need to know about this year's outing.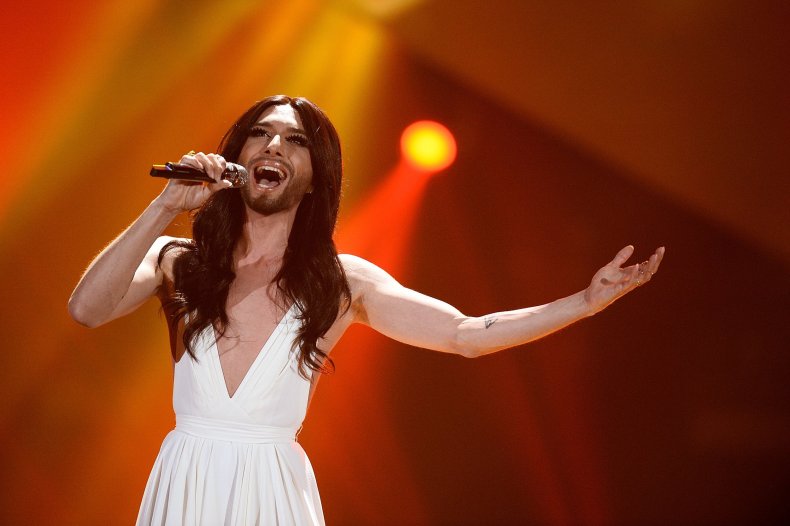 What time is it on and where can I watch it?
The final will be broadcast at 15:00 Eastern Standard Time, and be shown across the glove. Viewers in the U.S., will need a cable subscription to Logo, the network behind RuPaul's Drag Race. Drag Race alum Shangela and co-host Ross Matthews will provide commentary.
How does it work?
Think of it like American Idol, but with weirder costumes, more languages, and between a bunch of countries who have previously been at war, peppered with all the passive aggressive political posturing that might entail. (Although overtly political lyrics, speeches and gestures are—at least in theory—banned).
To make it to the grand final, acts from 43 countries must qualify through their country's selection process, as well as two semi-finals. France, Germany, Italy, Spain and the U.K., the so-called "Big Five" nations, qualify automatically. The host country, the previous year's winner (this time around Portugal), is also guaranteed a spot.
Each act must sing live on the night. Then, the residents of all 43 countries can vote for their favorite act. To keep things fair a nation cannot vote for themselves. This is where long-held and fresh rivalries and alliances come into play. A professional jury from each country also casts a vote.
The resulting scores are read out by a representative of each country, who deliver points in two banks— one of 12 to 10 and another of 8 to 1.
The winner doesn't receive money, but gets to take home the glass microphone trophy—and bragging rights for their home country.
How popular is it?
In 2016, some 204 million people watched at least one of the three shows in whole or in part, according to Eurovision.
It's hugely popular, and Eurovision final parties aren't uncommon. Singers armed with cheesy, heartfelt ballads and women dressed as milkmaids, suggestively churning butter on stage, can grace the same stage in one night. First held in 1956 —involving only seven participants— it has morphed into the most gloriously bizarre singing competition in the world.
So, who invited Australia?
The organizers were so impressed by Australia's enthusiasm for Eurovision that they gave them the chance to compete in 2014 for the first time ever. It went so well that they have since been given permission to return annually, although do need to qualify in the semi-finals like most of the other nations.
As Australia is thousands of miles away from mainland Europe, if the nation ever wins they'd have to nominate a nation to host on their behalf to save everyone a very long trip around the world.