More than a decade has passed since actress Evan Rachel Wood and rock star Marilyn Manson ended their engagement in 2010.
Like many celebrity couples post-split, the pair vanished from the headlines to lead separate lives, with Rachel Wood marrying actor Jamie Bell and Manson—real name Brian Warner—tying the knot with photographer Lindsay Usich.
In 2021, the actress made allegations concerning abuse by Marilyn Manson, which have been discussed in the new movie Phoenix Rising, set to air in February on HBO.
The documentary, directed by Amy Berg, outlines the allegations Rachel Wood first made against Manson in 2021 and also includes shocking new claims, as transcribed by Pitchfork.
What Evan Rachel Wood Has Said About Marilyn Manson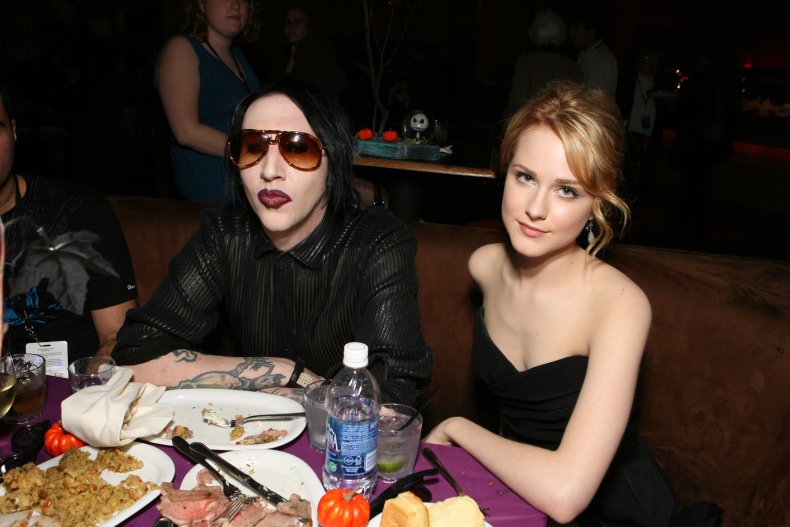 In the film, Rachel Wood discussed the music video for Manson's 2007 single "Heart-Shaped Glasses (When the Heart Guides the Hand)", starring the couple, where she alleged he "essentially raped" her on set.
Of the video accompanying the song reportedly inspired by Wood, she said of being on the video's set: "It's nothing like I thought it was going to be. We're doing things that were not what was pitched to me."
She added: "We had discussed a simulated sex scene, but once the cameras were rolling, he started penetrating me for real.
"I had never agreed to that. I'm a professional actress, I have been doing this my whole life, I'd never been on a set that unprofessional in my life up until this day.
"It was complete chaos, and I did not feel safe. No one was looking after me. It was a really traumatizing experience filming the video. I didn't know how to advocate for myself or know how to say no because I had been conditioned and trained to never talk back—to just soldier through.
"I felt disgusting and like I had done something shameful, and I could tell that the crew was very uncomfortable, and nobody knew what to do.
"I was coerced into a commercial sex act under false pretenses. That's when the first crime was committed against me and I was essentially raped on camera."
In February 2021, Wood had alleged Manson was her abuser for the first time via a statement posted on her Instagram account.
"The name of my abuser is Brian Warner, also known to the world as Marilyn Manson. He started grooming me when I was a teenager and horrifically abused me for years. I was brainwashed and manipulated into submission."
"I am done living in fear of retaliation, slander, or blackmail. I am here to expose this dangerous man and call out the many industries that have enabled him, before he ruins any more lives. I stand with the many victims who will no longer be silent."
In a mid-January 2022 Instagram post, Rachel Wood, wrote: "Friendly reminder to the press. It [was] not only 'women' or 'former girlfriends' of Brian that have come forward.
"Multiple men and former employees have also come forward with stories of witnessing or experiencing their own abuse. Please don't [sic] edit them out of their own story."
She added in a comment to the post: "We are so used to these stories being centered around women and former partners, we sometimes only hear what we want. There is so much more out there a large majority of the press is already forgetting about.
"Some of this is intentional, as it's much easier to discredit a group of women because we are often scapegoated as 'crazy' or 'vengeful.'"
In October 2021, she posted: "If you are outraged about the lack of movement from law enforcement, please call the District Attorney, the Attorney General LAPD, your local representatives and ask: 'What is being done about Brian Warner?'
"We need to keep the pressure on. We need your help."
The U.S. actress revealed in a 2016 open letter on Twitter she had been raped twice.
She wrote: "I don't believe we live in a time where people can stay silent any longer. I certainly can't. Not given the state our world is in with its blatant bigotry and sexism.
"It should be talked about because it's swept under the rug as nothing and I will not accept this as 'normal.'
It's a serious problem. I am still standing. I am alive. I am happy. I am strong. But I am still not ok.
"Yes, I have been raped. By a significant other while we were together. And on a separate occasion, by the owner of a bar."
Manson has denied the allegations, saying they were "horrible distortions of reality" in February 2021, the most recent post to his Instagram page.
He wrote: "Obviously, my art and my life have long been magnets for controversy, but these recent claims about me are horrible distortions of reality.
"My intimate relationships have always been entirely consensual with like-minded partners. Regardless of how—and why—others are now choosing to misrepresent the past, that is the truth."
In the wake of Wood's allegations, Loma Vista Recordings, which released Manson's most recent albums, announced the label would no longer be working with the artist and would cease promoting his latest album "effective immediately."
Specialists from the Rape, Abuse, and Incest National Network (RAINN) sexual assault hotline are available 24/7 via phone (1 (800) 656-4673) and online chat. Additional support from the group is also accessible via the mobile app.