What Dita Von Teese Has Said About Being Married to Marilyn Manson
Dita Von Teese, the dancer known as the "queen of burlesque," was married to singer Marilyn Manson for two years between 2005 and 2007.
After Westworld actor Evan Rachel Wood and four other women accused the rocker of abusing them this week—something Manson denies—here are the times his ex-wife spoke about their relationship, marriage and subsequent divorce.
In particular, a 2007 interview between Von Teese and Harper's Bazaar has come back to the public's attention. The interview, conducted just six months after she filed for divorce on December 29, 2006, is noteworthy, as it came out around the same time that Manson's relationship with Wood began.
Asked by Harper's whether their marriage breakup had anything to do with Wood, Von Teese says, "no comment"—though the reporter notes, "but I can't help noticing that her hands—beautifully manicured, of course, and painted the same red as her lips—are shaking."
In the same interview, she says of the relationship: "I've even had people come to me since, saying, 'Well, didn't you have an open relationship?' No! Never! We were completely monogamous. I think people thought we were real free and open, but we really believed in commitment and tradition and our vows. But sometimes people change their ideas, I suppose...."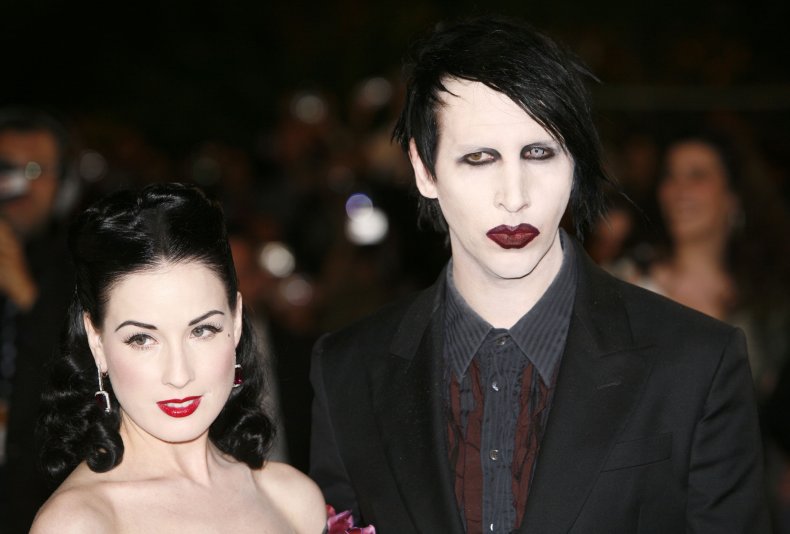 She later added: "You read a lot of things that are lies and a lot of things that are the truth. I don't have any interest in correcting all of the untruths because it's better not to, really. It is personal, and I don't want to go accusing. There are two sides to every story."
Most tellingly, she says: "Let's just say that it must have been something pretty bad for me to move out of the house after six years together and to pack up my stuff on Christmas Eve...I felt like I'd found the man of my dreams. But sometimes things change overnight, and you have to make a choice as to whether you're going to respect yourself and say, 'I'm not going to accept this. This is not okay.'"
The month previous to that, she had told the U.K's Sunday Telegraph: "Everything went downhill after we got married. I started working a lot to escape my home life."
In this interview, she says of the marriage: "I basically lived with Mommie Dearest for six years." This is a reference to the Faye Dunaway movie of the same name about the emotional abuse that Christina Crawford experienced at the hands of her mother, Hollywood icon Joan Crawford.
She also told the interviewer: "It was difficult, because I was trying to get him help for his problems, and eventually I realized that he didn't want help. I wasn't supportive about his partying or his relationship with another girl, and as much as I loved him I wasn't going to be part of that."
Manson (real name Brian Warner) meanwhile, had his own explanation for why the marriage ended. He told Spin magazine in May 2007: "Marriage changes everything...people would say that drugs and alcohol wrecked my marriage."
He later added: "She said she had tolerated the lifestyle because she hoped I would change and threatened to leave if I didn't. I was sleeping on the couch in my own home. I was no longer supposed to be a rock star. I was someone who had to be apologized for. I wasn't prepared to be alone. I came out of this naked, a featherless bird."
That interview also contains an insight into the early days of his relationship with Wood. He tells the interviewer that Wood told him that she would die for him, saying of this: "It might sound strange, but this made me want to live."
This seems to chime with an incident Manson detailed in a Rolling Stone interview in April 2007 when he said an unnamed woman, "picked up a butcher's knife and said, 'Here, you can stab me.'" He elaborated: "When someone was willing to drown with me, I really didn't want to drown anymore."
In February 2021, Wood released an Instagram post reading: "The name of my abuser is Brian Warner, also known to the world as Marilyn Manson. He started grooming me when I was a teenager and horrifically abused me for years. I was brainwashed and manipulated into submission. I am done living in fear of retaliation, slander or blackmail. I am here to expose this dangerous man and call out the many industries that have enabled him, before he ruins any more lives. I stand with the many victims who will no longer be silent."
After Ashley Walters, Sarah McNeilly, Ashley Morgan and a woman calling herself "Gabriella" also came forward, Manson released a statement of his own calling these claims "horrible distortions of reality."