Evangelical Christian Church for Muslim Converts Opens in Syrian Town Previously Besieged by ISIS
An Evangelical Christian church for Muslim converts has opened in the Syrian city of Kobani, which was previously besieged by the Islamic State (ISIS).
Pointing to the experience of war and the oppressive and hard-line interpretation of Islam promoted by ISIS, worshippers said these factors played a role in their decision to convert, according to Reuters. Muslim scholars from around the world have condemned ISIS' interpretation of Islam, but the faith of some in the Kobani community had been affected by extremist violence.
"After the war with Islamic State people were looking for the right path, and distancing themselves from Islam," Omar Firas, the founder of Kobani's evangelical church, told the news agency. "People were scared and felt lost," he said, pointing out that anyone in the community is welcome to join the small—but growing—services. Currently, there are about 80 to 100 worshippers from approximately 20 families who have joined the church.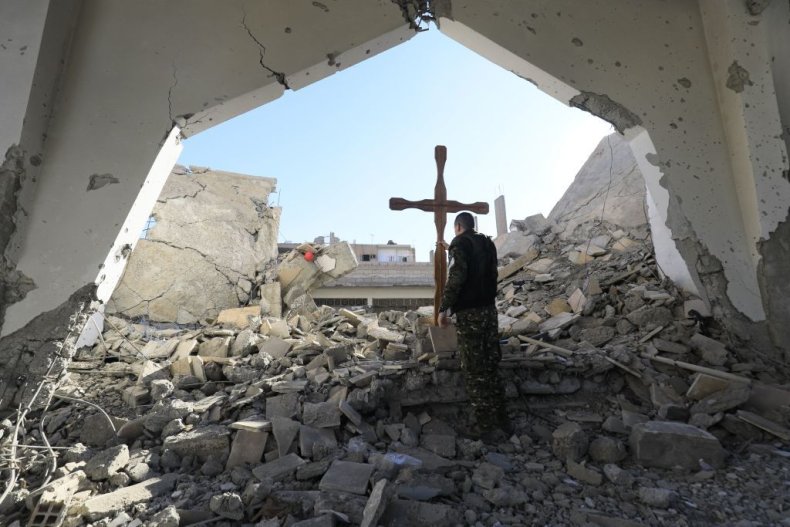 Christians—whether Protestant, Orthodox or Catholic—are a minority throughout the Middle East. But Christian communities have lived throughout the region, where the religion originated, for two millennia. At the same time, Christians have faced significant persecution.
ISIS and other Islamist militant groups have targeted churches and sites sacred to Christianity in recent years. Attacks on Christians and their places of worship have rocked Egypt, where about 10 percent of the population is Coptic Orthodox. Many Iraqi Christians had also fled their country in the wake of the 2003 U.S. invasion, as militant extremist groups targeted their communities. Some estimates suggested up to 80 percent of Iraq's Christian have left the country.
Western leaders and rights groups have long raised concerns about the persecution of Christians in the Middle East, particularly in the region's predominantly Muslim countries. Historically, the U.S. and other nations have more easily granted asylum to Christians fleeing persecution from these countries, but the Trump administration—which implemented a ban on travelers coming from Syria, Iran, Yemen, Libya and Somalia—has effectively kept Christians and other minorities within the region. Dubbed a "Muslim ban," Christians from the impacted countries have been caught in limbo as well.
"In the past we've seen this just huge exodus of—particularly Christians—from the Middle East, and in the past it's always been, okay, let's just grant people asylum status in the West, whether it's Europe, Canada, the United States, Australia," Sam Brownback, the U.S. State Department's ambassador for religious freedom, told The New Arab in October.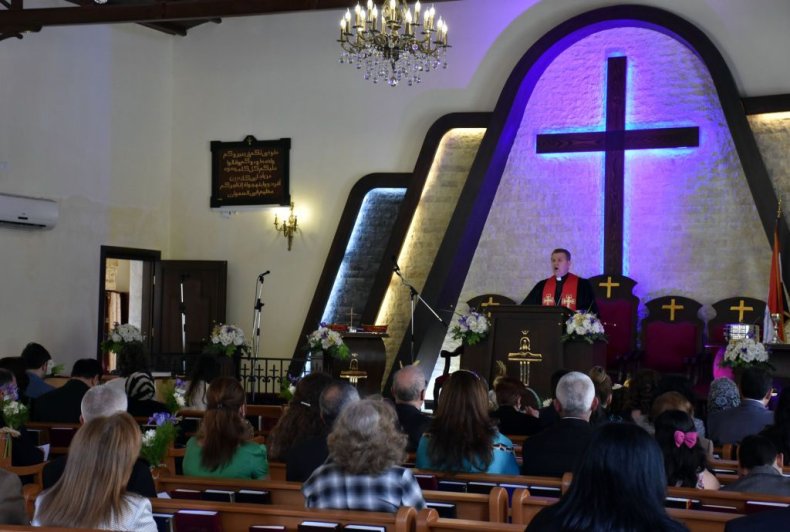 "Those are still being granted, but what's happening this time is that the administration has leaned in and said we want to be able to allow these historic communities to be able to stay in the region and be able to have a safe, free life," he explained.
In Kobani, recent converts at the new evangelical church, told Reuters they were still concerned about negative repercussions from conservatives in their community. Several skeptical Kobani residents also criticized the new church, suggesting that members were simply seeking to somehow benefit financially or receive aid by converting.
"It might be a reaction to Daesh [an Arabic acronym for ISIS] but I don't see the positives," Naasan, a practicing Muslim, told the news agency. "It just adds another religious and sectarian dimension which in a community like this will lead to tension."