At evangelical churches across California, Sunday services were no different than those taking place over the past few months when it comes to emphasizing the importance that congregants vote in the state's recall election this Tuesday.
In the case of Tuesday's special election, that means pastors not only preaching but also having ballots on hand and making pleas for members of their congregations to get out to vote in support of front-running Republican candidate Larry Elder.
Calvary Chapel Chino Hills Pastor Jack Hibbs reminded his congregation of 15,000 to turn in their ballots for collection and emphasized how crucial each and every individual's vote was. Hibbs estimated that prior to Sunday's service, his church—which has a large online and social media presence—had collected 20,000 ballots, with some members hand-delivering or even driving up to a legal lock box on church property in which to submit their ballot.
The process has been so secure (complete with video recording and manned by a representative and security guard) that it even passed the litmus test of a CBS Los Angeles news crew, which recently showed up on the church's campus to investigate, hoping to do a story on the efficacy of its ballot collection. According to Hibbs, they wound up leaving, admitting there was no story there to cover. That's something Hibbs said he and the church's leaders are proud of.
"We want the Christian community to be very smart on what the issues are and who most represents their biblical world view," Hibbs told Newsweek, noting that his church has been educating congregants regarding the positions of various candidates, including Newsom, for the last several months.
"Our church has been doing this for 30 years. Whenever a candidate pops up, we immediately begin to inform the church," he said, referring to its historical tradition of engaging its congregation and stressing the importance of being involved in both their community's and country's political processes.
Likewise, that was also the case at other large evangelical churches ranging from Orange County to central California and further north, with many coming out to support Elder. Pastors at Calvary Chapel of the Harbour in Huntington Beach; Destiny Christian Church in Rocklin; Calvary Chapel Signal Hill in Signal Hill; Rise Church San Marcos in San Marcos; and Cornerstone Church in Fresno also encouraged voting and served as drop-off locations for ballot collection.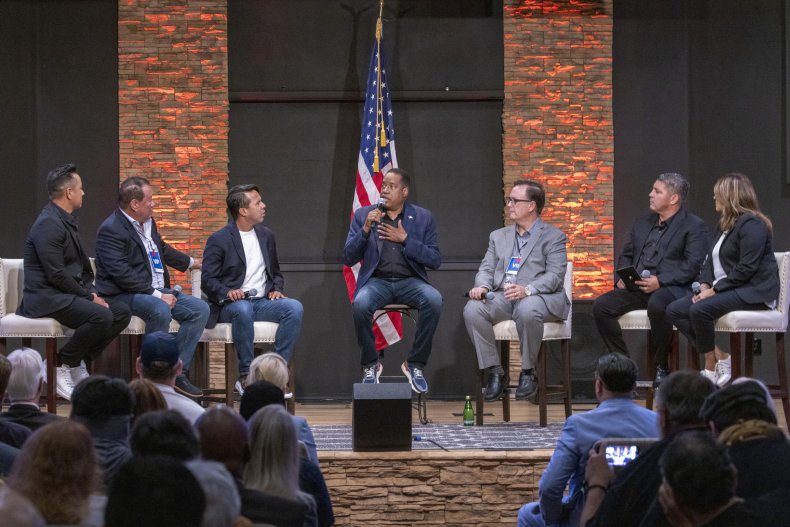 "The Christian responsibility is to be civically active," said Destiny Church Pastor Greg Fairrington, adding his church would continue to encourage that goal this weekend and Monday and Tuesday. "My sermon is a call to action to be involved in this process and to make their voice heard."
"We're doing that, have been doing that – encouraging, collecting ballots and have been very vocal when it comes to voting," said Pastor Joe Pedick of Calvary Chapel of the Harbour, noting that his church is also collecting ballots and doing its part for the integrity of the election process. Prior to Sunday's service, Pedick had appeared along with former U.S. Rep. Michele Bachmann at an event with Elder in Anaheim.
Meanwhile, the founding and senior pastor of Calvary Chapel Signal Hill, James Kaddis, said his church has those on hand certified to handle ballots and to take them directly to the registrar's office.
"We're going out of our way to make sure our congregants understand the importance of voting biblical values," explained Kaddis. "A lot of churches have misconstrued the idea we should not be involved in political matters, but Christians have been given this sacred responsibility and that should be guided by biblical presence."
For his part, Cornerstone Church Senior Pastor Jim Franklin made his way back from a conference in Washington D.C., to be back in the pulpit on Sunday to deliver his sermon and final plea to his congregation to vote before Tuesday's special recall election.
"To be a good citizen, you need to vote. To be a good Christian, you need to be a good citizen," Franklin told Newsweek. "We want to make sure every vote counts."
That's why he emphasized to those who haven't yet sent in their ballot to do so, or to allow a member of their own team trained in ballot collection to receive it or to go to a polling place in person. For weeks, a spot has been set up in the church's lobby for ballot collection.
Like Hibbs and Fairrington, Franklin has known Elder, dubbed "the sage of South Central," long before his candidacy. Besides the strong reminder for those present in the pews to vote, Sunday's service at Franklin's Cornerstone Church also addressed the anniversary of the 9/11 tragedy, which had those individuals on Flight 93 trying to stop terrorists using none other than the power of a vote to determine how they'd react in a such a horrific situation.
"Many of them began to call family members from that plane, many of them prayed," noted Franklin. "When they realized what was about to happen, that they were headed to a destination to be used as a terrorist weapon and questioned if they should react, what did they do? They voted."
"The American way works when people believe in a vote," he said. "California is headed in the wrong direction economically, socially and morally. It's time for the people to stand up and vote to head in the right direction. That's what we'll challenge congregants to on Sunday."
Other large evangelical churches have done the same, encouraging attendees to participate in the recall.
"Our church is fully engaged," said Rise Church Pastor Greg Denham. "We recognize the importance of civic responsibility. It's one way we can demonstrate our faith in Christ – to be responsible and active in a civic manner."
While Denham noted that the Christians' chief priority is to make Jesus known, he also emphasized that to live out one's faith, law matters.
"While right laws are capable of transforming individuals, they provide boundaries of protection and blessing. Therefore legislation matters, there's no doubt about it."
For those that criticize the church's involvement in politics, Fairrington, whose place of worship has a following of 30,000, said the separation of church and state was never in the Constitution.
"Our Founding Fathers said that the church should be the moral light of government. This is what's in our founding documents," said the pastor, who previously hosted Elder during a Q&A that addressed challenging questions regarding evangelical beliefs.
"Larry is the leading conservative candidate in the polls. We wanted our congregation and people watching online to find out what he believes," he added, noting that his church was not necessarily endorsing a candidate but making it clear that Elder is a friend of the faith community.
Hibbs, who also hosted Elder during his Aug.15 sermon, said his purpose for doing so was the same.
"Who is this man? Who is this guy? Where does he come from? What does he believe? ... I'm not a party guy – I think you should vote for people that you know versus their party affiliation," Hibbs explained. "It's about whether or not an independent, Democrat or Republican adheres to a biblical world view and values."
Pedick said it's important for pastors to be vocal from the pulpit and to encourage congregants when it comes to hearing truth.
"We use the Bible and make it relevant today and when it comes to who lines up with the Bible, we're not ashamed to talk about those things, " said Pedick, pointing out that while Elder stands up for the sanctity of life, Newsom does not.
"As Christians, it's a sacred obligation to make sure we vote for people who are going to support our values and to use every legal remedy that is afforded them to make sure of that," said Kaddis. "Everybody needs to understand that churches are obligated to educate their flock in the reality of what is going on politically."
"I don't understand why pastors don't encourage their congregants when it has such an impact on the moral fiber of our every day life," said Franklin. "They've been intimidated by thinking their people do not want them to engage in the civic arena but I've been thanked for doing so.
"When people say preachers should not get involved in politics, you need to tell that to a young preacher by the name of Martin Luther King Jr., " he continued, referring to a picture of the Baptist minister and activist that he has in his office to remind him how a pastor's engagement can make such a difference. "The Left had no problem with him getting involved in politics."
According to recent polls, Newsom has an edge over Elder with some media outlets reporting in recent days that the incumbent California governor leads with a strong margin.
A Survey USA and San Diego Union-Tribune poll showed 54 percent of voters pushing for Newsom to stay as governor, while 41 percent said they plan to vote "yes" on the recall. Meanwhile, a Berkeley Institute of Government Studies and Los Angeles Times survey showed Newsom with a substantially larger lead.
Only twice in U.S. history has a governor been removed from office in a recall election. That happened to Democratic California Governor Gray Davis in 2003 when actor and Republican Arnold Schwarzenegger replaced him.
Growing concern over the possibility of Newsom's removal is recent days has brought out an array of big-name liberals, including President Joe Biden, Vice President Kamala Harris and former President Barack Obama. A recent TV ad features Obama telling California residents to "protect California by voting 'no' on the Republican recall."
"Right now, Larry is fighting for his life," said Hibbs, noting the attacks from Democrats and some Republicans.
A well-known pastor, Hibbs was an integral part of Elder's decision to jump into the recall race.
"Larry loves freedom. He was born and raised in California – he comes from a messed up home life. Everything was against him and he prevailed and fought through the setbacks. He's dealt with racism—he knows what it feels like," said Hibbs, highlighting Elder's pro-border, anti-abortion and pro-Constitution stances. "My plea to independents, Democrats and Republicans is to make history. It's California's golden moment to vote for a Black man to become our governor—that we could have a man that is a native Californian who came through the ranks to represent our state."
"Today's fight is going to have a ramification in the years to come just like seeds that were planted years ago already have," added Denham. "...Laws matter, freedom matters and stewarding the opportunity we have to insure freedom, righteousness and shalom matters ... just like ideas, legislation and civic engagement matters."
"We've got a lot of things going into the mix of California – the size of the state, media markets, the Democratic makeup–it takes a lot of money to saturate the state and Newsom has $73 million – that's obviously working against any other candidate," said Franklin. "With that said, while I recognize the reality of the situation, I am a man of faith. David did defeat Goliath."