Evangelical Pastor Claims Trump's Critics Are 'Satanic,' Says President Is 'Messing Up' Satan's Plan for 'World Government'
Evangelical pastor Irvin Baxter, a televangelist who is the founder and president of Endtime Ministries, said Donald Trump's critics are "satanic" while claiming that Satan was angry that the president is "messing up" his goal of creating a unified global government.
Baxter, who hosts a nationally syndicated biblical prophecy program on TV, End of the Age, made the remarks during Monday's Jim Bakker Show, as first reported by Right Wing Watch. He argued that Trump is hated because he stands in opposition to a "satanic" plot that has been in the works for 100 years to create a world government system.
"All of a sudden this guy by the name of Trump comes along," Baxter said. "He starts campaigning against their globalistic system. The first thing he did was pull us out of the Paris climate change accord, which was—." The evangelical leader was then cut off, as the studio audience erupted in applause.
"That was their plan for world government because climate is international. The air doesn't stop at the border. The water doesn't stop at the border," he continued. "So you have to have international law to control climate."
Baxter claimed this was part of a plan, to be implemented by 2030, that would "give everybody a global ID.... I mean, they've got this thing all planned out."
The precise origin of Baxter's bizarre conspiracy theory is unclear. However, there is no evidence to back up the claims, and there is not any viable plan moving forward to create a unified world government, let alone give everyone on the planet an ID connected to that government.
"Even Republicans have not been hated like this guy [Trump]," Baxter went on. "And it's because he was against their one-world government and this hatred is deeply inhuman. It's satanic. Satan hates it that Trump is messing up his plan. That's what's really going on."
The Paris climate accord, which Baxter claimed was part of the "satanic" plot, aims to get nations around the world to curb their emissions in an effort to combat man-made climate change. The U.S. and 195 other nations signed the 2015 treaty, and Syria and Nicaragua signed in 2017. But Trump has officially started the process of withdrawing from the deal, leaving the U.S. globally isolated in its opposition to the agreement. Meanwhile, mounting evidence repeatedly raised by thousands of concerned scientists from around the world suggests that many of the worst-case scenario predictions about the warming planet are likely to occur.
Numerous evangelical Christian leaders, including the president's personal spiritual adviser, Paula White, have repeatedly claimed that Trump critics are followers of Satan, possessed by evil spirits and using sorcery. In a prayer last week, White said Trump and his supporters "do not wrestle against flesh and blood but against principalities, powers, rulers of darkness of this age, hosts of wickedness in heavenly places." She also prayed for protection from those who come against the president, claiming they "operate in sorcery and witchcraft."
Evangelical pastor Perry Stone said during an October prayer service that Trump's opponents "were trying to place hexes and curses on" the president. "They have demons in them," he said.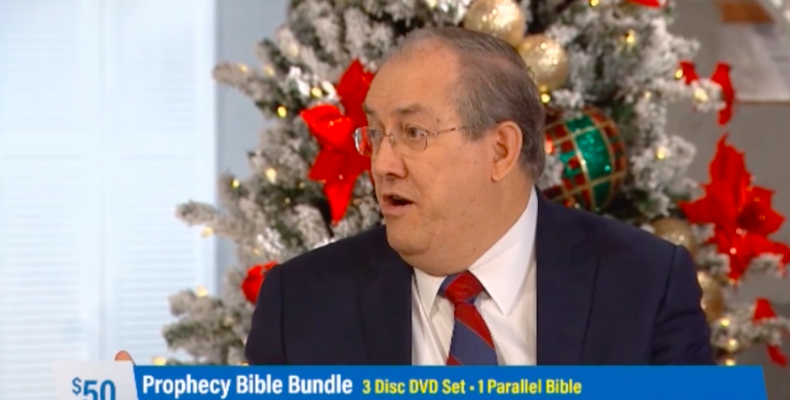 Rick Wiles, the pastor of the Flowing Streams Church in Florida, recently suggested on his TruNews radio program that former presidential candidate Hillary Clinton had been consuming blood.
"She looks a lot better. She must be drinking a lot of blood," Wiles said. "Obviously, they've been taking her to a lot of spirit cooking events," he claimed.
White evangelicals are one of the strongest and most consistent bases of support for the president. Over 80 percent said they voted for Trump during the 2016 election. A Public Religion Research Institute survey last month found that 99 percent of Republican evangelicals are against impeachment and removing Trump from office.