Evangelical Trump Supporter Insists Criticism of Bill Clinton Wasn't Based on Character, Despite Saying That It Was
Ralph Reed, founder of the Faith and Freedom Coalition, insisted that his support for President Donald Trump is not hypocritical given his previous criticism of President Bill Clinton back in the late nineties.
Reed, an evangelical Christian who is currently the chair of the Georgia Republican Party, gave an interview on Fox News on Wednesday to discuss Trump's consistent support among evangelicals. Co-anchor Bill Hemmer confronted Reed with criticism of evangelical Trump supporters lobbed by Democratic 2020 candidate Pete Buttigieg, who has argued that supporting the president conflicts with Christian values. Hemmer also pointed out that leaders like Reed were highly critical of Clinton, who was impeached and had an affair with an intern during his time in the White House.
"My criticism of Bill Clinton in the nineties wasn't based on his personal behavior. It was based on his public policies and it was based on the fact that he engaged in obstruction of justice, perjury and suborning perjury," he argued.
"That is completely different than suggesting, as Mayor Pete does, that somehow those of us of faith who are involved with influencing public policy, based on our biblical principles, have to rummage through the bedrooms and the closets of every single person who runs for office," he said.
However, back in 1998, Reed specifically voiced concern about Clinton's "moral character" when discussing the scandal plaguing his White House.
''Character matters, and the American people are hungry for that message,'' Reed said at a conference of the Christian Coalition, of which he previously served as the executive director, according to The New York Times. ''We care about the conduct of our leaders, and we will not rest until we have leaders of good moral character.''
But the Christian leader has been a staunch supporter of Trump. The Christian leader publicly defended Trump back in 2016 after a leaked Access Hollywood tape revealed the former reality television star bragging about sexually assaulting women. He infamously said: "Grab 'em by the pussy. You can do anything."
Although Reed admitted to NPR that the comments were "offensive" and "inappropriate," he said they were "pretty low" on "the hierarchy of concerns." He said that Trump's opposition to abortion, his efforts to defend religious liberty and his dedication to nominating conservative justices to the Supreme Court were enough to secure his vote.
Reed's criticism of Clinton for obstructing justice while he continues to support Trump may also appear hypocritical to many Democratic and Republican legal experts. A bipartisan group of more than 1,000 former federal prosecutors have issued an official statement that Trump would be charged and likely convicted of obstructing justice if he was anyone else besides the president.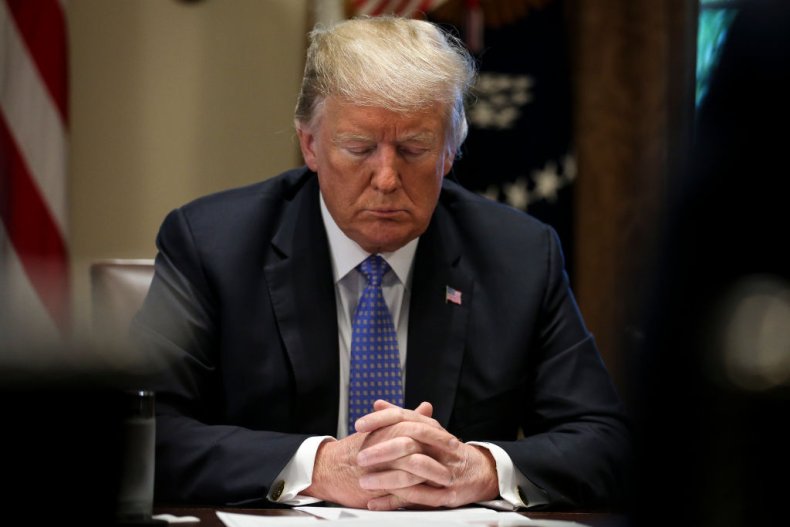 During the 2016 presidential election, evangelical Christians made up about a quarter of the electorate. Of those, approximately 80 percent voted for Trump. According to Fox News, Public Opinion Strategies poll shows that 83 percent of evangelical Christians now approve of the president.
Buttigieg, who is a member of the Episcopal Church and has spoken candidly about his faith, strongly criticized Christian support for the president back in April.
"It's something that really frustrates me, because the hypocrisy is unbelievable," the South Bend, Indiana mayor said in an interview with NBC News Meet the Press.
"Even on the version of Christianity that you hear from the religious right, which is about sexual ethics, I can't believe that somebody who was caught writing hush-money checks to adult-film actresses is somebody they should be lifting up as the kind of person you want to be leading this nation," he said.