Evangelist Franklin Graham Calls Christians to 'Pray for God to Intervene' in Strengthening Trump Against Enemies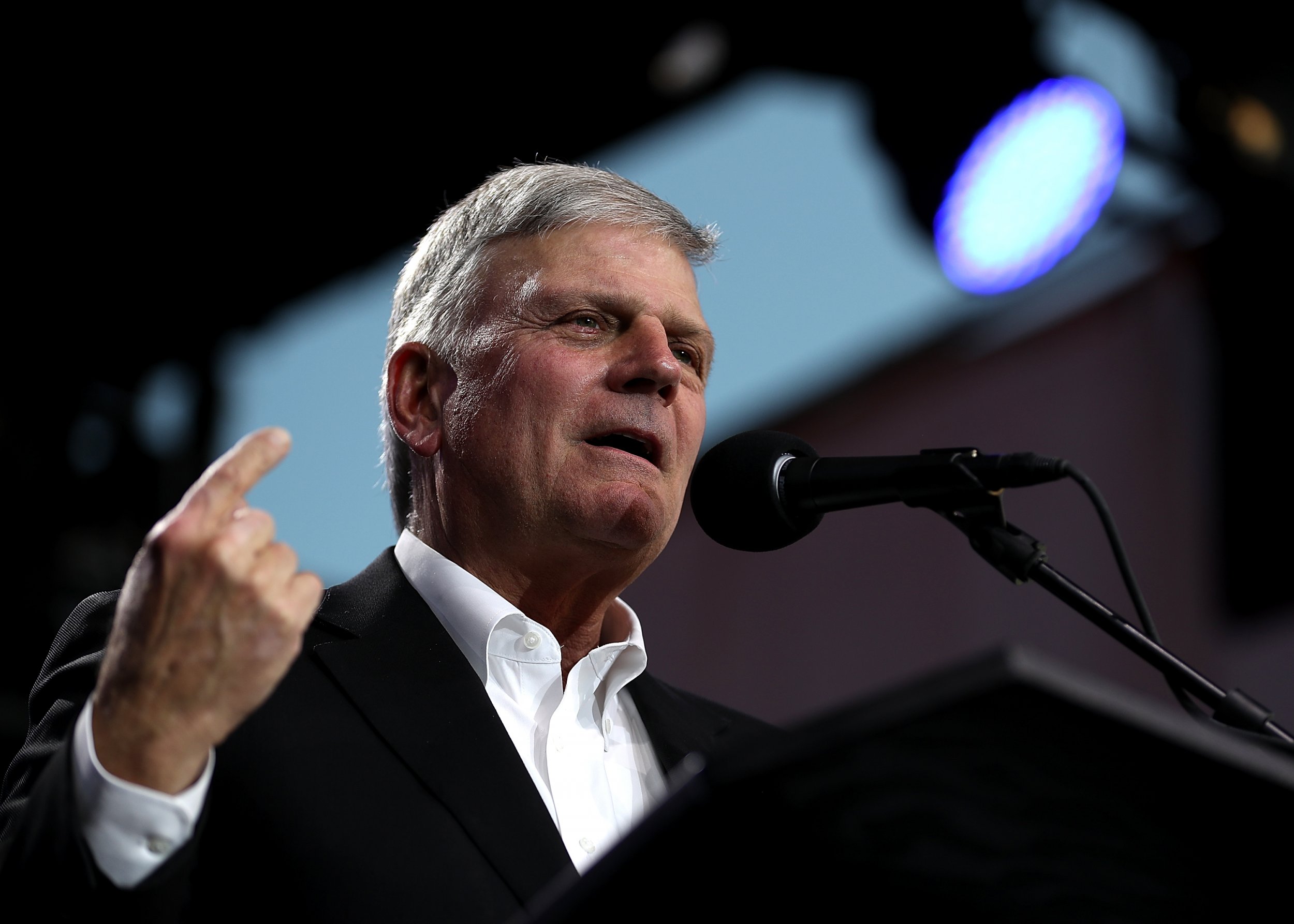 Television evangelist Franklin Graham is calling on Christians across the country to "pray for God to intervene" in strengthening President Donald Trump against his enemies.
In a statement posted to Facebook on Sunday, Graham—son of the well-known late evangelist Billy Graham—announced plans to hold a "special day of prayer for the President, Donald J. Trump" on Sunday.
"President Trump's enemies continue to try everything to destroy him, his family, and the presidency. In the history of our country, no president has been attacked as he has. I believe the only hope for him, and this nation, is God," Graham said. "This is a critical time for America. We're on the edge of a precipice. Time is short. We need to pray for God to intervene. We need to ask God to protect, strengthen, encourage, and guide the president."
"We know that God hears and answers prayer. He can soften hearts and change minds. He is all-powerful, and He rules over the affairs of nations," the evangelist added.
According to the statement, Graham will be joined by more than 250 Christian leaders in organizing the event. He also asks for other pastors to lead their congregations in praying for the president as well as Sunday schools and other devout groups in America.
Graham's Facebook statement has amassed over 173,000 likes and more than 120,000 shares since it was posted on Sunday morning. Of the roughly 39,000 comments, many social media users committed to joining in on the day of prayer while others said they already pray for the president on a regular basis.
Graham, a vocal supporter of Trump, was asked by Axios on HBO last year how he could continue backing the president given his apparently undevout lifestyle, allegations of sexual misconduct and extramarital affairs.
"Now people say, 'Well Frank, but how can you defend him, when he's lived such a sordid life,'" Graham responded. "I never said he was the best example of the Christian faith. Trump has admitted his faults and has apologized to his wife and his daughter for things he has done and said. And he has to stand before God for those things."
Graham has previously gone to great lengths to encourage Americans to pray for Trump. Last July, he announced he was selling new pro-Donald Trump T-shirts that read "PRAY FOR 45" after "IMPEACH 45" T-shirts were launched at Walmart.
Graham is one of the many evangelical leaders that have latched onto Trump since his presidential campaign in 2016. Despite the president's past behaviors, his policies align with many white evangelicals over issues like climate change, benefits and immigration.