'Trump Defends the Faith' Says TV Evangelist Franklin Graham, in Spite of His 'Sordid Life'
Television evangelist Franklin Graham believes that President Donald Trump has lived a "sordid life," but still considers him a defender of the faith.
Graham, son of the late Reverend Billy Graham, was asked how he could continue to support Trump given his lifestyle, allegations of sexual misconduct and his extramarital affairs.
Graham told Axios on HBO: "Now people say 'Well Frank, but how can you defend him, when he's lived such a sordid life.'"
"I never said he was the best example of the Christian faith. Trump has admitted his faults and has apologized to his wife and his daughter for things he has done and said. And he has to stand before God for those things."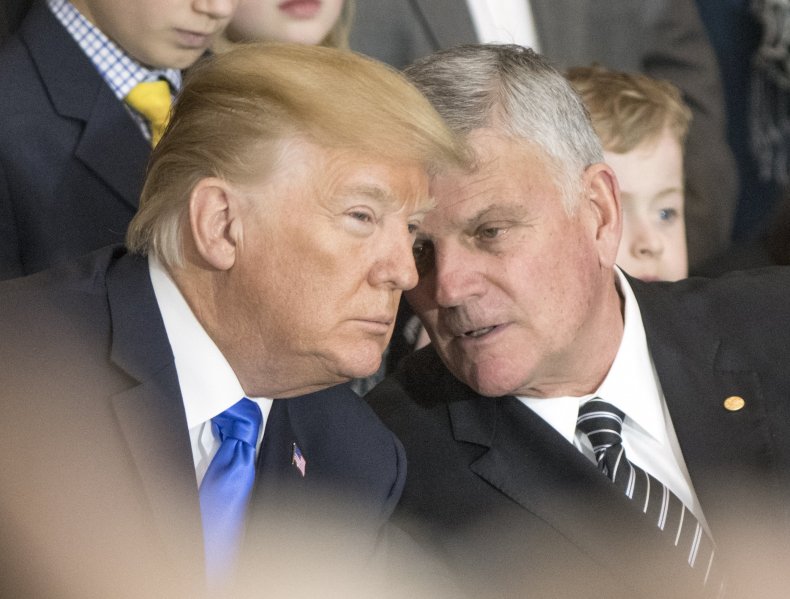 Graham has previously invoked the Almighty in his defense of Trump. In response to "IMPEACH 45" t-shirts being sold at Walmart, in July he announced he was selling new pro–Donald Trump T-shirts that stated "PRAY FOR 45."
"There's a way every one of us can make a difference for our nation. We can pray for our president and our leaders, as God's Word instructs us," Graham had said.
"God is the hope for our country, and our leaders, including President Donald J. Trump, need our prayers," his post added. "The bottom line? Prayer can make America great!"
Trump enjoys heavy support among evangelicals. The Washington Post reported that white evangelicals are more conservative on issues like climate change, spending on the poor and immigration, and Trump's policies chime with their views.
Author of the book Immigrants, Evangelicals and Politics in an Era of Demographic Change, Janelle Wong, wrote in the Post that "white evangelical conservatism correlates strongly with their perceptions of anti-white discrimination, even after taking into account economic status, party, age and region."
Jerry Falwell Jr, the president of Liberty University, endorsed Trump's candidacy in 2016 and helped deliver 81 percent of white Christian evangelical voters for him. He told The Guardian Trump was a "good moral person, a strong leader, a tough leader and that's what this country needs."
Bill Leonard, professor of church history at Wake Forest University, North Carolina, told The Guardian that evangelical support for Trump is "panic at the precipitous decline of Christianity" in U.S. society.