Evanston, Illinois, Could Be First City to Use Marijuana Tax to Fund Reparations for Black Residents
Evanston, Illinois, will be the first U.S. city to use revenue from marijuana sales to fund a reparations program to make amends for past racist housing practices.
"This initiative that's coming out of Evanston will set the precedent that America can, if it has the will, engage in justice for long overdue crimes committed against people in this country," Kamm Howard, national male co-chair of the National Coalition of Blacks for Reparations said to Newsweek.
Planning for the reparations program began in June 2019 after the City Council adopted a resolution on a commitment to end structural racism and achieve racial equality, which declared Evanston to be an "anti-racist city that strives to value all citizens."
After the passage of the resolution, the city's reparations subcommittee consisting of 5th Ward Alderman Robin Rue Simmons, 2nd Ward Alderman Peter Braithwaite and 8th Ward Alderman Ann Rainey, engaged with local residents, law experts and archival information and build a case for reparations in the city. Simmons, who spearheaded the program, said to Newsweek there was a "robust" community effort to make the case for repair in housing police following decades of documented discrimination.
"It is the Black community that was harmed by the city of Evanston, due to anti-Black housing policies," Simmons said. "We're advancing with reparations that will build wealth that was stripped away, restore the Black community, and restore the neighborhoods as well families and neighborhoods that are historically Black."
The city passed another resolution in November 2019, establishing a $10 million Evanston Reparations Fund and creating a revenue source for the fund from a 3 percent sales tax on recreational cannabis sales for the purpose of housing assistance and relief for Black residents.
Now, the City Council will vote on the program's first beneficiary on March 22. The earnings from the fund are estimated to give up to $25,000 in a direct benefit per eligible resident in the effort to address racial injustice in the city's housing practices. This is only the first 4 percent of the city's $10 million commitment.
Unlike other housing programs, this is set aside for the Black community as a "remedy," Simmons said, adding that the $25,000 will help "build wealth" and will not restrict any resident who receives receive direct benefits from any other city, state or federal assistance program. She added that $10 million is "not enough to make up for the damages caused to Black residents, but the fund is growing thanks to the state's new cannabis industry as well as commitments from residents and community groups.
"A vote to pass this initiative is extremely important, not only to demonstrate that redress that can happen in this country, but also to further what we're doing nationally," Howard said. Under President Joe Biden's administration, advocates are more confident than ever that H.R. 40 will pass in the House and establish a federal commission to study and recommend reparations.
Black people make up about 17 percent of Evanston's population of 74,000, according to U.S. census data. Simmons said to ABC News the fund is the "most appropriate" use for the sales tax because Black people in the city make up a disproportionate amount of marijuana arrests. According to the American Civil Liberties Union, Blacks in Illinois are nearly eight times more likely than whites to be arrested for possession of cannabis.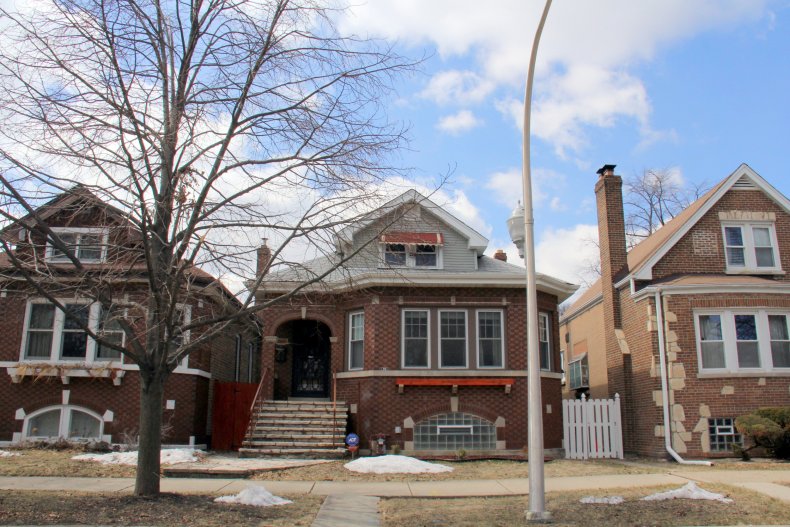 Simmons confirmed those who are eligible benefit must have been residents from 1919 to 1969 or be a direct descendant of residents during this "period of harm," when the city restricted the Black community to living in specific parts Evanston. Simmons said she personally qualifies for the benefit.
Howard said housing discrimination between 1919 and 1969 in Evanston consisted of the city denying Black residents loans at the same rate as other residents, overcharging mortgages and restricting government resources meant to help families in housing acquisition.
"The history of redlining is evident in Evanston," Howard said. "The discriminatory actions and housing was part of that separate development, part of the apartheid conditions, that we face in this country. Any targeted program or policy directed at addressing any harm from the continued legacy from enslavement, the continued legacy from Jim Crow [and post–Jim Crow]…is reparations."
Simmons said the City Council voted 8–1 on reparations in 2019, and she believes the outcome this month will be consistent with the city's previous vote.
"We've been doing the work," she said. "I expect there to be a favorable vote for this first tangible step toward repair.
Howard said Evanston's program could set a precedent for federal legislation on reparations, and said he's "hopeful" about the vote later this month: "If justice is desired it should be an easy vote."
Newsweek reached out to the Evanston City Council as well as Simmons, Braithwaite and Rainey for comment but did not receive a response by publication time.