Exit polling conducted on Election Day showed Democrat Terry McAuliffe carried a majority of Black and Latino voters during Tuesday's gubernatorial election in Virginia, but the support wasn't enough to outweigh the voters who turned out to cast their ballots for Republican Glenn Youngkin.
McAuliffe, a former governor of Virginia who was running for his second term in office, rallied alongside several high-profile Democrats in the weeks leading up to the election but still saw his initial lead in the race narrowing as Election Day approached. Youngkin, the former co-CEO of the private equity firm the Carlyle Group, was running for public office for the first time and will be the first Republican to lead the state since Robert McDonnell left office in 2014.
A handful of polls conducted in the final month before the election suggested McAuliffe and Youngkin were tied, and Youngkin held a slim lead in polling averages by the start of November.
After more than 3 million voters cast ballots in the off-year election, the Associated Press called the race for Youngkin shortly after midnight on Wednesday. McAuliffe conceded the race a short time later.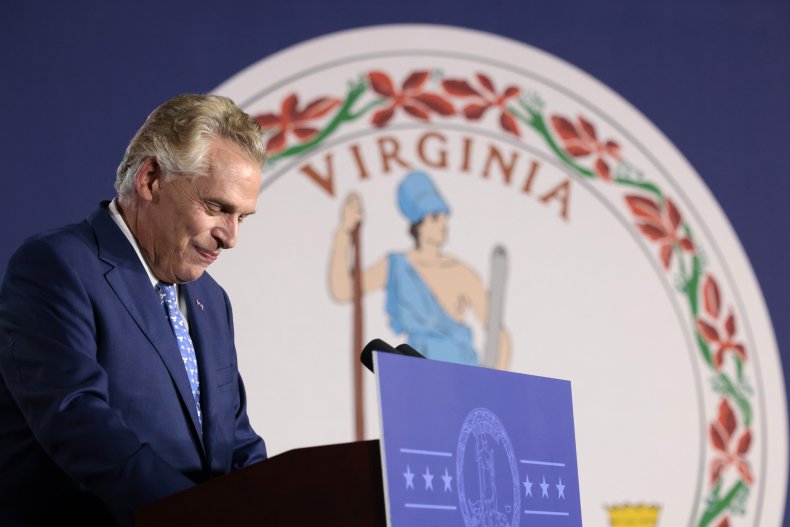 Youngkin performed better among some groups of Virginia voters than former President Donald Trump did in 2020, according to the AP. Trump, who first endorsed Youngkin in May and reiterated his support for Youngkin's candidacy several times in the months since then, lost Virginia by about 10 points last year to President Joe Biden. The groups Youngkin seemed to make progress with included suburban voters and voters 45 and older, with increasing numbers of voters with college degrees also tipping toward Youngkin, the AP reported.
McAuliffe claimed majorities of Black and Latino voters in Tuesday's election, initial exit polling showed. Exit polling results last updated Wednesday afternoon by The Washington Post, CNN and NBC News showed McAuliffe with a 73 percent lead among Black voters over Youngkin, just 3 points below Biden's lead over Trump last year. McAuliffe also had a 34 percent lead among Latino voters, a greater margin than Biden had in 2020.
Shortly before Election Day, Democrats involved with encouraging voter turnout told Politico there was concern about the support for McAuliffe among Black voters, but The New York Times reported that the initial election results available for areas in the state where the Democrat focused were about as his campaign expected.
Though Virginia's election took place in an off-year, many viewed the race as a potential indication of how voters may lean heading into the 2022 midterms, during which Democrats will seek to defend their party's slim majorities in Congress. In a statement released after the race was called for Youngkin, Democratic National Committee (DNC) Chair Jaime Harrison said Democrats "will not be deterred" by the loss of a Democrat-led state in Virginia.
"We will not rest until the polls close next year and we know that Democrats have won the House, Senate, and governors' mansions across the country to continue delivering hope and progress for the American people," Harrison said.
Newsweek reached out to the DNC for further comment about the results of Tuesday's elections.