Even Utah Is Ending the Discriminatory Tampon Tax. Who's Next? | Opinion
Utah jumped to the front of the line to become the next U.S. state to vote to exempt menstrual products from sales tax. Legislation passed Thursday night, soon to be signed by Governor Gary Herbert.
The quest to eliminate the "tampon tax" has a long, thorny history in the Beehive State. Introduced for the past four legislative sessions as a stand-alone bill, the exemption was killed in committee, year after year, never even reaching the legislative floor for a vote.
Now it is about to be codified into law, appearing as one small-but-symbolic line item in Utah's massive tax reform bill, which passed in a special legislative session this week. The bill has elicited criticism for regressive components—in particular, reinstating the sales tax on food and groceries, offset only for those who are low income via an impractical annual food credit. But it has also earned praise for creating Utah's first earned income tax credit.
And then there's the tampon tax. Overall, Utah trails the nation in policies that support women. One 2019 study ranked Utah dead last, 50 out of 50, for gender equality—on policies for education and health, workplace environment and political empowerment. Utah has an especially glaring wage gap: Women earn 70 cents on the dollar compared with male counterparts, 10 cents lower than the national average. And Utah is among the states with the fewest women in government leadership.
These statistics add up to a vast imbalance in economic and political power, making it difficult for issues like the tampon tax to reach the table—let alone be considered in a major reform bill.
Perhaps Utah legislators are finally recognizing and responding to an increasingly vocal and bipartisan movement for menstrual equity. Opposition to the tampon tax has made headlines worldwide. It has recently been eliminated or lowered in nations ranging from India to Germany, and just this week in Rwanda. The issue even occupied a central role this fall in the debates over Brexit.
Here in the United States, a 2015 petition catalyzed nationwide legislative momentum in the then 40 states that still charged it at the time. Over the past four years, as 32 states have taken up the issue, seven succeeded in permanently scrapping the tax: Connecticut, Florida,Illinois and New York all passed legislation; Ohio is the latest state to do so, and a new law goes into effect in 2020. Nevada took the vote directly to the people via a statewide ballot in 2018. And in July 2019, Rhode Island's exemption for menstrual products was cemented as part of the state budget. (As of January 1, 2020, California will start exempting menstrual products, too—but only temporarily, as it has been written into the state's two-year budget.)
The Utah legislature's willingness to end the tampon tax is also an acknowledgment of another stark reality: Neither Utah nor any other state can defend what amounts to state-sanctioned discrimination. And state leaders are wise to avoid the expense of being taken to court.
A national coalition—called Tax Free. Period., and joined by major law firms, local counsel, leading academics, law students, and nonprofit advocates—has mobilized to leverage legal challenges to the taxation of menstruation. This team has put governors, attorneys general, legislators and tax commissioners on notice: Either defend state laws and regulations that impose a punitive and discriminatory tax, or proactively change these archaic, unconstitutional laws.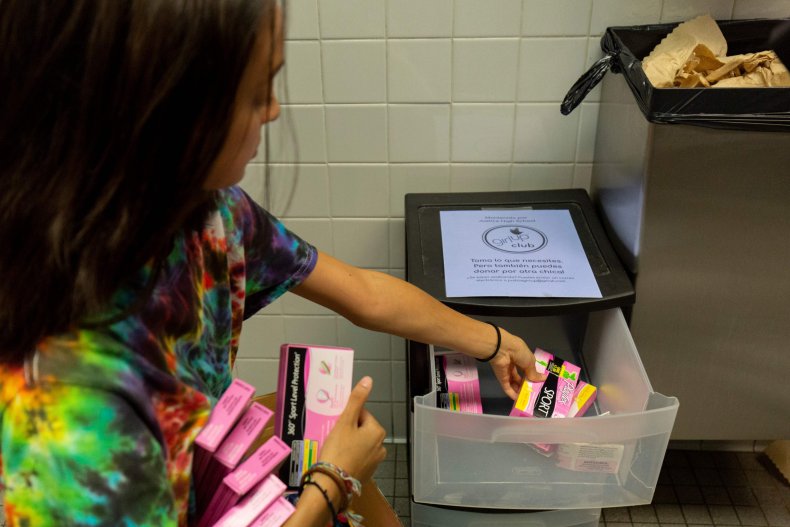 A sales tax on menstrual products is not just inequitable and unfair; it is flat-out illegal. Dean of University of California Berkeley Law School and leading constitutional law scholar Erwin Chemerinsky argued in a Los Angeles Times op-ed that the tampon tax amounts to sex-based discrimination in violation of equal protection, at both the state and federal level.
Which means that the inclusion of the tampon tax exemption among the myriad provisions in the Utah tax overhaul is not merely a smart policy call, a concession to activists or a political trade-off. It is an acknowledgment that the tampon tax is unlawful—and that the exemption of menstrual products belongs squarely in any meaningful sales tax reform.
Even in a state that ranks as poorly as Utah does for women, leaders understand this and have taken action. So congratulations to the lawmakers of Utah—to those who introduced bills years ago, as well as to those who cast aside politics to finally get this across the finish line. It is the right and just call.
And it sends a signal to the remaining states that still tax our tampons: It is time to get on board. Utah did it. So must the rest of the nation.
Jennifer Weiss-Wolf is co-founder of Period Equity and author of Periods Gone Public: Taking a Stand for Menstrual Equity. She is an attorney and vice president of the Brennan Center for Justice at NYU School of Law.
Emily Bell McCormick is the owner of a boutique communication and advocacy consulting firm. She is also the founder of the Policy Project, a group working to implement healthy policy in Utah and the U.S.
The views expressed in this article are the writers' own.