The Suez Canal Authority has forbidden the massive cargo ship Ever Given from leaving the canal until investigators complete an inquiry into how the ship blocked the international shipping route for nearly a week.
The Authority said it will likely seek around $1 billion in physical and financial damages caused by the trade route's blockage, Egypt's Sada ElBalad news reported according to USA Today. The dollar amount will cover the costs of lost transit fees, the seven days of dredging and tugboat activity used to dislodge the ship and the resulting damage caused to the canal.
However, the $1 billion doesn't include the financial losses incurred by over 400 boats rerouted due to the canal's blockage. An estimated $9 billion in global trade was delayed each day until the ship was dislodged.
Lieutenant General Ossama Rabei, head of Suez Canal Authority, said the cargo ship's captain has yet to provide either documents or the vessel's black box to help investigators understand how the Ever Given came to be lodged sideways across the canal.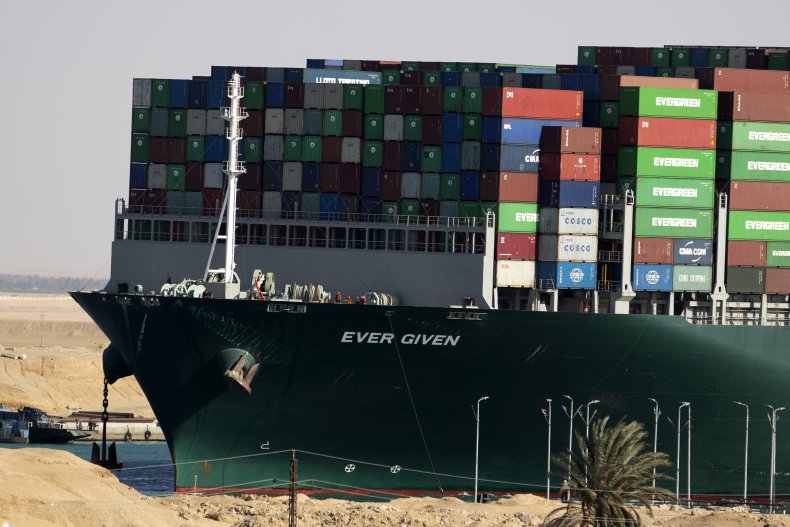 High winds and a sandstorm may have played a role in pushing the Ever Given sideways, wedging it between the canal's banks. But investigators want to know whether human error might have contributed to the mishap as well.
"Such grave accidents may not be caused by a single factor, part of it could be the wind, another part could be the human element, and another part could be technical. All of these factors will become apparent in the investigation," Rabie said during a Monday news conference, Reuters reported.
The ship's owner, Shoei Kisen Kaisha, said on Tuesday that it would cooperate with the investigation. The ship's manager, Bernhard Schulte Ship management, said that its initial inquiry ruled out mechanical or engine failure as the cause of the mishap.
Until canal authorities complete their investigation, the Ever Given won't be allowed to continue to its original destination of Rotterdam, Holland.
The Ever Given is a Panama-flagged, Japanese-owned ship used to transport goods from Asia to Europe. The ship, operated by the Evergreen Marine in Taiwan, was first grounded in the waterway on March 23. By blocking the Suez Canal, it clogged a major shipping route connecting the Mediterranean Sea to the Red Sea.
Even though the ship was dislodged on March 29, it could take more than 10 days to clear the backlog of ships that waited to pass through the canal, the data firm Refinitiv estimated.
While the canal was blocked, dozens of vessels traveled an alternate route around the Cape of Good Hope at Africa's southern tip. The 3,100-mile detour added an additional two weeks to vessels' travel time and cost hundreds of thousands of dollars in fuel and other expenses.
Newsweek contacted Shoei Kisen Kaisha for comment.