Evergrande Offloads Property Management Wing in Latest Attempt to Stay Afloat
In its latest bid to stave off bankruptcy, China's Evergrande Group is planning its largest asset sale yet as it looked to sell a majority stake in its property management business for an estimated $5 billion, Reuters reported.
The Chinese company that was once known as the world's most valuable real estate brand, according to Brand Finance, continued to offload assets in an attempt to avoid succumbing to its $305 billion worth of debt.
On Monday, the company asked for a pause on the trading of its shares in Hong Kong because it planned to announce a major transaction. The company's spinoff management wing Evergrande Property Services Group also requested a pause in trading.
The Global Times, a newspaper controlled by the Chinese Communist Party, later reported that Hopson Development, one of China's five largest real estate companies, was set to purchase a 51 percent stake in Evergrande's Property Services Group. Hopson asked trading of its shares be suspended as well, giving the reason it would have a "major acquisition of a Hong Kong-listed firm," according to Reuters.
Reports indicated that Evergrande continues to face a cash problem. The offloading of this asset, which follows the sale of its stake in a Chinese bank, showed that Evergrande is continuing to seek out ways to stay afloat, according to Ezien Hoo, an Oversea-Chinese Banking Corporation (OCBC), analyst.
"Selling an asset means they are still trying to raise cash to pay the bills," Hoo told Reuters. "Looks like the property management unit is the easiest to dispose in the grand scheme of things."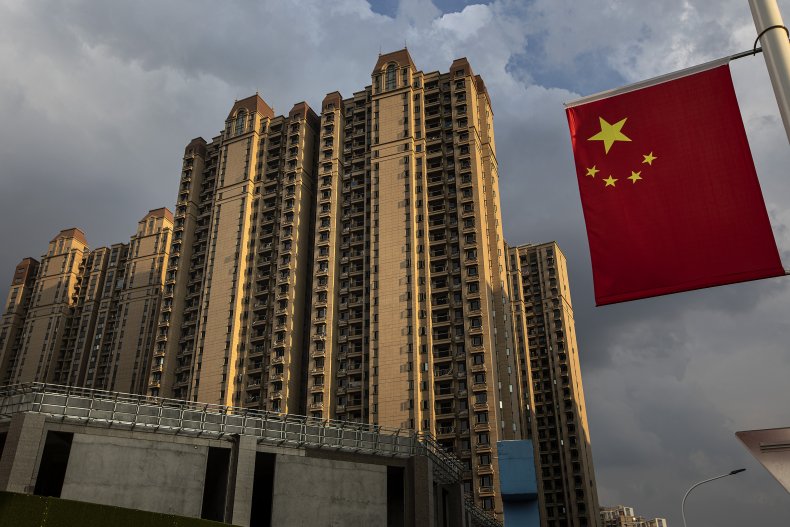 Evergrande's property management wing represented close to 3,000 properties, according to its website and employed roughly 6,000 employees. Reuters reported that its first half of 2021 financial statements proved it to be profitable.
While selling the firm may provide a solution in the short-term for the company's cash flow issues, Evergrande continues to face overall financial issues as its share price continues to drop and it stands unable to complete unfinished construction projects.
"It is definitely a positive move towards solving Evergrande's liquidity crisis and we expect more to come," said Gary Ng, senior Asia Pacific economist at Natixis, told Reuters. "However, having said that, offloading some assets may not be totally sufficient, the key for Evergrande is to get project construction going and to sell inventory."
Reuters reported that a number of Chinese homeowners fear their assets could be at stake should Evergrande succumb to its debts and leave its projects unfinished. With the company standing as China's second-largest developer, that could flatten the value of Chinese real estate and impact the net worths of the country's citizens.