Evergrande Posts Images of 'Construction' Online as Shares Fall to 12-Year Low
China's second largest property developer, the Evergrande Group, has recently struggled to complete its undeveloped properties, yet a social media campaign surfaced showing that construction had resumed, giving the appearance that the company was on the rebound. However, users on Chinese social networking sites are calling Evergrande's bluff.
A video by The Wall Street Journal shows a number of posts bloggers on Weibo and WeChat saying that at some sites there actually has been "no construction for months" and in other areas where construction has begun there are "there are fewer than 10 workers."
On Monday, Evergrande shares dropped nearly 20 percent, closing at a value of just 23 cents. CNN reports that this stock valuation is the lowest total that the company has posted since 2009.
Evergrande faces a net total of roughly $300 billion in liabilities. On Friday, the company warned that it could run out of money after its creditors demanded that it come up with $260 million in loan payments.
With Evergrande's wealth tied up in property developments, a key to potentially reinvigorating its cash flow lies in its ability to finish and sell its undeveloped properties. Some see the new campaign as a sign that the company heading in this direction; others see it as a delaying tactic to avoiding what some see as the inevitable.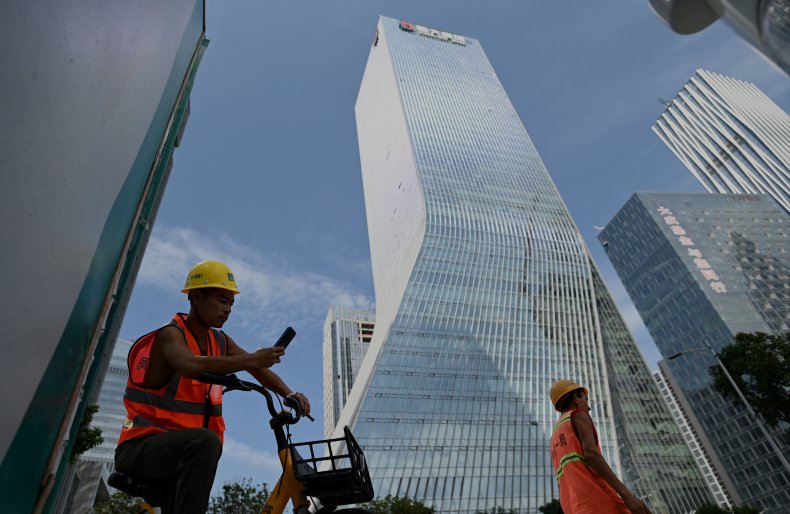 Over the past several months Evergrande has consistently missed the deadlines on its bond payments, coming up with interest money toward the end of the loans' 30-day grace periods to stave off a collapse.
After its recent warnings of cash flow issues, Evergrande Chairman Hui Ka Yan met with government officials in the Guangdong province who agreed to send a "working group" that would "oversee risk management." After this meeting, the People's Bank of China also got involved, saying that it would not allow a potential Evergrande collapse to hurt the nation's larger real estate sector.
It is unclear if the bank can be entirely trusted on this. Scott Kennedy, trustee chair in Chinese business and economics at the Center for Strategic and International Studies, told Newsweek in mid-October that the bank has the power to bail out the company.
However, if the bank's goal is to use the Evergrande example as a way to slip a new level of buyer risk into its market, Kennedy said a successful bailout could be daunting task despite the vast regulatory tools of China's state bankers.
"If it's about reasserting the role of the state, across the economic system. If they give that message, then it's entirely believable," he said. "If they're trying to provide reassurance that there can be a narrower range of assets that the state authorities guarantee, and that the market will take on a larger role for pricing risk and managing the complications from investments that go awry, I think that is that is a harder sell."