The Evergrande Group formally dropped plans to sell a majority stake in its property services arm on Wednesday. This would have netted the company $2.6 billion ahead of a Saturday deadline marking the end of a 30-day grace period on its missed loan payment.
According to Reuters, the deal reportedly fell through because Evergrande felt that the proposed purchaser Hopson Development Holdings had not met the "prerequisite to make a general offer."
Evergrande said in an exchange filing that there had not been "no material progress" on the sale of its other assets, with the exception of its planned sale of a $1.5 billion stake in Shengjing Bank Co., according to Reuters.
Evergrande's struggles come alongside a growing trend of economic instability within China's real estate sector with companies other than Evergrande felling the effects. Sinic Holdings recently declared default, Kaisa Group saw its credit rating downgraded, China Properties Group defaulted on a loan and property developer Fantasia Holdings could not make recent payments.
Chinese officials nonetheless continue to assure the public that the situation remains under their control. Vice Premier Liu He told a Beijing forum on Wednesday that the risks associated with the real estate turmoil were "controllable and that reasonable capital demands from developers would be met," Reuters reported.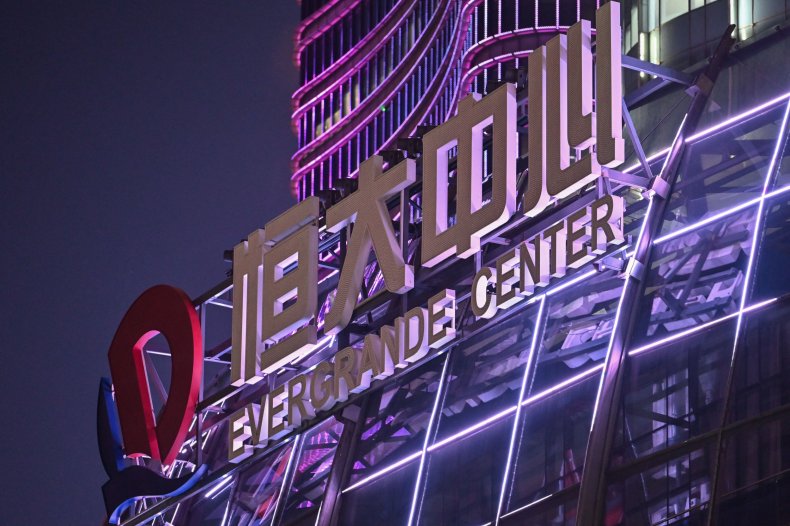 People's Bank of China securities regulator, Yi Huiman echoed these sentiments at the same forum, saying that authorities would also look to curb excessive debt more broadly.
"(We need) to improve the effectiveness of the constraint mechanism on debt financing, to avoid excessive financing through 'high leverage'," Yi said, according to Reuters.
China's property developers bear a total outstanding debt of $5.24 trillion, according to Nomura, a Japanese financial holding company. In an interview earlier this week, Scott Kennedy, trustee chair in Chinese business and economics at the Center for Strategic and International Studies (CSIS), told Newsweek that China will look to control a potential Evergrande collapse in a manner that limits economic devastation but inserts newfound risk into its financial system.
Moving away from a system that offered general guarantees that large corporations would receive debt bailouts represents a large economic leap, and Kennedy holds reservations as to whether China could execute such a move in a manner that limits larger economic devastation.
Successfully executing such a move, Kenendy said, would likely require Evergrande to sell off its assets in a manner that absorbs the losses of creditors and property developers. Following this recent failed deal, Evergrande's days to move forward with such an effort are limited.
"I don't think that (China's government has) fully convinced everybody that they're ready to successfully leap across this large chasm from one kind of system of reassurance to another," Kennedy said. "I think that is that is a harder sell."