Can Wall Street Trust the People's Bank of China?
China's second-largest property developer and one of the world's most indebted companies, the Evergrande Group, faces a Saturday deadline on its 30-day grace period to pay off debts owed on a dollar bond that was due on September 23. Should the company be unable to make payment, it will default.
This deadline arrives alongside recent announcements by China's other property developers signaling that they have faced economic upheaval as well. Sinic Holdings warned it could not repay its offshore bonds; China Properties Group said it defaulted on a loan; Fantasia announced it could not make its recent payments. A number of other institutions also saw their credit ratings drop.
Despite these events, the People's Bank of China, the country's central banking authority, urged creditors to stay calm, with Governor Yi Gang saying that while the issue "casts a little bit of concern," the government has the situation under control.
"Economic growth has been slowed down a little bit, but the trajectory of economic recovery remains unchanged," Yi said on Saturday. "Overall, we can contain the Evergrande risk."
This echoes statements put out earlier by the bank. Last Friday, the bank's financial markets director Zou Lan said the Evergrande situation was an individual phenomenon and that the real estate industry "overall is healthy." Yet, the country posted a "slower-than-expected" third-quarter economic growth rate of 4.9 percent, The Wall Street Journal reported—a steep drop from the previous quarter's rate of 7.9 percent.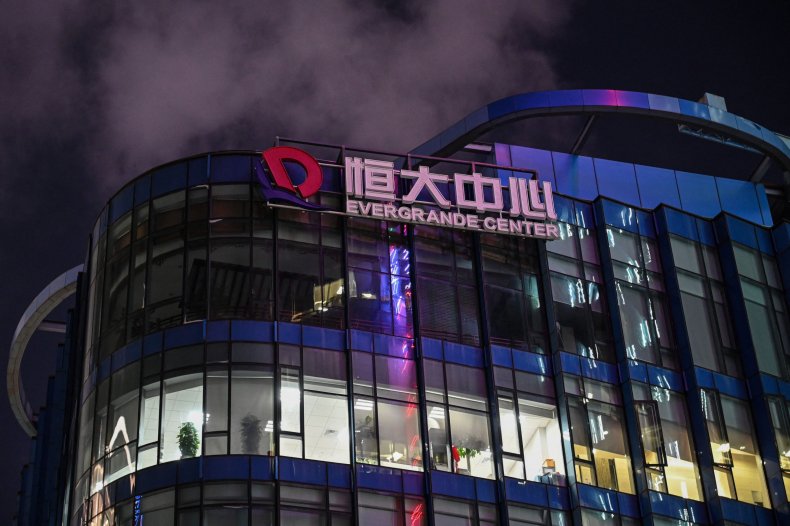 When it comes to trusting the bank's statements, Scott Kennedy, trustee chair in Chinese business and economics at the Center for Strategic and International Studies (CSIS), told Newsweek that that trust hinges on the bank's ultimate intentions.
"If it's about reasserting the role of the state, across the economic system. If they give that message, then it's entirely believable," he said. "If they're trying to provide reassurance that there can be a narrower range of assets that the state authorities guarantee, and that the market will take on a larger role for pricing risk and managing the complications from investments that go awry, I think that is that is a harder sell."
Kennedy said the Chinese government has the regulatory tools to keep the financial system in healthy shape and prevent an Evergrande collapse from wreaking havoc over the sector. However, he said at the moment it appears the government intends to use this situation as a moment to remove the blanket guarantee that the state will support those companies failing to pay off outstanding credit.
While in the past, China has forgiven many companies' debts, Kennedy said it remains intent on letting this situation play out. In doing this, he said they face the "very, very difficult" challenge of inserting risk into their financial system while avoiding an economic downturn.
"If they're able to achieve this, the potential benefits to the efficiency of their capital markets and their financial system would be tremendous," Kennedy said. "But the downside of course if they don't, is also quite significant."
In an ideal situation, Kennedy said the government will oversee the sale of Evergrande's assets in a way that allows the losses of creditors and property owners to be absorbed. This appears to already be in the works, with the company's CEO discussing selloffs in Hong Kong.
However, if that fails and a collapse triggers market instability, Kennedy said the government will have to act by injecting funds into the market and once again providing debt-ridden companies with the aforementioned blanket guarantee. While Kennedy said the bank can be trusted to use its power to avoid such a collapse, how much it can be trusted to successfully inject risk into its markets remains uncertain.
"I don't think that they have fully convinced everybody that they're ready to successfully leap across this large chasm from one kind of system of reassurance to another," Kennedy said. "I think that is that is a harder sell."