Every NFL Record Tom Brady Is Still Chasing
Tom Brady made NFL history again on Sunday, overtaking Drew Brees at the top of the all-time leaderboard for passing touchdowns. Brady threw for 369 yards and four touchdowns in the Tampa Bay Buccaneers' 45-20 win over the Raiders in Las Vegas, bringing his career tally of regular season touchdown passes to 559, one clear of Brees' tally of 558.
The latter surpassed Peyton Manning's all-time NFL record of 539 touchdown passes last season and has added 11 touchdowns through six games this season, with the most recent pair coming in the New Orleans Saints' 27-24 win over the Carolina Panthers on Sunday afternoon.
With four touchdown passes in the win over the Raiders, meanwhile, Brady brought his season tally up to 18, the second-best figure in the NFL behind only Seattle Seahawks quarterback Russell Wilson, who has passed for 22 touchdowns so far this season.
Brady has rewritten the NFL history books multiple times during a stellar two-decade long career that has delivered a record six Super Bowl rings in a record nine Super Bowl appearance. Nobody has racked up more regular season wins as a starting quarterback than Brady's 224, while his 17 divisional titles, 41 playoff starts and 30 postseason wins also stand in a league of their own.
With 18 and 2,838 respectively, the 42-year-old also holds the record for passing yards and passing touchdowns thrown in a Super Bowl and no other quarterback in the history of the game has thrown for more yards or more touchdown passes during the regular season and playoffs combined than Brady.
There are, however, several other milestones within the veteran quarterback's reach. Here's a breakdown of some of the other records Brady is still chasing.
Passing yards
With 76,481 yards Brady ranks second in the all-time list behind Brees, who has passed for an NFL record 79,034 yards. So far this season, Brady has averaged 272.8 passing yards through seven games, while Brees has thrown for an average of 269.6 in his first six games. Should both players maintain their respective trends, Brady would add another 2,455 yards to his tally this season, while Brees would add another 2,696, further stretching his lead.
Throughout his career, Brady has averaged 3,641 yards per season, meaning he would have to play an entire season more than Brees to catch up with the Saints' veteran. The scenario is far from far-fetched, given the latter has openly discussed retirement and has already signed a deal with NBC to swap the field for the commentary booth once he hangs up his cleats, while Brady has repeatedly stated his desire to play until he's 45.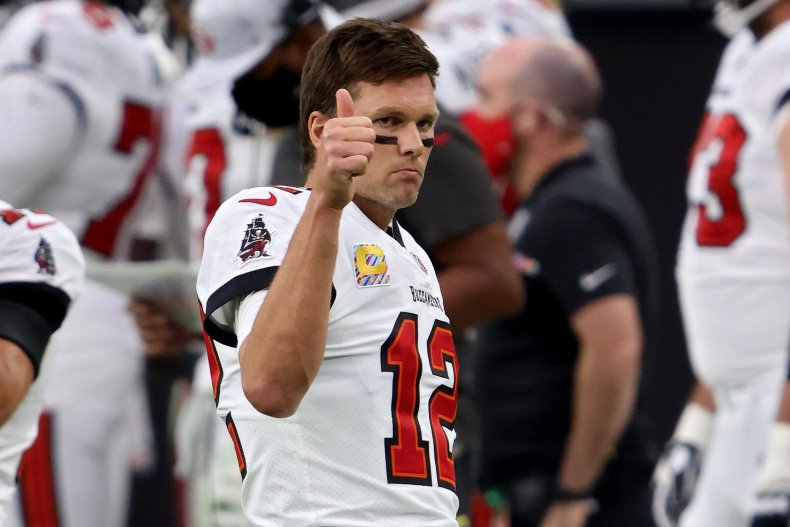 Completed passes
As is the case for passing yards, Brady also trails Brees in this particular metric with 6,533 completed passes in the regular season to the Saints quarterback's 7,021 passes. Brady has completed 22 more passes than Brees so far this season but he's unlikely to bridge this particular gap unless he extends his career by at least a season after Brees' retirement.
Games with at least 300 passing yards
By passing for 369 yards against the Raiders, Brady moved up to second in the NFL's all-time list for most games with at least 300 passing yards, one ahead of Manning and behind only Brees' record of 122. Even should Brady outlast the Saints quarterback, he appears unlikely to overcome Brees in this particular metric.
Games started
With 290 starts, Brady trails only former Green Bay Packers legend Brett Favre and seven-time All-Pro offensive lineman Bruce Matthews for most starts in NFL history. Brady, however, could claim the record for himself should he start all the Bucs' remaining nine regular season games.
Passer rating
With a career passer rating of 97.1, Brady ranks fifth in the all-time list, behind Aaron Rodgers, Wilson, Brees and Dak Prescott. So far this season, however, Brady averages a 102.7 passer rating, the highest since he finished with a 102.8 rating in the 2017 season.
Fourth quarter comebacks
Throughout his career Brady has forged a reputation for engineering game-winning comebacks almost at will but he needs another seven to overtake Manning's all-time record of 43 fourth quarter comebacks. The Bucs' only fourth-quarter comeback of the season so far came in their 38-31 win in Week 4 against the Los Angeles Chargers.
Game-winning drives
With 46 game-winning drives in his career, Brady ranks fourth in the all-time list behind Manning, Brees and Dan Marino and needs a further eight to draw level with the former Indianapolis Colts and Denver Broncos great.
Most touchdown passes to the same receiver
One of Brady's four touchdown passes in the win over the Raiders was to his trusted lieutenant Rob Gronkowski, who cut his retirement short to rejoin his former New England Patriots teammate in Florida. Including the postseason, Brady and Gronk have connected for 92 touchdowns, the second-most in NFL history along with former San Francisco 49ers duo Steve Young and Jerry Rice. With 114 touchdown passes, only Manning and Pro Football Hall of Famer Marvin Harrison have connected for more touchdowns.