Every Republican to Vote Against an Assault Weapons Ban
The House of Representatives' Judiciary Committee voted to approve new legislation that would ban assault weapons, with all of the Democratic members supporting the measure.
All of the 18 Republican members of the committee who were present for the vote opposed the adoption of the legislation, while GOP Representative Greg Steube wasn't in attendance.
The Assault Weapons Ban Act of 2021 is the first piece of legislation to restrict assault weapons that the Judiciary Committee has approved in 20 years. It aims to prohibit the sale, manufacture, transfer and import of all semi-automatic rifles, if those rifles can accept a detachable magazine and they have a pistol grip.
The bill would also ban such weapons when they have a grenade launcher, a barrel shroud or a threaded barrel, a forward grip or a folding, telescoping or detachable stock, along with other measures to restrict the firearms.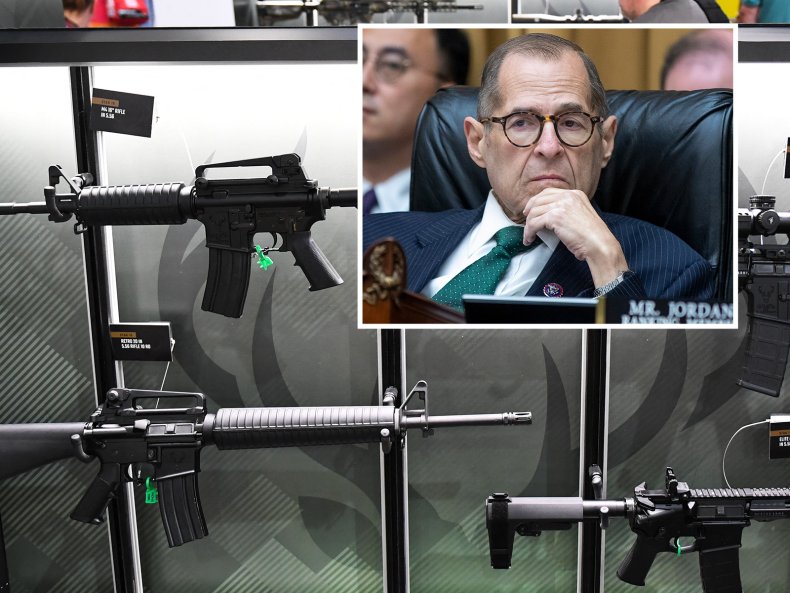 The vote comes after a number of deadly mass shootings in recent weeks, including at an elementary school in Uvalde, Texas, that left 19 children and two teachers dead.
The alleged gunman in Uvalde used an AR-15 style rifle, which the legislation will restrict if it's passed by the House and Senate and signed into law by President Joe Biden.
An AR-15 style rifle was also used in the deadly Highland Park mass shooting that saw seven people killed during a Fourth of July parade.
The Republicans who voted against the legislation were:
Jim Jordan of Ohio
Steve Chabot of Ohio
Louie Gohmert of Texas
Darrell Issa of California
Ken Buck of Colorado
Matt Gaetz of Florida
Mike Johnson of Louisiana
Andy Biggs of Arizona
Tom McClintock of California
Tom Tiffany of Wisconsin
Thomas Massie of Kentucky
Chip Roy of Texas
Dan Bishop of North Carolina
Michelle Fischbach of Minnesota
Victoria Spartz of Indiana
Scott Fitzgerald of Wisconsin
Cliff Bentz of Oregon
Burgess Owens of Utah
Representative Jordan, the ranking member on the committee, said the legislation would "strip Americans of their right" and "would do nothing to make our communities safer."
"Democrats know this legislation will not reduce violent crime or reduce the likelihood of mass shootings, but they are obsessed with attacking law-abiding Americans' Second Amendment liberties," Jordan said.
The official Twitter account of the House Judiciary Committee GOP posted on Wednesday: "HOUSE DEMOCRATS JUST VOTED TO STRIP LAW ABIDING CITIZENS OF THEIR SECOND AMENDMENT RIGHTS."
They later sent a tweet quoting directly from the Second Amendment: "A well regulated Militia, being necessary to the security of a free State, the right of the people to keep and bear Arms, shall not be infringed."
However, Democratic Representative Jerrold Nadler, chair of the committee, argued in favor of the legislation.
"As we have learned all too well in recent years, assault weapons—especially when combined with high-capacity magazines—are the weapon of choice for mass shootings. These military-style weapons are designed to kill the most people in the shortest amount of time," Nadler said, during his opening statement.
"Quite simply, there is no place for them on our streets," he added.
Following the vote, the House Judiciary Democrats' Twitter account criticized Republican opposition: "Every committee Republican voted no.
If the deaths of our nation's children from gun violence won't motivate Republicans to take action to save lives, what will?"
It remains to be seen how quickly the legislation will advance. Congress will enter recess in early August.