Every Will Smith Mention Made During the Grammys
Will Smith's Oscars slap managed to echo throughout another awards ceremony, with the topic ripe for joking about at the Grammys.
It's been one week since the actor stormed the stage at the Academy Awards and slapped Chris Rock across the face for making a joke about his wife, Jada Pinkett Smith.
The incident sent shockwaves throughout Hollywood and has enthralled pop culture enthusiasts over the past seven days.
Newsweek has all the times the notorious Will Smith slap was mentioned at the Grammys.
Trevor Noah
Trevor Noah hosted the 64th Grammy Awards, held at the MGM Grand Garden Arena in Las Vegas, and opened the show with a somewhat tactful jibe about the incident.
"We're going to be listening to some music, we're going to be dancing, we're going to be singing, we're going to be keeping people's names out of our mouths," the Daily Show host joked.
Following the slap, Smith now famously, shouted to Rock: "Keep my wife's name out your f****** mouth!"
Questlove
Questlove is a performer who indeed had some proximity to the incident, as he won the award for Best Documentary that Rock was presenting at the time.
"I'm going to present this award and I trust that you people will stay 500 feet away from me," he joked while presenting the award for Song of The Year.
"Just playing," he joked to the audience before the award went to Silk Sonic's "Leave The Door Open."
He also said "this is now a special moment for someone," referencing that his special moment was overshadowed by Smith and Rock.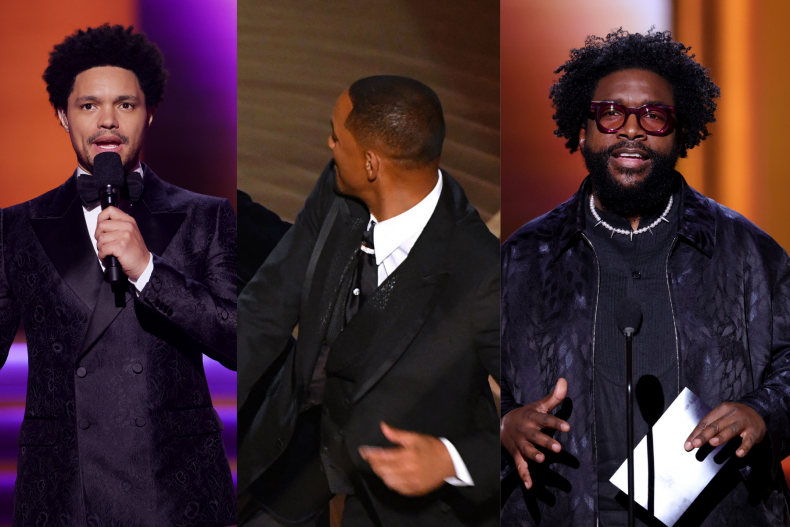 Chelsea Handler
Speaking on the red carpet, comedian Chelsea Handler praises Chris Rock and said he "handled himself with such aplomb" following being slapped on stage.
"He was a professional—and that was a great example for all performers, and all comedians, to not be reactive in the moment," Handler said, per the Daily Mail.
"It wasn't necessary to be reactive. I think the reaction is heard now and it's appropriate, and people have really felt for him.
Her boyfriend Jo Koy agreed and added: "I can't wait for his take on it. It's going to be serious and funny at the same time."
LeVar Burton
Star Trek star LeVar Burton also made reference to the infamous slap while he presented the Grammys pre-show ahead main show on Sunday.
"I want to warn you all that our next presenter is a comedian if you know what I mean," Burton said, while introducing Nate Bargatze.
"So, I need to caution everybody, remain in your seats and keep your hands to yourself," Burton added.
Nate Bargatze
Bargatze then joined Burton on stage wearing a helmet, which drew laughs from the audience.
"They said comedians have to wear these now at awards shows during the joke parts," he joked. "It doesn't even cover your face, I think it just focuses where you would hit me."
Since the incident, Rock has returned to performing stand-up comedy and is embarking on a U.S. tour, but has yet to fully address the situation.
Meanwhile, Smith has apologized for his actions and has resigned from the Academy of Motion Picture Arts and Sciences.