London Bridge Attack Witnesses Describe Chaotic Scenes: 'Everyone Please Be Safe'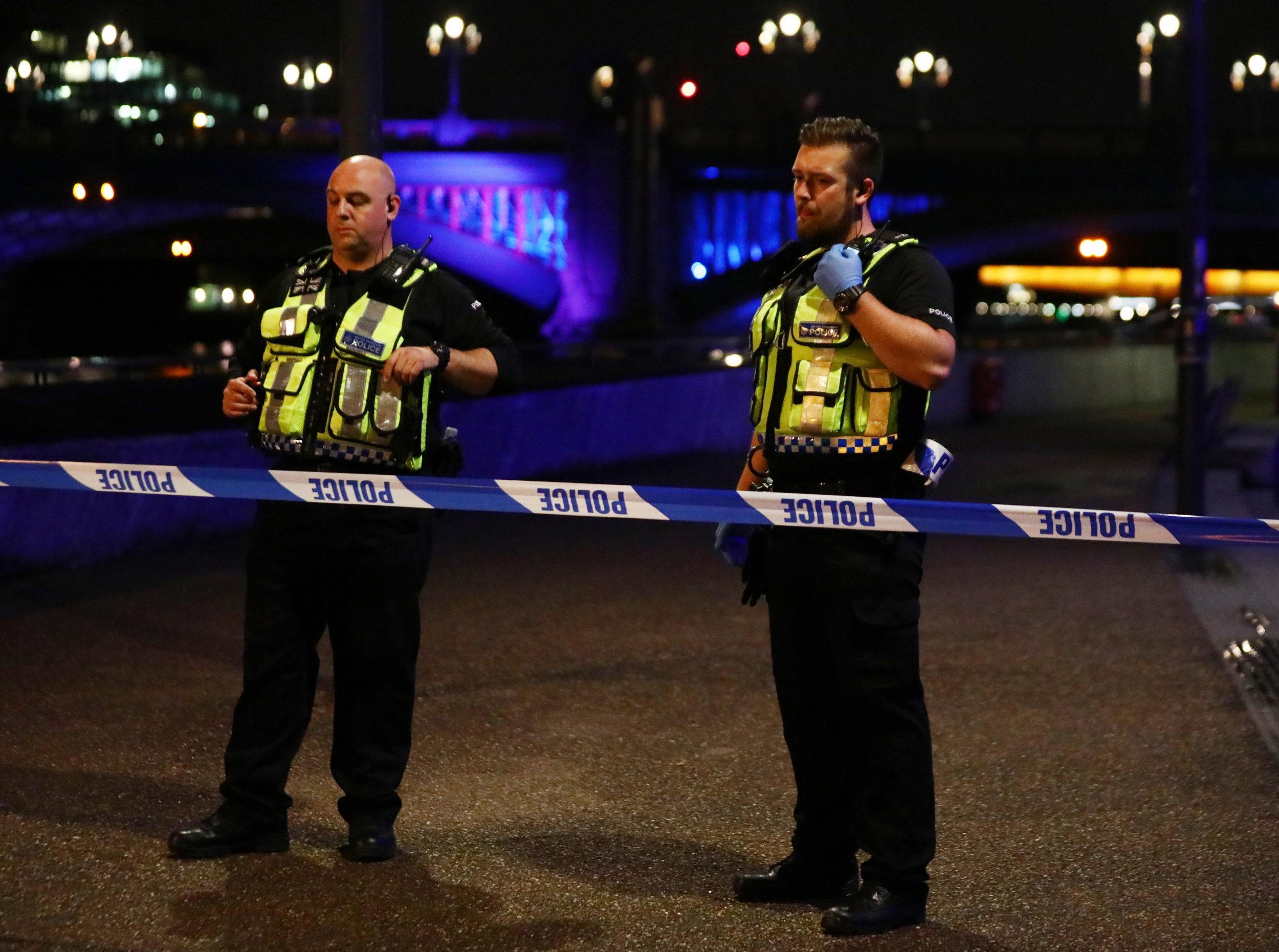 Areas of central London were in lockdown late Saturday night after a van reportedly veered off a busy street and hit pedestrians and reports emerged of several stabbings in at least two incidents in the British capital.
Early reports were of a white van hitting at least a dozen people near London Bridge just after 10 p.m. (GMT), with some witnesses reporting gunfire at nearby Borough Market.
Footage emerged of hundreds of Londoners leaving the scene at London Bridge, where tens of thousands gather on weekends to visit clubs, bars and restaurants. Armed police were also filmed escorting journalists away from the scene.
On social media, people reported being told to go into bars and restaurants and and take cover under tables, as fears spread of attacks similar to those that have taken place in Paris and Brussels, as well as in Manchester just a week ago.
In a statement, the police urged Londoners to "remain calm, but be alert & vigilant." Later, images circulated of armed officers sealing off the roads around London Bridge.
The Guardian reported witnesses saying that stabbings had taken place at the scene. Stephen Tull, who is homeless and was under the bridge at the time, said a man leapt from a van and began attacking people. Reuters had earlier reported that passers-by had been attacked with a knife on the bridge.
Holly Jones, a BBC reporter at the bridge when the incident happened, said a van had swerved off the road into a crowd of pedestrians.
"A white van driver came speeding—probably about 50mph—veered off the road into the crowds of people who were walking along the pavement," she told BBC News. "He swerved right round me and then hit about five or six people. He hit about two people in front of me and then three behind.
"I'd say there are about four severely injured people. They all have paramedics assisting them at the moment."
A group of people at a pub nearby told BBC News that they have been told to stay inside and described people "running everywhere."
Martin Lucas, who posted images from the site of the attack on social media, said police had quickly locked down the area.
"Van drove into people on London Bridge, this is happening now. Really hope all are ok. We are in the middle of it. The bridge was closed quickly and all cars evacuated. Police controlled the scene incredibly. Everyone please be safe," he wrote on Twitter.
Jean-Paul Frennet, who posted live video of the aftermath from a spot nearby, said over a dozen ambulances were heading to the scene.
Will Heaven, an editor who was one of the first witnesses to speak to media after the incident at London Bridge, said: "What I saw: injured pedestrians, first responders, armed police, people running north. What I heard of: stabbings, injured. #LondonBridge"
"Suddenly on the left hand side on the bridge there was somebody down on the pavement with a small crowd around them, clearly concerned. I thought someone had collapsed," he told Sky News.
"We drove a little further over the bridge. There was another person in the road itself. The penny dropped that something quite serious was happening."
"The traffic came to a standstill. The Uber driver said something bad is happening here. We could hear sirens coming."
"A driver of a black cab said there has been a terrorist attack. They saw there were numerous people in the road. A second cab driver said there has been a series of stabbings."
The incidents come less than two weeks after a suicide bomber killed 22 people at a concert by American singer Ariana Grande in Manchester on 22 May, in what was the deadliest terrorist attack on British soil since the July 7 bombings in London.