Everything Elon Musk Has Said About Dogecoin
The cryptocurrency Dogecoin hit a record high of $0.298 Friday morning amid Tesla CEO Elon Musk's boosting of the virtual currency on social media.
Just after midnight on April 15, Musk posted a tweet that reads, "Doge Barking at the moon." He included a photo in the tweet of a painting by Spanish artist Joan Miró titled "Dog Barking at the Moon."
Musk, who has over 51 million Twitter followers, has actively tweeted for months about the virtual currency Dogecoin, and his meme-like content has caused spikes in the value of the Bitcoin alternative's shares.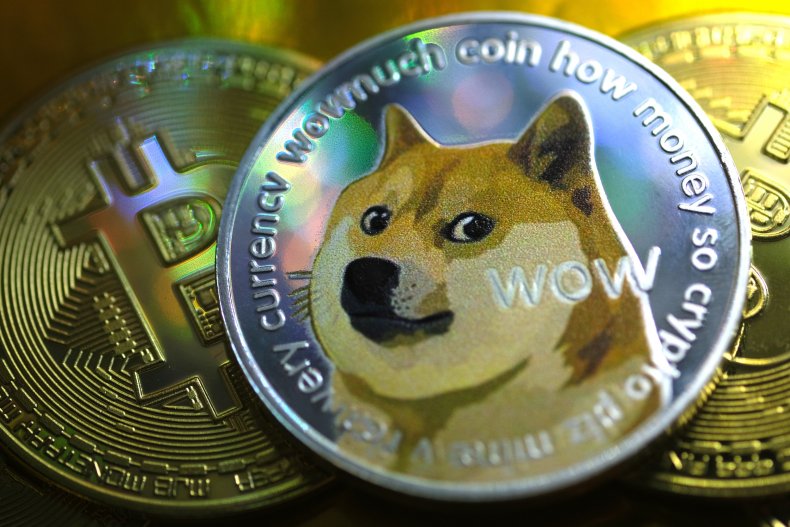 In his tweets, Musk has signaled that he's always anticipated the arrival of Dogecoin as a top global cryptocurrency.
"It's inevitable," Musk said in a July 17, 2020, post with an image of a dust storm, with a Shiba Inu face, as the "dogecoin standard" blowing over the "global financial system." A Shiba Inu's face is featured on Dogecoin's logo. CNN reported that the Bitcoin competitor's shares went up 14 percent at the time.
On December 20, the billionaire tweeted "One word: Doge," driving Dogecoin shares up almost 20 percent and making the term a trending topic on Twitter, CNN reported. Musk went on to include "Former CEO of Dogecoin" in his Twitter bio, but this has since been removed.
The tech leader's viral attention on Dogecoin continued on February 4, when he posted a series of tweets over the course of the night and pushed Dogecoin's value up by more than 50 percent, according to data from CoinDesk cited by CNN.
"Doge," Musk said in the first tweet, accompanied by a photo of a rocket streaming toward the moon.
The following post reads "ur welcome" and includes a doctored screen grab from the animated film The Lion King featuring a photo of Musk's face pasted on the body of the character Rafiki and a Shiba Inu pasted on the face of baby lion Simba. Musk appears in the image to be lifting Dogecoin to greatness, and the tech CEO isn't necessarily wrong. His posts about the cryptocurrency have turned Dogecoin from a joke into a viable player in the cryptocurrency industry.
According to CoinDesk, Jackson Palmer and Billy Markus started Dogecoin in 2013 to "satirize" Bitcoin by turning the viral "doge" meme into a cryptocurrency. But the cryptocurrency has a large supply, CoinDesk said, and because there is no "cap to the supply of coins...the coin can inflate infinitely."
Dogecoin is now a top 10 digital currency with a total market value of $34 billion, according to data from CoinGecko reported by CBNC. Friday's value of over 28 cents was more than double the price from a day ago, and Dogecoin has risen by 300 percent in value in the past seven days, according to CNBC.
"Just as bitcoin is the consensus pick for people looking for 'predictable moneyness' in their currency, dogecoin is looking like the consensus pick for people who want 'meme-y wackiness' in their currency," Adam Levine, managing director of podcasts and audio at Coindesk, wrote in an op-ed on Friday provided to Newsweek.
Levine added: "Doge has become the joke currency to beat. Everybody wants to be in on the joke, which pushes up the price, which makes the joke even bigger. It's a self reinforcing cycle. Sort of like bitcoin but for the luls."
Levine wrote that celebrities like Musk are among those who are in on the joke, pushing up the price and making the "cycle" ever-more potent.
"Dogecoin is the people's crypto," Musk said in another tweet in February, followed by "No highs, no lows, only Doge." He also posted a Twitter poll for "the future currency of Earth" comparing "Dogecoin to the Moooonn" and "All other crypto combined." Over 2.4 million people participated in the poll, which overwhelmingly selected Dogecoin as the planet's future form of currency.
On April 1, April Fools' Day, Musk wrote: "SpaceX is going to put a literal Dogecoin on the literal moon."
Within four hours, the tweet had gained about 200,000 likes and 22,500 retweets. Dogecoin surged from $0.05 at 6:15 a.m. that day, and by 6:45 a.m. it had risen to $0.069—an increase of 38 percent.
Given that virtual currencies aren't tangible or "literal," the tweet raised skepticism about whether Musk was serious. In March, Markus told Newsweek: "I think it would be really cool if he does literally send Dogecoin to the moon on one of his rockets."
But as with any cryptocurrency, Dogecoin is definitively subject to swinging highs and lows in price. And in addition to Musk's tweets, it's likely that the most recent surge in price is due to the popular virtual currency Coinbase going public on Wednesday, creating an industrywide boon for cryptocurrencies.
"One of the things that's interesting about Doge is that whenever there's kind of excitement around cryptocurrency, people who don't really know a lot about cryptocurrencies get pulled into the Doge ecosystem," Levine said to Business Insider. "And that's partly because it's cute, and it's not intimidating. It's partly because the tokens are very cheap."
Levine added in his op-ed that Dogecoin is an oddity among cryptocurrencies in that it has "exceptional approachability and appeal to new users while lacking most of the characteristics that make cryptocurrencies useful or valuable."
This value or use is typically designed around predictability and liquidity; users like that virtual currencies are immune from broader government policies, and that supplies are plentiful when they want to buy or sell. Even though Palmer and Markus have since moved on from their joke project, fans have not, according to Levine. There were concerns about whether the virtual currency would survive without enough power behind it, but the this week's record-high has proven that Dogecoin is a viable contender that fields its own value from a fast-acting fan base.
"Now, this could all end very badly: Lots of people buying DOGE at these prices don't know the true story,' Levine wrote. "As they say, easy come, easy go. But at least for now it sure looks like Dogecoin is the gold standard of joke currencies, and just maybe that's enough."
Musk has not yet posted about Dogecoin's all-time high as of Friday morning.
Updated 4/16/2021, 3:25 p.m. ET: This story has been updated to include comment from Levine.
Correction (4/16/2021, 6:30 p.m.): An original version of this story spelled Adam Levine's last name incorrectly.