Everything Eric Adams Promised to Fight Subway Crime
A mass shooting at a Brooklyn subway station on Tuesday came on the heels of New York City Mayor Eric Adams' promise to create a safer public transit system for America's most populated city.
Adams, a former New York police officer, ran his campaign last year with a message of public safety and support for the city's police force. In late February, the mayor released a plan to target subway crime and help those experiencing homelessness and mental illness across the city's vast transportation system.
Tuesday's shooting, in which 10 people were shot and six others injured, came just four months after Adams first took office. The incident occurred at the 36th Street subway station in the Sunset Park neighborhood, and followed a pattern of rising crime that has plagued the city since the start of the COVID-19 pandemic.
"If we don't have a safe subway system, no one is going to fill these office buildings, and it is not going to feed our economy that we're looking for," Adams told ABC News during his campaign last summer. "We want to be a safe city...we're going to live up to our name. This is an Empire State. We want to build empires."
As New Yorkers cope with the city's latest attack, here's a look at the ways Adams has promised to fight subway crime.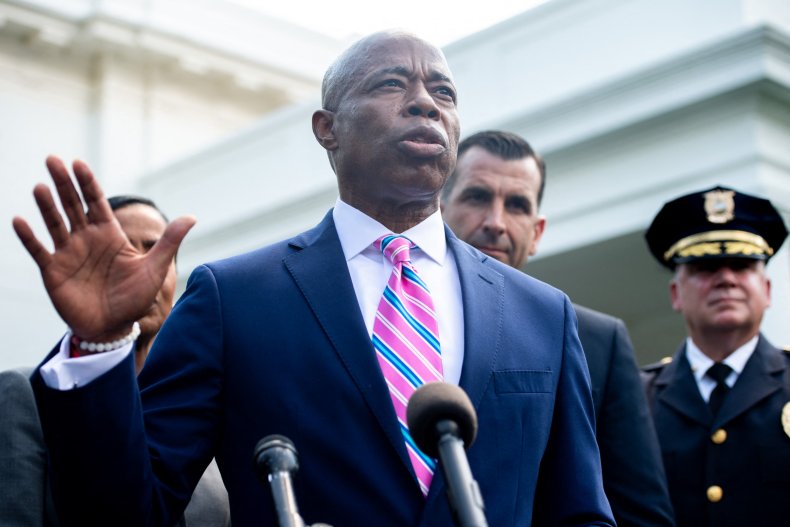 Increased Police Presence
Days after his inauguration, Adams first announced a plan to ramp up a police presence on the subway. On January 6, the mayor said that street-level patrol officers would begin making regular "visual inspections" of subway stations, while transit officers would be directed to inspect trains more frequently.
"Omnipresence is the key," Adams said in the announcement, according to The New York Times. "People feel the system is not safe because they don't see officers. We're going to bring a visual presence to our systems."
Following Tuesday's shooting, Adams added to that pledge, announcing a plan to double the number of police officers that typically patrol stations.
Crackdown on Drugs, Homelessness
As part of a larger subway safety plan implemented in late February, Adams also announced a "rules of conduct" enforcement in order to crack down on illicit behaviors.
"No more smoking, no more doing drugs, no more sleeping, no more doing barbeques on the subway system—no more just doing whatever you want," the mayor said.
Adams' plan includes the deployment of NYPD officers and community-based homeless outreach teams across some of the most populated stations in order to help individuals who have been sleeping or living on public transportation receive necessary care. The plan also works with the Department of Health and Mental Hygiene (DOHMH) to help individuals with mental illness.
As part of the initial strategy, Adams said teams would be deployed across six targeted lines—the A, E, 1, 3, N and R—with each team consisting of two police officers, an outreach worker and a clinician. The teams are meant to prevent illegal activities from taking place, and to help those in need receive resources.
"It is cruel and inhumane to allow unhoused people to live on the subway, and unfair to paying passengers and transit workers who deserve a clean, orderly and safe environment," Adams said in announcing the plan. "The days of turning a blind eye to this growing problem are over."
Support for Barriers on Platform Tracks
Following a deadly incident in January, in which a woman was suddenly pushed to her death on a subway track in Times Square, Adams said he felt it was time for the city to start building platform barriers.
"I love the idea," Adams said when asked about the installation of subway platform barriers during an interview with PIX11 News. "I actually had [talked to] leaders in this industry when I was the borough president. We attempted to do so. The MTA was slow on moving forward with it. I think it's far time now."
Adams added that he thinks the initiative would be "a good way to alleviate people being pushed to the tracks," while noting that "technology should not be a replacement from the fact that our subway system must be safe."
The Bigger Picture
Tuesday's shooting came amid a rise in violent crime across New York City, and fears from some pandemic-weary New Yorkers to return to the subway system. Last week, the city's police commissioner released new figures showing a 36 percent increase in major crimes and a 16 percent rise in shootings over the past year.
Furthermore, a recent survey by the Metropolitan Transportation Authority (MTA) found that 90 percent of New Yorkers who stopped riding the subway said that fear of crime and harassment was the main reason they left the transit system, according to The New York Times.
Adams commended New Yorkers and city officials for their response to Tuesday's shooting, saying, "I think that when you look at how miraculous this is, you have to point to the passengers and the transit authority officials."
"I believe lives were saved based on the actions of—that we witnessed on some of the amateur video that was released. You saw passengers coming to the aid of each other. I just cannot thank New Yorkers enough for how we responded," he added.