Everything Joe Biden Has Said About Hunter Biden in the Past
Over the course of his time in Washington and his current run for the Oval Office, Democratic presidential candidate Joe Biden has spoken extensively about his family, specifically his son Hunter Biden—whose name made headlines again after the New York Post published an article that appeared to show emails between him and Vadym Pozharskyi, an adviser to the board at Ukrainian energy firm Burisma Holdings.
The former vice president once joked that his son's decision to join the Navy was one of poor judgment. Hunter was administratively discharged from his position in the U.S. Navy Reserve after testing positive for cocaine in 2014.
"We have a lot of bad judgment in my family," Joe Biden said while speaking at the American Legion's Salute to Heroes Inaugural Ball in 2016. "My son, over 40, just joined the Navy to be sworn in."
President Donald Trump brought up this incident during the first presidential debate and Biden defended Hunter, saying: "My son, like a lot of people at home, had a drug problem."
"He's overtaking it. He's fixed it. He's worked on it. And I'm proud of him. I'm proud of my son," Biden added.
In 2016, while serving as the vice president to then-President Barack Obama, Biden spoke about his family during the dedication ceremony of the Joseph R. "Beau" Biden III Highway, following Beau's death. During his speech, Biden referred to Hunter as "the love of my life."
A few years after Beau's death, Hunter reportedly dated his brother's widow Hallie Biden. When the former vice president became aware of the relationship, he said: "We are all lucky that Hunter and Hallie found each other as they were putting their lives together again after such sadness."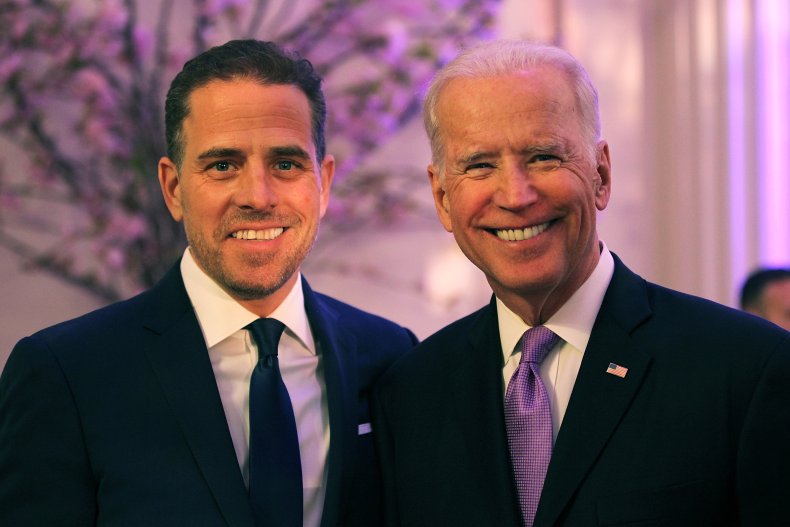 "They have mine and Jill's full and complete support and we are happy for them," Biden added.
During the Democratic presidential debate on October 15, 2019, Biden defended his son when he was asked by CNN host Anderson Cooper why Hunter was allowed to have business ties in Ukraine while he was serving as vice president.
"My son did nothing wrong," the former vice president said in response, adding that no one from his family would work with a foreign government or foreign corporation if he is elected president. "I never discussed a single thing with my son about anything having to do with Ukraine. No one has indicated I have. We always kept everything separate."
Just a few months after defending his son, Biden suggested that it "may have looked bad" for his son to take the job at the Ukrainian energy firm Burisma while serving as vice president.
"There is nothing he—there is nothing to . . . that he did anything that was illegal. Nothing," Biden said, according to a transcript of the interview with Telemundo's Jose Diaz-Balart in December 2019.
"Look, here's what I'm not gonna do. I'm not gonna—and I know you're not intending to do this—play the game to take the eye off the culprit," Biden explained during the interview when asked if his son accepting the job was wrong. "The culprit here is what may have looked bad but wasn't anything wrong is totally different than whether a president has held up $400 million in aid . . . that is criminal."
During the first presidential debate on September 29, Trump criticized Hunter for working with the Ukrainian energy company, but the former vice president defended his son once again.
"Look, my son did nothing wrong at Burisma," Biden said during the debate. "This is not about my family or his family, this is about your family—the American people."
Newsweek reached out to Biden's campaign for comment, but did not receive a response in time for publication.