Everything Joe Biden Has Said About Reopening Schools
Since before taking office, President Joe Biden has stressed the importance of reopening schools amid a battle on how to safely reopen schools amid the ongoing COVID-19 pandemic.
According to a school reopening tracking map from EdWeek, a majority of states have left the decision to reopen schools to local school districts and their health departments. The decision by states to leave the responsibility up to localities has sparked tensions between teachers unions and state's board of education.
Prior to taking office, in July Biden released a five-step road map on how to safely reopen schools, which came in response to then-President Donald Trump's push to fully reopen all schools across the country.
The plan stressed the importance of safety precautions when reopening schools by increasing testing and personal protective equipment in an effort to control the spread of the virus.
"Everyone wants our schools to reopen. The question is how to make it safe, how to make it stick. Forcing education students back into a classroom and areas where the infection rate is going up or remaining very high is just plain dangerous," Biden said in a video released on July 17.
In the video, Biden also stressed the importance of providing students with access to "high-quality distance learning," adding, "We can't allow the pandemic to further exacerbate the educational disparities that already exist in this country. We need a White House that's laser focused on closing those gaps."
In December, Biden announced a plan to reopen a majority of schools across the nation during his first 100 days in office.
"It should be a national priority to get our kids back into school and keep them in school," Biden said in December. "If Congress provides the funding, we need to protect students, educators and staff. If states and cities put strong public health measures in place that we all follow, then my team will work to see that the majority of our schools can be open by the end of my first 100 days."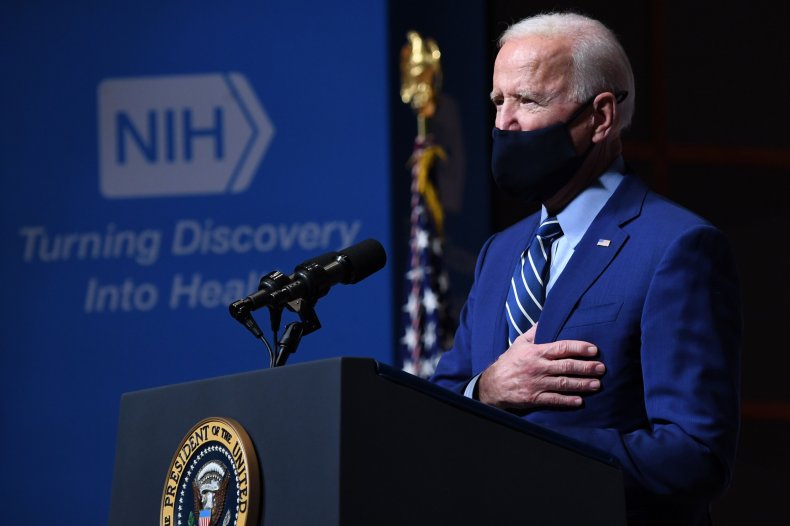 On January 14, he reiterated his plan to reopen schools, but narrowed it down to "a majority of our K through 8 schools" by the end of his first 100 days, with the help of a federal aid package to provide funding to schools in order to vaccinate students and teachers.
"We can do this if we give the school districts—the schools themselves, the communities, the states—the clear guidance they need as well as the resources they need that they can't afford right now," Biden said in early January.
On January 21, his first full day as president, Biden announced that his administration was "directing the Department of Education and the Department of Health and Human Services to immediately provide schools and communities with clear guidance and resources."
During his first press conference as president on January 25, Biden said, "I believe we should make school classrooms safe and secure for the students, for the teachers, and for the help that's in those schools maintaining the facilities," adding that in order for schools to safely reopen, they need ventilation systems as well as testing for teachers and students.
"The teachers I know, they want to work. They just want to work in a safe environment, and as safe as we can rationally make it, and we can do that. And we should be able to open up every school, kindergarten through 8th grade, if in fact we administer these tests," Biden said during the press conference.
During an interview on February 7 with CBS Evening News, Biden said, "I think it's time for schools to reopen safely. Safely."
"You have to have fewer people in the classroom. You have to have ventilation systems that have been reworked. Our CDC commissioner is going to be coming out with science-based judgment, within I think as early as Wednesday, to lay out what the minimum requirements are," Biden added during the interview.
While Biden previously said that he wanted to reopen a majority of schools by the end of his first 100 days in office, on Wednesday, White House press secretary Jen Psaki noted, "His goal that he set is to have the majority of schools—so, more than 50 percent—open by day 100 of his presidency.… And that means some teaching in classrooms. So, at least one day a week. Hopefully, it's more."
Newsweek reached out to the White House for comment but did not receive a response in time for publication.