Everything We Know About Colin Kaepernick And His NFL Future Following His Workout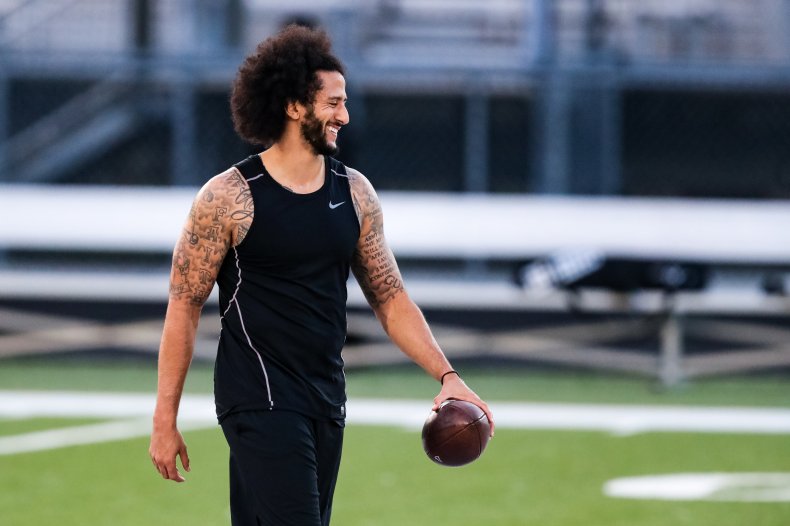 Colin Kaepernick's future in the NFL is still unknown following his workout on November 16.
The former quarterback has been at the center of various controversies since 2016 when he first kneeled during the national anthem at a pre-season game while playing with the San Francisco 49ers.
Kaepernick most recently made headlines when the NFL offered a sanctioned work out for him in front of all 32 league teams at the Atlanta Falcons stadium on November 16, but half an hour before the workout was scheduled Kaepernick moved the event to a high school miles away, forcing multiple scouts to miss the workout.
According to ESPN, six NFL teams attended the workout and, during an appearance on The Adam Corolla Podcast, Kaepernick's attorney Mark Geragos noted that there are currently two teams that are interested in signing the former quarterback.
"One team is legitimately in need of a quarterback who had a very poor showing on Sunday," Geragos said, though no NFL teams have yet to confirm that they are interested in signing Kaepernick.
Additionally, ESPN columnist Howard Bryant reported Monday that Kaepernick could hold another workout during the league's annual meeting. Kaepernick's agent Jeff Nalley shared the information with Bryant, saying that holding the workout during the meeting would allow the head coaches, general managers and owners of all 32 NFL teams to attend.
Nothing has been confirmed regarding another workout and it is unknown if the NFL will sanction it.
The controversy with Kaepernick has also played out in sports media with ESPN's Stephen A. Smith being openly critical of the former quarterback both on the network and via social media. In contrast, Smith's First Take co-host Max Kellerman has expressed his support of Kaepernick.
Kellerman expressed his views during a segment on Monday's show, while Smith continued to rail against Kaepernick throughout the week. On Thursday, former NFL player Terrell Owens appeared on the show and took his own stance on Kaepernick's actions, while telling Smith, who is black, that Kellerman, who is white, "almost seems blacker than you" in supporting Kaepernick.
Despite the altercation with Owners, Smith doubled down on his comments during his ESPN Radio show on Thursday, saying, "I believe in my soul I am one thousand percent correct on my Kaepernick stance."
Nike, who generated controversy with a 2018 ad campaign featuring Kaepernick, is planning to release a shoe designed by the football player next month. According to Yahoo Sports, while the company took an initial hit following the reveal of the campaign, Nike's stock has risen 18 percent ever since.
Kaepernick's former teammate and supporter Eric Reid, who currently plays for the Carolina Panthers, shared a photo of the shoes on his Instagram, including the caption, "Game day fit. You already know #ImWithKap y'all see the kicks."
A number of former and current NFL players have also spoken up in support of Kaepernick and his recent decisions.
Former Dallas Cowboys wide receiver Dez Bryant posted a picture on Twitter with a caption that read "@Kaepernick7...I'm not against you I'm with you...I just want to see the change as well."
Current Houston Texans wide receiver Kenny Stills spoke to the media following the Texans' game on Sunday, saying, "He's prepared and ready to go, like he said. So I look forward to a team signing him."
New England Patriots quarterback Tom Brady also expressed his support for Kaepernick while appearing on WEEI's The Greg Hill Show. "I said the other day it's great that he got an opportunity and hopefully he makes the most of it," Brady said.