Everything We Know About Dan Levy's Role in 'Sex Education'
Actor Dan Levy is joining the cast of Netflix's hit comedy-drama Sex Education, the company announced on Friday.
Levy, who won multiple Emmy Awards for his work on the sitcom Schitt's Creek, will be featured on the show for its upcoming fourth season. The actor also confirmed the news on social media.
The official Twitter account for Sex Education wrote that Levy will portray Thomas Molloy, who according to Variety, is "a famous author and Maeve's (Emma Mackey) U.S. course tutor at her Ivy League college."
No other details about the character have been revealed. However, Netflix revealed an early peek of Levy as Molloy on Twitter.
Levy's role on the show will be his first on a scripted program since Schitt's Creek ended in 2020. Levy won four Emmys for the popular and critically-acclaimed comedy that he co-created. In addition to starring as David Rose on the show, he also wrote and directed episodes.
Sex Education debuted in 2019 and was an instant hit with critics and viewers. The show centers on the lives of the students and staff at the fictional Moordale Secondary School as they grapple with dilemmas that is often related to sexual intimacy.
In addition to Levy, Netflix announced other new additions to Sex Education for the new season, including Thaddea Graham (Doctor Who: Flux), Marie Reuther (Kamikaze), Anthony Lexa, Alexandra James, and Imani Yahshua. They will join current cast members Mackey, Asa Butterfield (Otis), Gillian Anderson (Jean), and Ncuti Gatwa (Eric).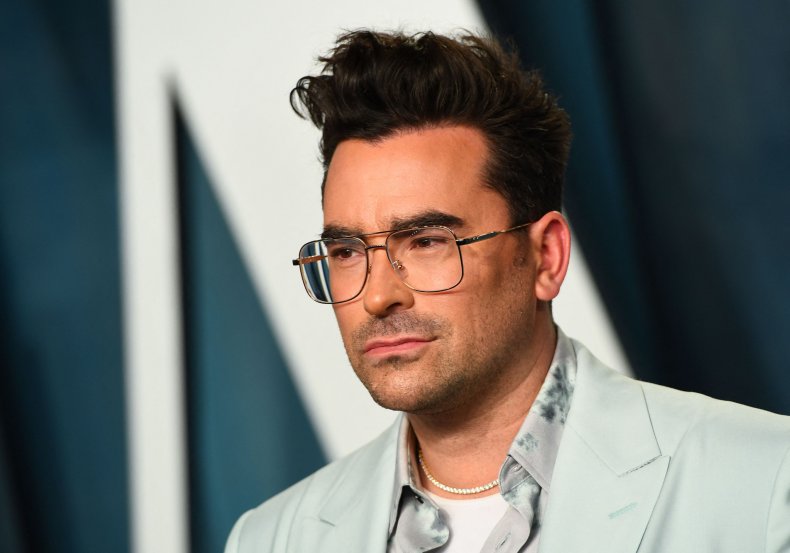 The Hollywood Reporter shared a description of the upcoming season of Sex Education it received from Netflix.
"Following the closure of Moordale Secondary, Otis and Eric now face a new frontier—their first day at Cavendish Sixth Form College. Otis is nervous about setting up his new clinic, while Eric is praying they won't be losers again," the description says. "But Cavendish is a culture shock for all the Moordale students—they thought they were progressive but this new college is another level. There's daily yoga in the communal garden, a strong sustainability vibe and a group of kids who are popular for being...kind?!"
The details given to The Hollywood Reporter also include a mention of Levy's Molloy. The Netflix teaser said, "Over in the U.S., Maeve is living her dream at prestigious Wallace University, being taught by cult author Thomas Molloy. Otis is pining after her, while adjusting to not being an only child at home, or the only therapist on campus."
Levy fans shouldn't expect to see his turn as Molloy in the near future, however. According to Entertainment Weekly, filming is currently underway in Wales, United Kingdom, and will continue into 2023.
Newsweek reached out to Levy's representatives for comment.