'Evita' Star Responds to Trump's Balcony Stunt—'The Revival is Closing November 3rd'
Donald Trump arrived back at the White House on Monday night following his three-day stint in hospital and proceeded to remove his mask and pose on the balcony overlooking the South Lawn.
The President's latest photo stunt since being diagnosed with coronavirus has been widely likened to the famous balcony scene from the musical Evita—with the original star of the broadway musical Patti LuPone responding to Trump's actions on Twitter.
Sharing a photo of the incumbent standing maskless on the balcony, LuPone tweeted: "I still have the lung power and I wore less makeup. This revival is closing November 3rd."
LuPone is not shy about her disdain for Trump. Back in 2017, the actress made headlines when she said she would not perform for the President, telling Variety during a red carpet appearance: "Because I hate the motherf*****. How's that?"
The classic 1996 musical drama follows Argentine political leader Eva Perón, who was played by Madonna in the film. The musical is purportedly a favorite of the President.
"My favorite Broadway show is Evita by Andrew Lloyd Webber, starring Patti LuPone. I saw it six times, mostly with Ivana," the President wrote in his 2004 tome "Trump: Think Like a Billionaire," per ABC News.
The comparison between Trump and the late Argentine actress, first lady, and working-class hero may raise a few eyebrows, however, as Trump reportedly gave the nickname "Evita" to Democratic Rep. Alexandria Ocasio-Cortez.
Author Riley Sager tweeted: "This Evita remake looks terrible," while journalist Susan Glasser added: "He loved the balcony scene in Evita."
CNN's Jim Acosta joked that it should be "Covita" rather than "Evita."
"You know, when Evita had inoperable cancer they didn't tell her. They just propped her up for photo ops and let her go on thinking she'd be fine. That just popped into my head for absolutely no reason at all," author Deanna Raybourn observed.
Trump left Walter Reed National Military Medical Center after being admitted Friday with a positive coronavirus test.
Before his exit from the hospital, Trump tweeted that he would "be back on the Campaign Trail soon!!! The Fake News only shows the Fake Polls."
Trump's personal physician Sean Conley said Monday that the President would "be surrounded by world-class medical care 24/7."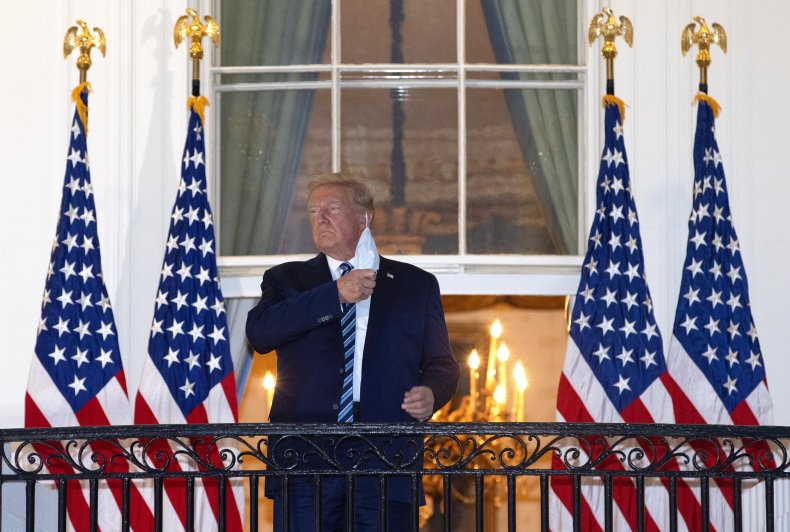 Since Trump tested positive, several members of the Senate have reportedly gone on to test positive for the virus, including GOP Senators Thom Tillis, Mike Lee, and Ron Johnson, as well as a few key figures within the Trump administration.
White House adviser Hope Hicks, former Trump adviser Kellyanne Conway, former New Jersey Governor Chris Christie and First Lady Melania Trump have also tested positive.