EVO 2018: How to Watch Online and Full Schedule
The biggest fighting game tournament in the world is going down this weekend in Las Vegas. EVO 2018 will pit the best players in the world against each other.
Fans can enjoy high-level competition at EVO from eight different games, including Street Fighter V: Arcade Edition, Super Smash Bros (both Melee and Wii U), newcomer Dragon Ball FighterZ, Injustice 2, Guilty Gear Xrd Rev 2, BlazBlue Cross Tag Battle and Tekken 7.
However, if you can't make it to Las Vegas, EVO will stream the entire competition online from Aug. 3 to Aug. 5. Here's the entire EVO 2018 schedule and how to watch all of the competition online.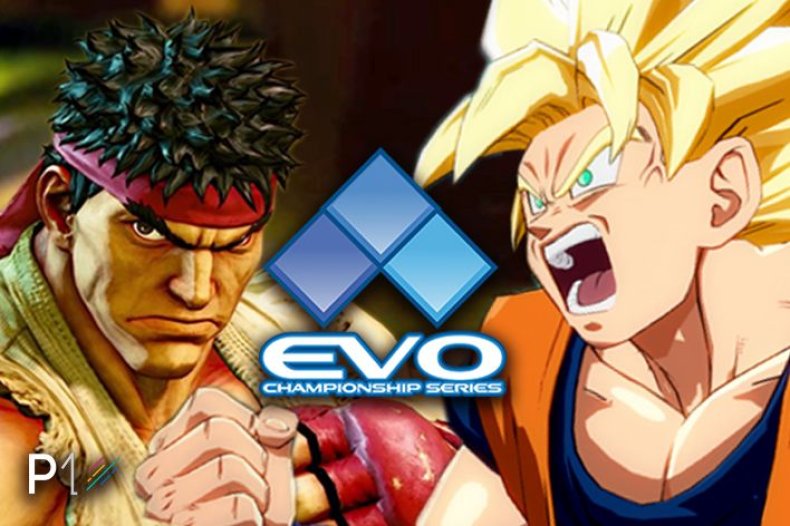 SCHEDULE
EVO 2018 will begin at 11 a.m. EDT Friday, Aug. 3 with the first round play from Street Fighter V: Arcade Edition, Super Smash Bros. Wii U and Melee, Dragon Ball FighterZ and BlazBlue Cross Tag Battle. The other titles will begin after those first rounds conclude.
If you're looking to catch the finals, half of this year's competition will crown their champions on Saturday. Injustice 2, BlazBlue, and Super Smash Bros. Wii U will end their tournaments Aug. 4. Sunday is the biggest day for the event with finals for Guilty Gear, Dragon Ball FighterZ, Melee, Street Fighter V and Tekken 7.
EVO 2018 is also a platform for developers to announce new information about upcoming fighting games like character reveals, which adds a sense of unpredictability to the event.
Take a look at the entire EVO 2018 schedule below.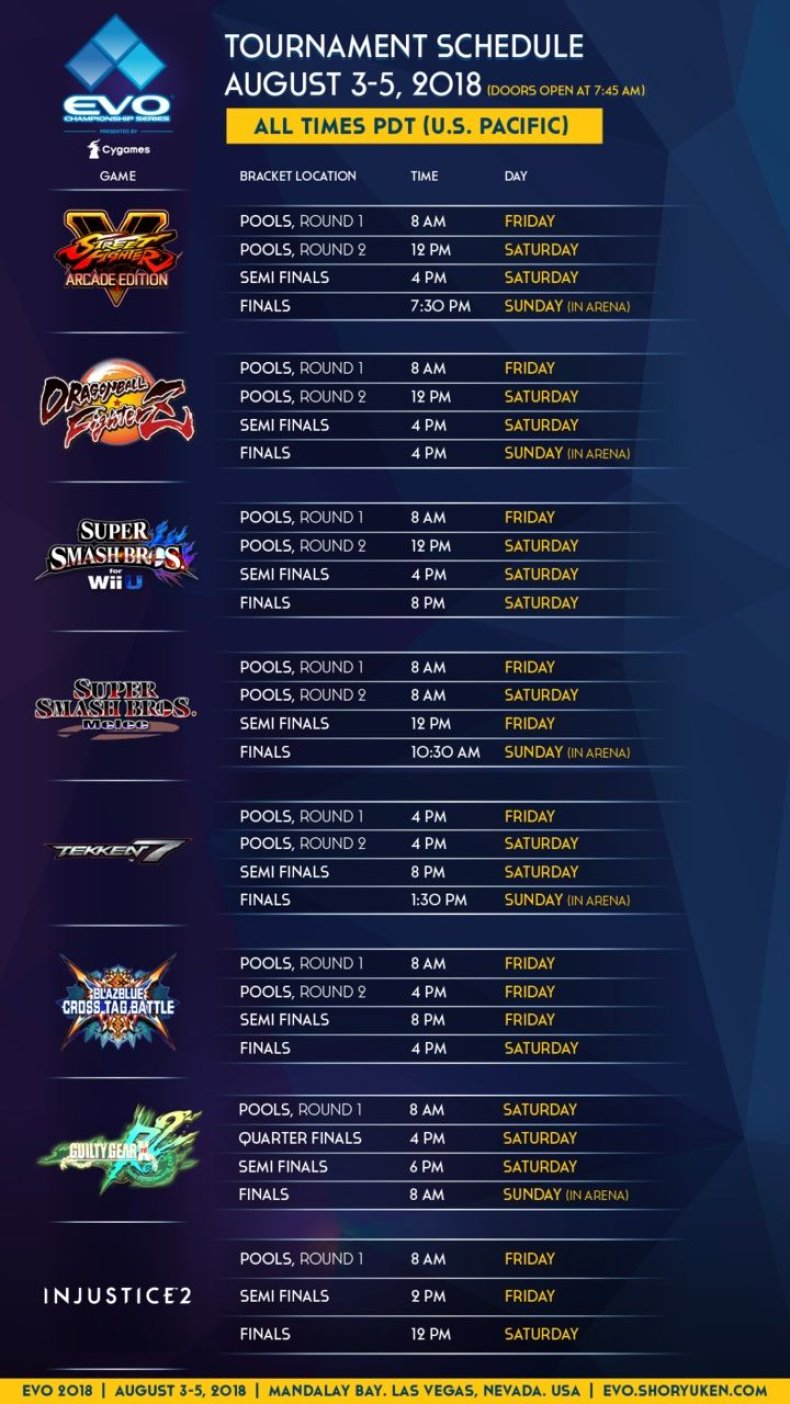 HOW TO WATCH EVO ONLINE
The easiest way to watch EVO 2018 online is through the organization's various Twitch channels. The main Twitch channel will be the home for pre-show coverage expert analysis and the Sunday finals, while each specific game will be streamed from a different channel.
Corresponding Twitch channels are below.
Street Fighter V: Arcade Edition
Some games share the same channel so fans will want to refer to the official EVO 2018 streaming schedule below.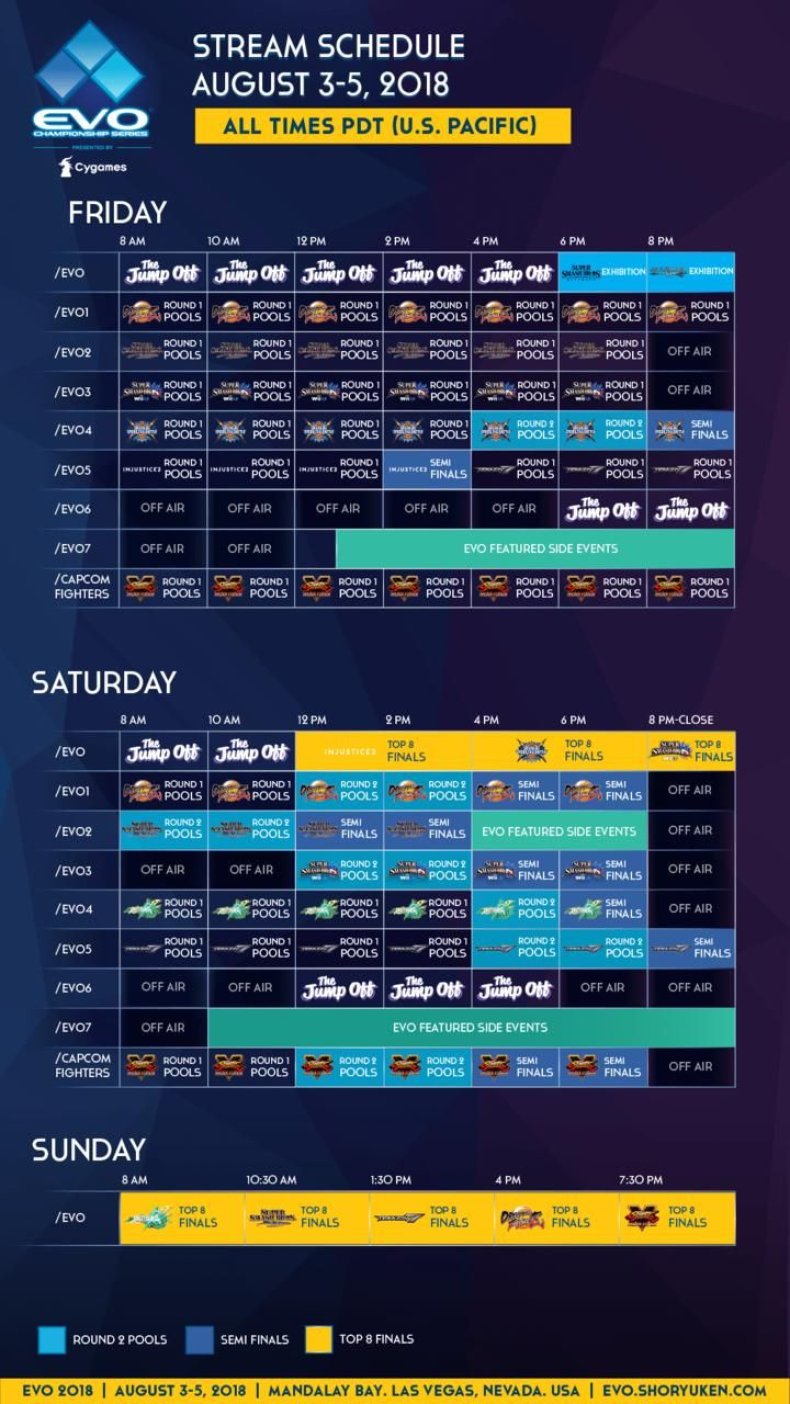 Are you excited for EVO 2018? Which game are you most looking forward to watching? Let us know in the comments section below.