In May 2016, I was completely focused on my degree. I was in my second year of law school in Lahore, Pakistan and after classes, I would immediately return home, lock my bedroom door and work. I even had a kettle and tea in my room so I wouldn't have to interrupt my studies. I have always been very studious.
I was also single at the time. I had dated my ex-partner from 2014 to the middle of 2015. We had met through law school, but eight or nine months prior, I had stopped talking to him and blocked him from all my social media channels. Even though we were in the same class at the same college, I maintained a distance. Telling his partner that women are supposed to act, behave and dress in a way that men want seemed to be OK to him. It put me off to such an extent that I didn't want to continue the relationship.
Strangely, in the last days of April, I remember telling my mom I felt unable to study in my room anymore; that I had a very strong intuition, almost a sixth sense, that something wasn't right about my life. My mom said that maybe it was because I had exams. I couldn't quite figure out what it was, but I knew I couldn't study in my room alone.
My tort law exam was coming up on May 6 and on May 2, I told my parents that the following day would be the last time I could pick up my younger sister from her elementary school. She was six years old at the time and I have always been like a second mother to her, but I had to study.
May 3 was a sweltering hot day and I remember driving towards my sister's school in the center of Lahore with my tort law notes on my lap and a bottle of iced water ready to give to her. After collecting her and ensuring she was sitting safely in the car, I was about to sit myself, when I was shoved into the back seat. All I remember from then on is continuous stabbing of my neck, back and arms.
I felt the pain, but the first few moments were almost hypnotizing. It was like I could see a knife going round and round in front of my eyes. But as soon as I felt something cutting deep into my body, it was as if I was in the last seconds of my life. At that moment, I just prayed to God.
When he tells me about it now, our driver says that he had lost control over his senses and didn't know what to do. My little sister was screaming and had gotten out from the other side of the car, trying to get help. Our driver first got my sister out of the road and then came to rescue me. He was able to lift this man from on top of me, but that caused his motorcycle helmet to fall off. Myself and my driver saw him and even my younger sister glimpsed his face before he ran away; it was my ex-boyfriend.
Unfortunately, no one else intervened. Maybe it was too quick or maybe it was lack of empathy, even though my 6-year-old sister was also stabbed in the back during the attack. I had lost consciousness by this point, and our driver has told me that I was losing so much blood, it was like a nightmare. He put me in the car and rushed his way through traffic to a hospital around 10 minutes away, without touching his phone to call an ambulance. He did what his senses told him to do.
I was in the hospital for weeks, and went through two days of surgery and received more than 200 stitches. Doctors have since told me that my injuries were so deep that had the knife penetrated 1mm deeper, I would have been dead.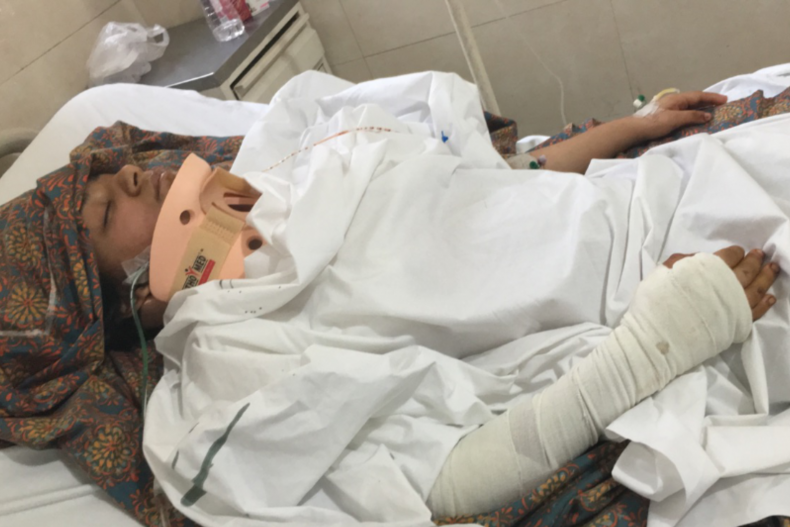 My entire life came to a standstill because of my injuries, but as soon as I regained consciousness around four or five days after the attack, I named the perpetrator and the court began bail proceedings. The investigation into the attack had begun after an incident report was registered by my driver, so my father would go to court each day on my behalf. But there was immense pressure from the defense from the very beginning. At the court hearings, there were always dozens of defense lawyers, because the perpetrator was the son of a lawyer. My dad felt intimidated because he was alone with one lawyer initially.
By April 2017, the perpetrator was still not behind bars even though we had been fighting the case for almost a year. A few of my lawyer friends started to write articles about my case, and eventually a mainstream news programme in Pakistan talked about it, highlighting the fact that the same man who attempted to kill a law student, me, was going to take exams for law he had already taken into his own hands.
That news made waves, and other media began talking about the case and how, despite a year passing by, the trial had not started. My voice was also being amplified by social media; people I didn't even know were coming out, protesting and showing their anger at what was happening in our country. There was a shift in support and soon after, the trial was ordered to begin.
At the same time a law student made a petition stating that students would not let someone who had attacked a fellow student so brutally sit in the same room as us for exams. I had been preparing to retake the exams I had missed in 2016, when I had discovered that he too was retaking the same exams. The petition gained a lot of momentum online and soon the British Council contacted me and said they could shift my exam to their center.
I said no.
I was not a threat. I told them that I was going to sit in the same room as all the other law students taking their exams. So, my attacker's examination center and city of examination was changed. I realized then that while my voice had been suppressed for a year, as soon as I started to speak out, people would support me.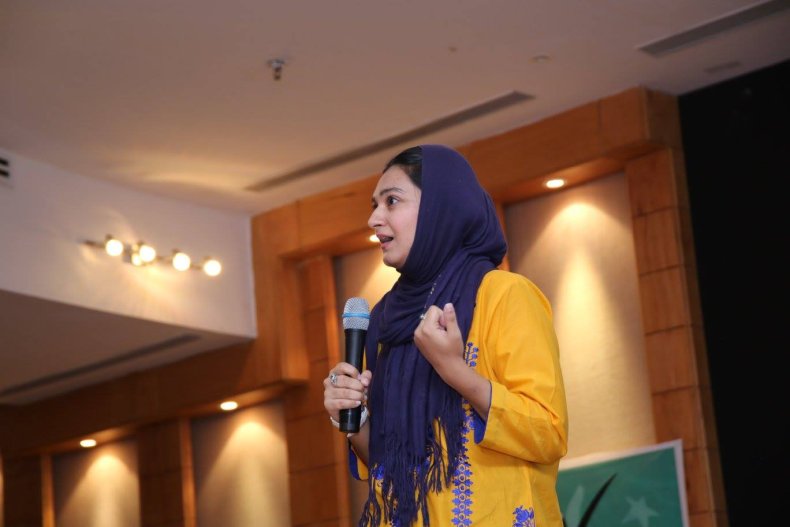 The trial started in June 2017 and after almost 60 days my attacker was convicted of attempted murder and sentenced to seven years imprisonment. Yet during appeal, the sentence was reduced to five years. He remained in prison for around 10 months, and then in June 2018, he was acquitted by the high court and released. After struggling for two years to get him behind bars, it felt like I was back to square one.
But as soon as he was released there was public outrage that a perpetrator of gender-based violence was allowed to go free, and, in January 2019, we took my case to Pakistan's Supreme Court. The main argument of the defense had been that my nomination of the perpetrator after a gap of five days was dubious, but on reviewing the evidence in full again, the Supreme Court reconvicted him.
That day, January 23, 2019, was an historic day for me. I had promised the people of my country that no matter what, I would fight this case to the end and set an example for the women of Pakistan.
When I was fighting my case, it was never a vengeance mission, it was always about me giving back to society and making a difference. I completed my law degree and qualified as a barrister in the U.K. because I wanted to do something for my country and its people. The perpetrator remained in prison for around 3 and a half years before his release in 2021. But now, that does not matter to me. He was punished.
Now, I represent women in court and take on cases pro bono for victims of gender-based violence. Many women now feel that they can comfortably disclose the details of their situation because they know that I've been through something similar.
I remember when I was fighting my case, there were politicians, activists, lawyers and so many other people from all across society who stood by me. My parents stood by me through thick and thin. So now it is time for me to give back, and I think I am giving back by becoming a voice for others. I think my case did make a difference and it did have an impact.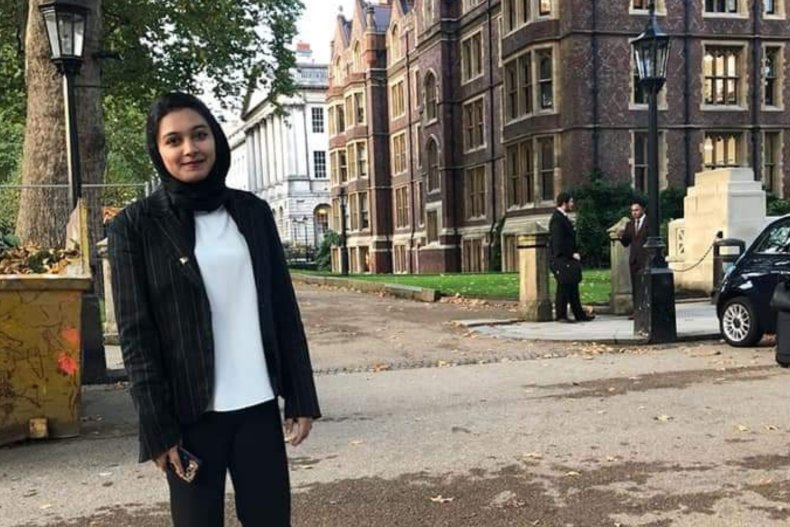 After I came back from the U.K. in 2019 and even very recently when my attacker was released from prison, I was told by people around me that I had fought hard to the end and set a precedent for the women of Pakistan, but that I shouldn't talk about my past anymore, I should move on.
It was something I had to hear constantly. I was told not to talk about my experiences because I might anger or incite the perpetrator to an extent where something bad happened. At first, I thought that perhaps people were right, but then I realized that I can never detach myself from what happened in 2016, even if I stop talking about it.
I feel that if my story helps other people and has a positive impact on people's lives, which I believe it does, it is worth talking about. Young women message me and connect with me and it always gives me strength and courage.
Recently I was contacted by a doctor who said he would get rid of my scars and treat me for free. I said, "Why should I get rid of something that has been a symbol of strength to me; that has given me strength to believe in myself and fight for justice."
I always say that I would rather stay with my scars, because they made me believe in being a woman, a strong woman, in this country. I'm going to live with them, I think that's what makes me stronger.
Khadija Siddiqi is a barrister based in Lahore, Pakistan. You can follow her on Twitter at @khadijasid751.
All views expressed in this article are the author's own.
As told to Jenny Haward.