Ex-CIA Director Critiques Trump for Claiming Baghdadi Was 'Bigger' Than Bin Laden: 'There Wasn't a Competition'
Former acting CIA Director Michael Morell said President Donald Trump's assertion that Islamic State (ISIS) leader Abu Bakr al-Baghdadi's death was "bigger" than the killing of Al-Qaeda leader Osama bin Laden was not how the situation should be viewed.
"Bin Laden was big, but this was bigger," Trump argued on Sunday during a press conference. Trump announced to reporters and the world that Baghdadi was dead after Saturday's U.S. military operation, which was first reported by Newsweek.
The president said that Baghdadi was "the biggest there is" and "the worst ever." Although he said "Osama bin Laden was very big," he insisted that Baghdadi "is a man who built a whole, as he would like to call it, a country, a caliphate, and was trying to do it again."
Interviewing Morell on CBS This Morning on Monday about the military operation, host Gayle King asserted, "I think most people weren't even aware there was a competition," referring to the president's remarks.
"Yeah, so there wasn't a competition," Morell responded with a smile, visibly amused. "Both operations were very significant, significant setbacks for Al-Qaeda in bin Laden's case and ISIS in Baghdadi's case," he explained.
Morell did speak positively about Baghdadi being taken out. "History has shown us, Gayle, that when you take a terrorist leader off the battlefield, it takes a while for the replacement to find their way, to learn the job, so that's a setback."
He added that the ISIS leadership would now be "worrying more about their own security" than "running their group and thinking about operations."
Newsweek reported on Sunday that ISIS already has a new leader to take over following Baghdadi's death. Abdullah Qardash, sometimes spelled Kardesh and also known as Hajji Abdullah al-Afari, has taken over command of the militant group, a regional intelligence official, who asked not to be identified by name or nation, told Newsweek. Qardash previously served as an Iraqi military officer in the regime of Iraqi leader Saddam Hussein, who was overthrown and captured by the U.S.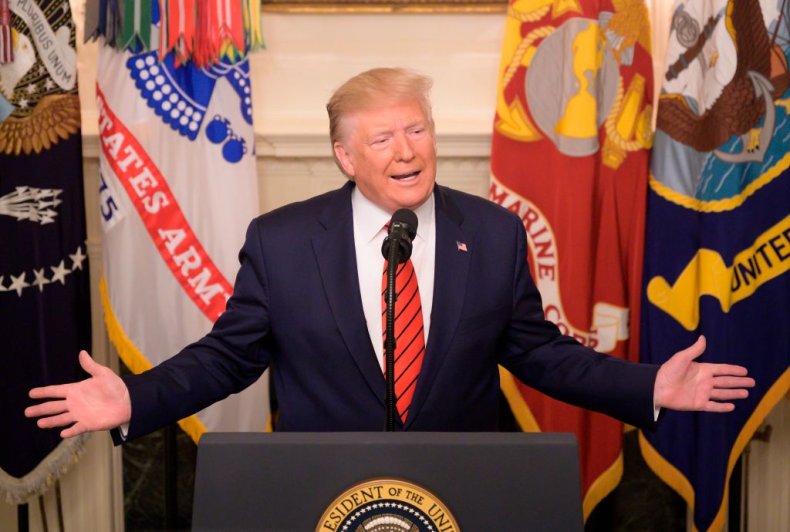 Trump's argument that Baghdadi's death was bigger than the killing of bin Laden in 2011 was viewed as bizarre by many. The Al-Qaeda leader was killed after a U.S. operation in Pakistan, which was carried out under President Barack Obama. Bin Laden was the mastermind behind the September 11, 200, attacks in the U.S., which left nearly 3,000 people dead and more than 6,000 injured.
The president has long tried to discredit Obama's administration for taking out bin Laden, a target that had eluded President George W. Bush, who led the country during the 9/11 attacks, and went on to launch the "war on terror." In 2012, Trump tweeted: "Stop congratulating Obama for killing Bin Laden. The Navy Seals killed Bin Laden."
The president also falsely claimed during his Sunday press conference that he had predicted bin Laden would carry out the attacks, describing the deceased militant leader as "tall" and "very handsome."
Ex-CIA Director Critiques Trump for Claiming Baghdadi Was 'Bigger' Than Bin Laden: 'There Wasn't a Competition' | U.S.