Politicians and Pundits React on Twitter After Donald Trump Confirms ISIS Leader Al-Baghdadi's Death
President Donald Trump confirmed in a press conference on Sunday morning that Abu Bakr al-Baghdadi, the leader and founder of the Islamic State (ISIS), was killed in an operation by U.S. troops on Saturday.
"He died after running into a dead-end tunnel, whimpering and crying and screaming all the way," Trump told reporters. He explained that the extremist militant commander, who the U.S. designated as a terrorist, died after U.S. forces stormed his compound. Al-Baghdadi ran down a dead-end tunnel with three children and detonated an explosive vest as American troops closed in, according to the president.
No U.S. troops were killed in the operation, but Trump told reporters an American military dog, who chased al-Baghdadi down the tunnel, was harmed in the blast. Trump asserted that numerous ISIS fighters were killed in the assault, however he said a precise number would be announced at a later time. The president thanked Russia, the Syrian government, Turkey and the Kurds for their support in the operation.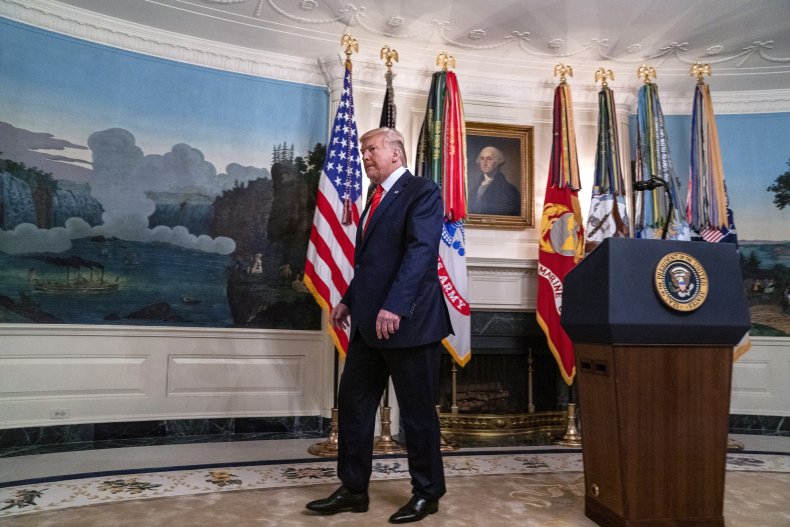 Newsweek first reported on Saturday that Trump had ordered the operation to take out the ISIS leader, and that officials were saying it had been successful. On Sunday morning, Kurdish General Mazlum Abdi praised the operation, hailing it as a success, ahead of Trump's public remarks. "Successful& historical operation due to a joint intelligence work with the United States of America," Abdi tweeted.
Politicians and political pundits were quick to comment on Trump's announcement.
"Congratulations to @realDonaldTrump, our intel community, and our US Special Forces for eliminating the most wanted terrorist in the world. It is truly a great day in America!" former Republican Governor Nikki Haley of South Carolina, who previously served as Trump's ambassador to the United Nations, tweeted following the official announcement.
"ISIS leader Abu Bakr al-Baghdadi died like a coward thanks to the leadership of President Trump and our brave military. A great victory for America and the world," the president's former Press Secretary Sarah Huckabee Sanders wrote in a Twitter post.
"I cannot think of a better way for Al-Baghdadi of ISIS to meet the real God than courtesy of the US Military. I'm sure it wasn't a pleasant realization," GOP Representative Adam Kinzinger of Illinois tweeted. "Great work to the men and women behind this operation, and good call @realDonaldTrump."
"Al Baghdadi spread 'fire and brimstone' on earth; now he feels it for himself in hell. To all who arranged his change of venue—the intel officers, the President, the warriors—thank you," Republican Senator Mitt Romney of Utah, who has publicly sparred with the president in recent weeks, posted to Twitter.
"Abu Bakr al Baghdadi was an evil man and a terrorist, who terrorized the world with violence and a message of hate.The world is a safer place without him," Democratic Representative Ilhan Omar of Minnesota, a frequent critic of Trump's foreign policy, tweeted. "We have deep gratitude for the brave men and women who carried out this dangerous operation."
"Americans salute the heroism, dedication & skill of our military and our intelligence professionals following news that ISIS leader Abu Bakr al-Baghdadi was killed in a U.S. military raid," Speaker of the House Nancy Pelosi, a Democrat from California wrote in a Twitter post.
The operation to take out al-Baghdadi came after Trump earlier this month controversially withdrew U.S. troops from northern Syria. Republicans and Democrats criticized the move, arguing that it would lead to a resurgence of ISIS. The withdrawal also allowed for Turkey to move into Syria, targeting the Kurds, who the U.S. had backed in the fight against ISIS. Many analysts pointed to Trump's withdrawal from Syria as they commented on the ISIS leader's death.
"As @realDonaldTrump gives himself (and Putin) credit for killing Abū Bakr al-Baghdadi, remember that while taking the ace of spades out of the ISIS deck is good, thanks to Trump betraying the Kurds, ISIS got over 100 fighters out of prison and dealt back into their hand to play," Retired Col. Morris Davis wrote in a tweet.
Mehdi Hasan, a journalist with Al Jazeera and The Intercept, shared a tweet from White House Communications Director Stephanie Grisham hailing Trump for pursuing "cowardly ISIS terrorists to the end." Hasan quipped in response: "except for the 100 ISIS guys who Trump let escape from prison just last week."
Due to Turkey's invasion of Syria, about 100 ISIS fighters reportedly escaped this month. Security experts have warned that these militants pose a significant threat.
John Harwood, a journalist for CNBC, said that while al-Baghdadi's death is positive, he didn't envision it shifting public opinion significantly in regards to Trump. He pointed out that the message would be confusing, as Trump has been insisting for months that ISIS was already defeated.
"It's great that Baghdadi is gone. credit to the skill and bravery of US special forces. It's very unlikely to influence public opinion much since: a) most Americans don't know who he was and b) Trump has claimed over and over that he had already obliterated ISIS," he tweeted.