Fox News Anchor Confronts Mike Pence Over Trump Not Informing Nancy Pelosi About al-Baghdadi Raid
Fox News anchor Chris Wallace confronted Vice President Mike Pence on Sunday, asking him repeatedly why President Donald Trump didn't communicate to Speaker of the House Nancy Pelosi and other Democratic leaders that the U.S. was carrying out an operation to take out the leader and founder of the Islamic State (ISIS) Abu Bakr al-Baghdadi.
"The president was asked specifically whether he had informed the Speaker of the House Nancy Pelosi about this raid last night and he said, 'no,'" Wallace pointed out in an interview with Pence on his show Fox News Sunday, shortly after Trump announced that al-Baghdadi had died in the raid. "And then he [Trump] added, 'I wanted to make sure that no American forces were lost,'" the journalist said.
Wallace pointed out that Trump implied that he was worried that Pelosi or other members of Congress "would leak" the details of the operation. "Does the president not trust the Speaker of the House with sensitive national security information?" he asked.
Newsweek subscription offers >
Pence argued that wasn't the case. "I don't think that was the implication at all," he said. The vice president insisted that Trump's only goal was "a successful mission," attempting to shift attention away from the question.
"I understand that, but why didn't he tell Nancy Pelosi?" Wallace interjected.
"We maintained the tightest possible security here," Pence replied, highlighting the logistics of the operations. "I just couldn't be more proud," he asserted.
"We all applaud that, I do want to ask you though, it's my job as a news man sir, respectfully, why didn't the president notify the Speaker of the House?" he asked again.
Pence again deflected the direct question, emphasizing that Trump's "focus" was on the success of the mission.
As Wallace noted, Trump told reporters during a Sunday morning press conference announcing al-Baghdadi's death that he had not informed Pelosi or other Democratic leaders.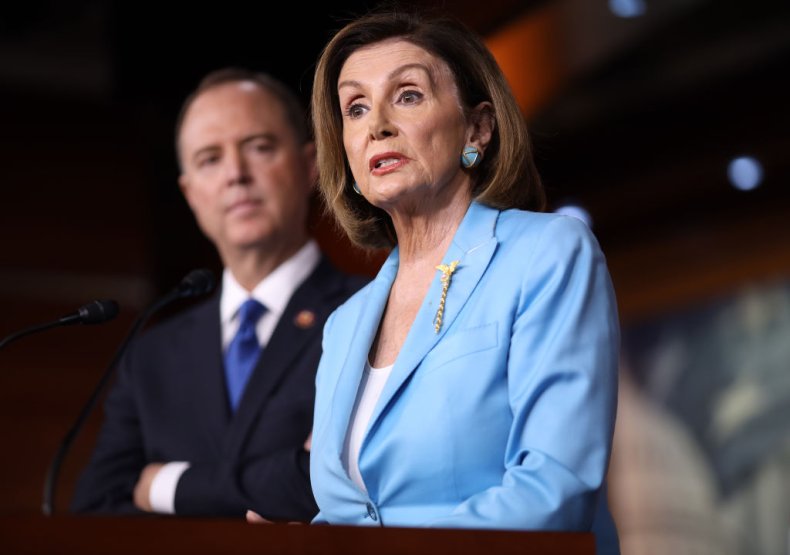 "No, I didn't," the president said, after he was asked by a journalist. "I wanted to make sure this kept secret, I didn't want to have men lost, and women, I didn't want people lost." The president also complained during the press conference that there are too many leaks in Washington, saying he was concerned about the safety of the mission.
In contrast, former Republican Speaker of the House John Boehner has stated publicly that he was briefed multiple times by the administration of President Barack Obama back in 2011, when al Qaeda leader Osama bin Laden was killed. However, there were rumors that he was not informed.
"I was given a heads-up several days before it happened, so the idea that they couldn't trust us to not leak things is just not true," Boehner said in 2014, according to The Wall Street Journal.
Tensions are high between Trump and Pelosi, as Democrats push forward with a fast-moving impeachment inquiry against the president. In a heated meeting earlier this month, Trump referred to Pelosi as either a "third rate" or "third grade" politician, with various attendees of the meeting remembering the exact phrase differently.
"Americans salute the heroism, dedication and skill of our military and our intelligence professionals and acknowledge the work of our partners in the region. We are relieved that no U.S. personnel died in this daring raid," Pelosi said in a public statement about the operation.
"The House must be briefed on this raid, which the Russians but not top Congressional Leadership were notified of in advance, and on the Administration's overall strategy in the region," she said in rebuke of the president's decision not to discuss the operation with her and Democratic leaders. "Our military and allies deserve strong, smart and strategic leadership from Washington."
Fox News Anchor Confronts Mike Pence Over Trump Not Informing Nancy Pelosi About al-Baghdadi Raid | U.S.