Ex-Generals See Nuclear Blackmail 'Trinity' in Russia, China, North Korea
Former U.S. generals said Saturday that they see a nuclear blackmail "trinity" in Russia, China, and North Korea, adding that the United States must now "seriously" consider how it would counter one.
"The most significant of all the problem sets may be the emergence of a new norm in nuclear doctrine—blackmail. That approach is in stark contrast to the notion of Mutually Assured Destruction, where major powers—United States, the USSR, and China—viewed atomic attack as truly a last resort," retired Air Force Major General Howard Thompson and former Lieutenant General Dan Leaf wrote in a report published by Real Clear Defense.
The report by the former generals comes in the wake of China and Russia vetoing sanctions against North Korea last month for the first time since October 2006, according to CNN, despite a series of North Korean ballistic missile tests that were launched during the first half of this year.
"This first-ever rejection of sanctions marks the emergence of an unholy trinity implicitly willing to hold the world order at risk by threatening, and perhaps executing, limited nuclear attack," the former generals said.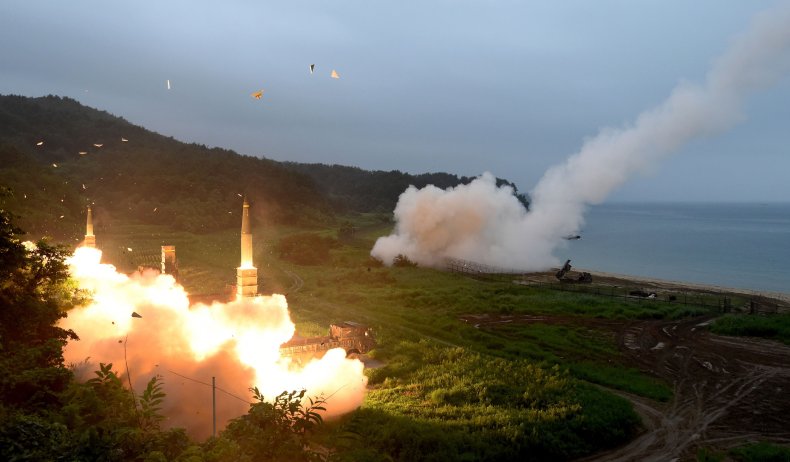 This was not the case in October 2006 when the United Nations Security Council, including China and Russia, were fast in condemning and passing sanctions against North Korea after the country launched its first nuclear test, according to the report. The two countries haven't blocked any of the nine previous sanction votes that were passed since that year.
"The vetoes today are dangerous. Those members today have taken a stance that not only undermines the Security Council's previous action to which they have committed but also undermines our collective security," U.S. ambassador to the U.N. Linda Thomas-Greenfield said in a statement last month that was made on behalf of the U.S., Japan, and South Korea.
Some experts previously said that North Korea's fast-paced missile launches earlier this year were meant to pressure the Biden administration to reconsider U.S. sanctions against the country.
In their report, Howard and Leaf referenced a Financial Times article that was published in April with national security analyst at Harvard University, Graham Allison, that pointed out that there is "every reason to believe" that Russian President Vladimir Putin would choose to "escalate the level of destruction" instead of accepting a loss in Ukraine, if he had to pick between the two.
"Putin first explicitly raised the nuclear option to deter outside intervention, and since has hinted of the use of tactical nuclear weapons to force capitulation or punish intervention from or expansion of the NATO alliance," the former generals said in their report.
Meanwhile, Howard and Leaf didn't rule out the possibility of China using a nuclear option as Beijing's tension with Taiwan continues. The Chinese government repeatedly pointed out that it's not hesitant to use military force to reclaim the independent island.
"Xi has left no doubt about his willingness to resort to a military option to reclaim Taiwan, and it would be naïve to expect the Chinese to refrain from nuclear coercion in such circumstances. With Russian backing for a move against Taiwan or aggression in the volatile South China Sea, the potential for nuclear coercion is exceedingly high," they explained.