South Korea's military reported North Korea fired two suspected ballistic missiles, marking its sixth launch this month.
Experts say North Korea's fast-paced launches are an attempt to pressure the Biden administration to reconsider U.S. sanctions against the country.
According to the Associated Press, North Korea test-fired two what appeared to be hypersonic missiles on January 11, 2022, which leader Kim Jong-Un described as a nuclear "war deterrent."
Shortly after those were fired, Newsweek reported both the U.S Treasury Department and the State Department ordered sanctions against a handful of North Koreans and a Russian man, respectively, for their roles in its missile program.
The AP reported the Biden administration is open to negotiations but is unwilling to ease sanctions unless Kim abandons nuclear weapons and missiles.
North Korea previously accused the current administration of hostility, threatening to resume testing long-range missiles and nuclear explosives, Newsweek reported. Those suspended activities were temporarily paused during the Trump administration.
Newsweek reported Kim met with the ruling Worker's Party last week to discuss countermeasures over U.S. policy. The politburo warned against South Korea and the U.S. joint military exercises, saying the threats "reached a danger line."
According to NBC, the White House said leaders condemned North Korea's recent missile launches, which violate United Nations Security Council resolutions. A resolution banned all ballistic missile tests by the country.
Some experts say North Korea may continue to escalate weapons testing, and Pyongyang's rulers might try to provoke the Biden administration, which has been concerned with Russia's potential invasion into Ukraine. According to the AP, Pyongyang's Foreign Ministry warned against a "stronger and certain reaction" in response to sanctions imposed by Biden's administration.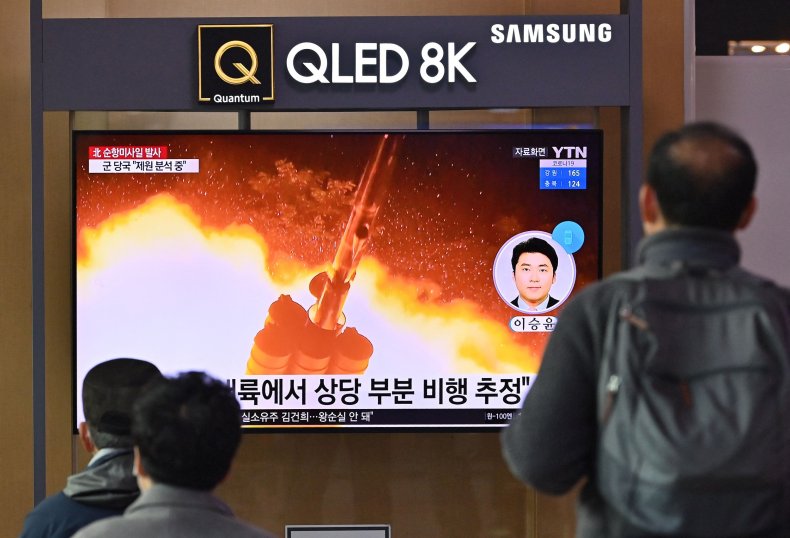 Speaking to the AP, Leif-Eric Easley, a professor at Ewha University in Seoul, said Washington has other concerns.
"U.S. policy has become more measured and coordinated but is still inadequate for changing North Korean behavior," Easley said. "The Biden administration has other priorities, ranging from pandemic recovery at home to confronting Russia over Ukraine, Iran regarding its nuclear program, and China across the board."
However, according to CNBC, during a meeting last week with Japanese Prime Minister Fumio Kishida, President Biden addressed the growing concern over North Korea.
Speaking to CNBC, a White House official said the U.S. president would work with Japan to mitigate any future provocations.
Despite growing concerns over North Korea's launches, the AP reports the country will still have a chair at the U.N. Conference on Disarmament and have a one-month presidency, which rotates among its 65 member states.
The Geneva-based activist group, U.N. Watch, has called for European and U.S. ambassadors to walk out during this time.