North Korea fired tactical guided missiles on Monday, marking its fourth missile test of 2022 as the nation continues to try to show its force.
The nation launched the missiles from its western region. They hit an "island target" in the Sea of Japan "with precision," KCNA, North Korea's state news agency, said on Monday. They did not specify which island it hit.
The nation conducted the test "for the purpose of selectively inspecting the tactical guided missiles being produced and verifying the accuracy of the weapon system," KCNA wrote.
The test "confirmed the accuracy, safety, and operational effectiveness of this weapon system being produced," according to the agency.
South Korea's Joint Chiefs of Staff said North Korea likely fired the missiles from an area in Sunan, according to the Associated Press. They were fired about four minutes apart and flew roughly 236 miles. They had an altitude of about 26 miles.
The U.S. Indo-Pacific Command said the missiles posed no immediate threat to the United States, the AP reported.
There were no disruptions or flight groundings due to the test, spokespersons for the Federal Aviation Administration and San Diego International Airport confirmed to Newsweek.
But one week earlier, the FAA ordered all planes at West Coast airports to be grounded after North Korea appeared to fire a ballistic missile into the Sea of Japan. Planes stayed grounded for about seven minutes.
The two missiles followed North Korea claiming to launch a hypersonic missile—which is able to fly five times quicker than the speed of sound—earlier in January. The launch of the hypersonic missile prompted the United States to issue sanctions against five North Korean officials who are accused of obtaining the equipment and technology for the missile.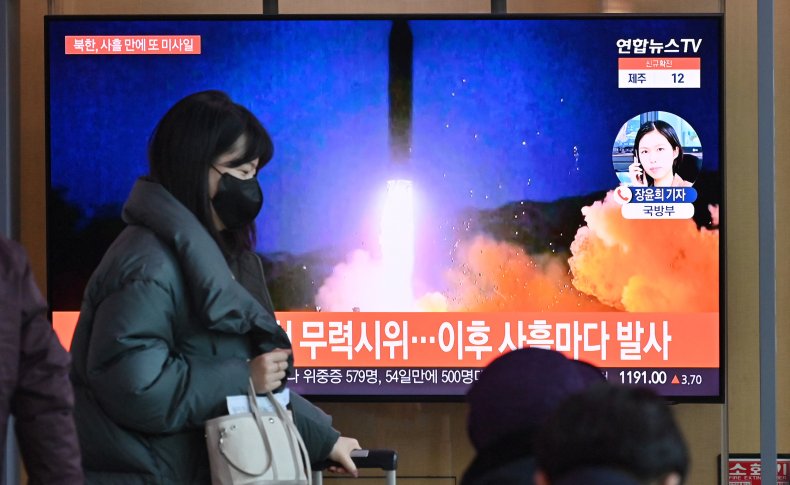 But South Korea has said the projectile was a ballistic missile, casting doubt that North Korea could have the technology to build hypersonic weapons.
North Korea also said they launched ballistic missiles from a train on Friday in retaliation to sanctions from the Biden administration.
The missile launches follow Kim Jong Un pledging to continue bolstering his military capability during a speech at a political conference in December, the Associated Press reported. He allegedly ordered the production of more powerful and modern weapons to improve his military force.
"The increasingly unstable military environment on the Korean Peninsula and international politics have instigated calls to vigorously push forward with our national defense build-up plans without any delay," he said, according to the AP.
In light of the missile launches, United States Special Representative for the Democratic People's Republic of Korea Sung Kim renewed the U.S.'s commitment to removing nuclear weapons from the Korean Peninsula.