Ex-Hostage Suggests Trump Treatment of Migrants Worse Than His Captors: 'Somali Pirates Gave Me Toothpaste and Soap'
Journalist and author Michael Scott Moore has suggested that his treatment at the hands of Somali pirates who held him hostage was, at least in some ways, better than how President Donald Trump's administration thinks migrants should be treated.
Moore, who was held by Somali pirates from January 2012 to September 2014 for a total of 977 days, called out the Trump administration in a Saturday tweet. In his post, the author, who wrote a memoir about his time in captivity entitled The Desert and the Sea, shared a link to a NowThis video of a lawyer for Trump's Justice Department arguing in court that the administration should not be required to provide basic sanitary products, such as a toothbrush and soap, or blankets to detained migrants.
"Somali pirates gave me toothpaste & soap," Moore pointed out in his caption above the video.
After the post went viral, Moore went back and added several tweets to create a thread providing further context.
In one of them, he shared a link to what he considers "the best short essay on America's border camps." That essay is titled: "Some Suburb of Hell: America's New Concentration Camp System." The former hostage also shared a link to donate money to a nonprofit providing legal assistance to immigrant families and children.
The Justice Department's Sarah Fabian argued on Tuesday of last week that creating "safe and sanitary" conditions for detained migrants did not mean that the Trump administration had to provide them with toothbrushes, towels and other basic products. The judges listening to her arguments appeared taken aback by the suggestion.
"If you don't have a toothbrush, if you don't have soap, if you don't have a blanket, it's not safe and sanitary," Senior U.S. Circuit Judge A. Wallace Tashima stated. "Wouldn't everybody agree to that?" he asked.
Last week, progressive Democratic Representative Alexandria Ocasio-Cortez ramped up her criticism of the administration's hardline immigration policies as well, referring to the detention centers as concentration camps. Although many right-wing pundits and politicians blasted the congresswoman for using a term most often associated with the Holocaust of World War II, many other jumped to her defense, while also using the term to criticize the camps holding migrants.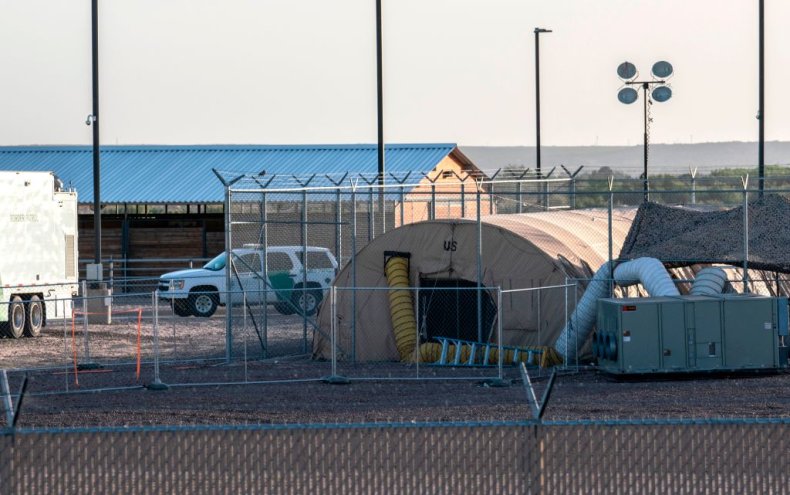 The hashtag #CloseTheCamps was trending this weekend, with many social media users calling on the administration to shutter the controversial facilities.
"It's child abuse, it's indefensible, and we cannot wring our hands out of discomfort with the reality of the situation," Ocasio-Cortez wrote on Twitter on Friday. "We must have the courage to see this for what it is."
Actress Patricia Arquette also tweeted at the president: "how about you deal with your child abuse riddled detention centers? Get those kids, diapers, toothpaste and toothbrushes, showers, hair brushes, food that is healthy. Blankets and Matresses, toilets, showers and clean clothes. NOW"