Ex-ICE Director Says Activists Should 'Read a Book' and Then They'd 'Thank ICE' for What It Does
Former acting director of Immigration and Customs Enforcement (ICE) Thomas Homan slammed anti-ICE activists, saying they should "read a book" and "study" about what the controversial agency actually does.
"I wish they'd read a book, or study," Homan said during a Monday interview with Fox News morning show Fox & Friends. "Go to the ICE website ... to see what ICE does," he said, arguing that the agency primarily targets undocumented individuals who have committed crimes, while also carrying out major drug busts and stopping child predators.
Homan's comments came after 76 anti-ICE demonstrators were arrested in New York on Saturday as they protested at a Microsoft store in the city, urging the company to end its collaboration with the agency.
"They want this company to stop working with us?" Homan asked incredulously. "Study the issue. If you want change, if you want to effect change, go to the hills of Congress and tell them to make change. But don't – you know, this is ridiculous. Study the issue. If you study the issue, you would thank ICE rather than vilify them."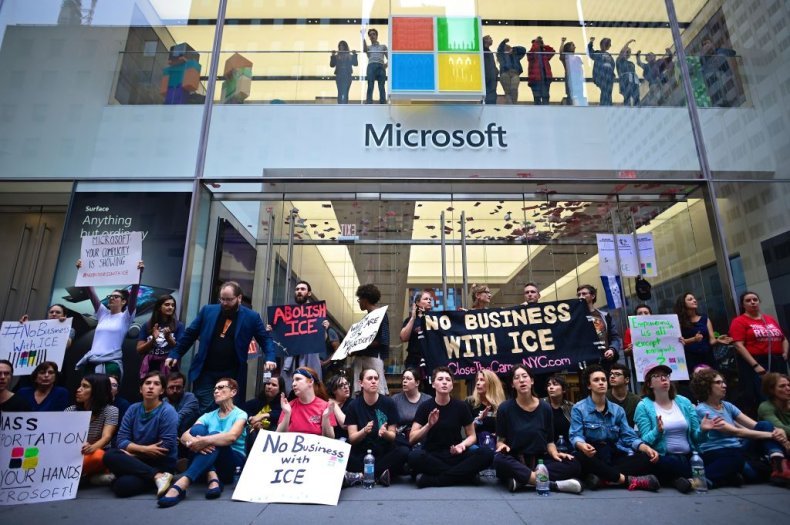 ICE has drawn significant criticism and scrutiny since President Donald Trump's administration has implemented hardline immigration policies. Progressive Democrats in Congress have even called for the organization to be abolished entirely. The agency enforced the internationally condemned family separation policy, which saw thousands of migrant children separated from their parents until a federal judge ordered an end to separations last year.
Detention centers for migrants managed by ICE have faced intense national backlash, as images and reports of unsanitary and overcrowded facilities have circulated widely. In some of the facilities migrants – many of whom are children – have not been provided with basic hygiene products, access to regular showers or beds. Democratic Congresswoman Alexandria Ocasio-Cortez of New York said in July that during a tour of one of the detention centers, women told her they had been instructed to drink from the toilet because their sink was broken.
Homan, who is a regular Fox News contributor, often appears on Fox & Friends and other network programs to defend the agency that he spent decades working for. He also has testified before Congressional committees investigating concerns over the agency's treatment of migrants. Back in July, Homan told the hosts of Fox & Friends that he considered "beating" Democratic Representative Jesús Garcian during one of those hearings after a contentious line of questioning.
"I hesitated a minute before I started yelling because I actually think about getting up and throwing that man a beating right there in the middle of the room," Homan said. "Because when you tell somebody that spent their career saving lives that I don't care about dying children and I'm a racist, that's where I broke and that's where I had enough," he added.