Ex-Malaysian PM Najib Razak Arrested Over 1MDB Corruption Probe
Disgraced former Malaysian prime minister Najib Razak has been arrested over his role in the scandal-hit state fund 1Malaysia Development Berhad.
The Malaysian Anti-Corruption Commission said that Najib was taken into custody late Wednesday afternoon at the commission's headquarters in Putrajaya.
He will appear in court on Thursday afternoon following permission from the country's attorney general, Channel News Asia reported.
The commission said that it would work with police to record Najib's statement before he is taken to court on Thursday.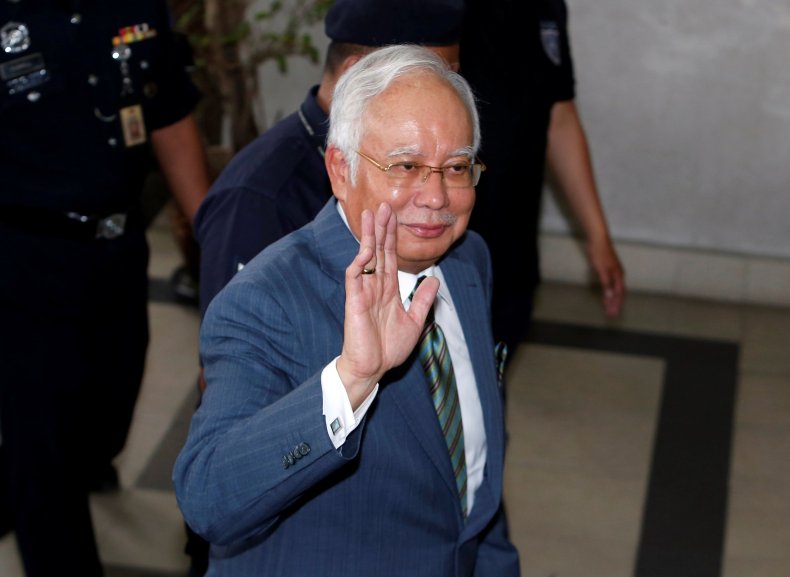 "This is to aid police investigations under the Anti-Money Laundering, Anti-Terrorism Financing and Proceeds of Unlawful Activities Act 2001," the commission stated.
He faces charges in connection with claims he abused his position in getting a 2.6 million rinngit ($630 million) "donation" from the Saudi royal family in 2013.
Najib, 65, insisted that the money had given to him as a gift by the Saudis, but investigators said the money was siphoned off state fund 1Malaysia Development Berhad (1MDB) through a complex web of transactions.
Last week, Najib released documents that he claimed proved the Saudis had donated the sum. Free Malaysia Today reported that Najib said in a Facebook post: "As mentioned several times before, I was entrusted by the party to source for funds and manage the party's money.
"Like most other people, I have several personal accounts in various banks and the account which received the said funds was not for personal use but for use of political activities," he said.
Free Malaysia Today reported that Najib could also be quizzed "over hundreds of cheques—some 700 pieces according to one source—which he allegedly issued using money from 1MDB."
In July, Najib was charged with four counts related to some 42 million rinngit ($10 million) transferred into his bank account. Last month, he was charged with three counts of money laundering related to the same transaction and will face a High Court trial in February and March 2019.
The corruption charges he faces are a remarkable fall from grace for the former leader following his crushing defeat in the election in May.
He was defeated by Mohammed Mahathir, who swiftly reopened the corruption inquiry into Najib. The investigation is also being pursued by several foreign governments, including the U.S., Switzerland and France.