Gina Carano, the actress fired in February from Disney's Star Wars franchise series The Mandalorian, will be playing a Secret Service agent in "My Son Hunter." The film is a satirical conservative portrayal of the alleged shady business dealings of Hunter Biden, the son of Democratic President Joe Biden.
"She is a world-weary secret service agent present at most of the Biden family's dodgy dealings," the film's producer Phelim McAleer said of Carano's role, according to Deadline. "She provides a voice of truth and sardonic comedy over the absurd dealings of the Biden family and various Chinese, Russian and Ukrainian oligarchs."
McAleer said that Carano's character will be "present throughout the film" and will narrate "the absurd life and party lifestyle of Hunter Biden and the dodgy dealings of his father."
The film will be directed by Robert Davi. It will star actor Laurence Fox as Hunter Biden and John James as Joe Biden.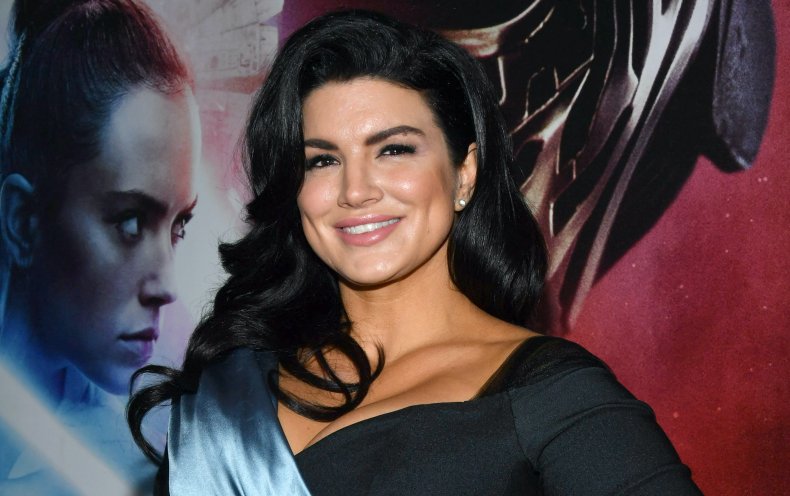 The film derives from claims made during the 2020 election campaign against Joe and Hunter Biden. The claims alleged that Hunter Biden had used his father's former position as vice president under former President Barack Obama to secure business deals in China and Ukraine.
The claims, which arose from a New York Post article, were unable to be confirmed by The Washington Post and other media outlets. Both the president and his son also denied any wrongdoing.
An 87-page report, released in mid-September 2020 by Republican Senators Chuck Grassley of Iowa and Ron Johnson of Wisconsin, found neither evidence of criminal financial activity nor concrete evidence of wrongdoing by either Biden.
However, Republican former President Donald Trump and other conservative media figures repeated the allegations as evidence of the Bidens' corruption. They also pointed to Facebook and Twitter's limited sharing of the story as proof of social media companies' anti-conservative bias.
"At the center of the story is a complex father/son relationship," the film's producer, Ann McElhinney, wrote in a statement to Newsweek. "We want to explore the expectations of a father and how a son struggles to measure up to them and the toll that takes on family relationships."
"[Hunter Biden] was the most popular business partner for dodgy oligarchs from across the world all whilst handling a debilitating drug addiction," McElhinney continued.
"He was the most popular business partner for dodgy oligarchs from across the world all whilst handling a debilitating drug addiction. And his business partners have said that his silent partner was his father Joe Biden," she added. "All great material for a movie, don't you think?"
In The Mandalorian, Carano played Cara Dune, a military veteran who became a mercenary. She was fired after appearing in the series' second season because of her past social media posts.
One post repeated the baseless claim that fraud caused Trump to lose the 2020 election. Another asked how the Nazis' anti-Jewish hatred was "any different from hating someone for their political views?"
Her Twitter bio also included the phrase "beep/bop/boop," which people interpreted as mocking the pronouns that transgender, non-binary and allied people sometimes put in their social media bios.
After being removed from the show, Carano said she would partner with conservative filmmakers to send a message of hope to anyone afraid of being canceled by "the totalitarian mob."
"I have only just begun using my voice, which is now freer than ever before," her statement said. "They can't cancel us if we don't let them."
Newsweek contacted Carano's and Davi's representatives for comment.
Update (11/20/2021, 9:15 p.m.): This article has been updated to include a statement from the film's producer, Ann McElhinney.