Ex-marine Motorcycle Deputy, 41, Killed During Traffic Stop in Los Angeles
A Los Angeles County deputy sheriff was killed in a vehicle accident while making a traffic stop in Lakewood.
Thomas J. Albanese, 41, was killed in the collision at the intersection of Del Amo Boulevard and Paramount Boulevard in the City of Lakewood on February 25. He was traveling on Paramount Boulevard towards Del Amo when he attempted to conduct a traffic stop of a vehicle ahead of him.
As Albanese entered the intersection, he was struck by a sedan traveling westbound.
The Los Angeles County Sheriff's Department said the force of the collision was extreme and Albanese died instantly.
The department said in a statement: "Deputy Albanese was a seven-year veteran of the Sheriff's Department. He started his career with the Sheriff's Department as a security assistant in 2013 in the Aero Bureau.
"In 2015, he took an oath of office to serve his duties as a peace officer faithfully and was assigned to Men's Central Jail. He went to patrol at the Transit Services Bureau and then transferred to Lakewood Station as a Field Training Officer.
"Deputy Albanese's last assignment was as a Pico Rivera Station Motor Deputy but was working overtime at the Lakewood Station when the tragic accident occurred."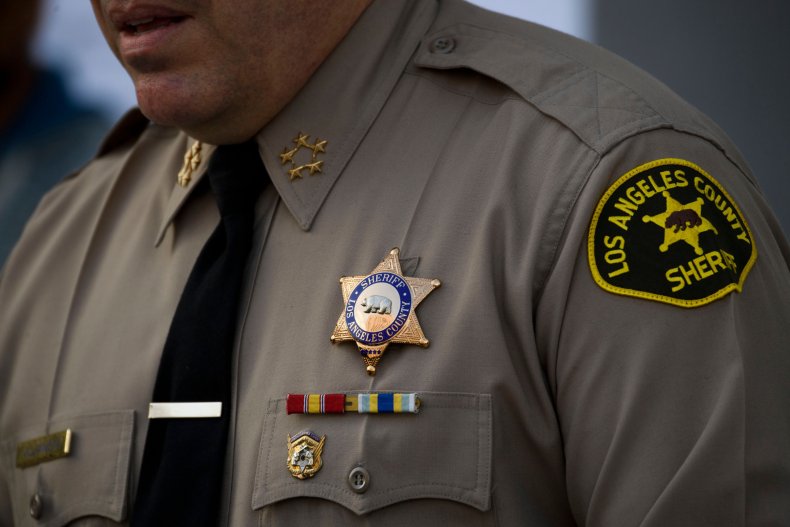 Deputy Albanese was also part of the Marine Corps, serving from March 2001 through March 2010. He served four tours in Iraq and was highly decorated.
Sheriff Alex Villanueva said: "Thomas touched the lives of many people while working in the department. He received several commendations for his work in patrol and helping the citizens of Los Angeles County."
Deputy Albanese is survived by his wife of 12 years, Erica, and his two young boys.
"He will be greatly missed by all of us in the Los Angeles County Sheriff's Department Family," the department said.
Anthony Whittle, a deputy fire chief with the Los Angeles County Fire Department, told NBC the driver of the vehicle was evaluated at the scene.
Locals have said the stretch of road where the accident occurred is known for being dangerous.
Steve Miyagi, a Lakewood resident who heard the crash, told the Long Beach Post: "This is a very bad intersection. It's known for its accidents and fatalities."
In January, a Florida deputy was killed while on duty just one shift before he was due to retire.
Brian LaVigne, 54, died after Travis Garrett, 28, rammed a vehicle into his marked police car while trying to flee from other officers, Hillsborough County Sheriff's Office said.
Sheriff Chad Chronister said that LaVigne, who had been on the force for more than 20 years, was just about to retire.